143 brilliant home storage ideas. Bedroom, living room, entry way storage, kitchen, bathroom, closet storage, garage and backyard (deck and patio) storage ideas.
- Advertisement -
When you have room for storage, it's easy to take it for granted.
When you don't have enough storage, it's very frustrating.
My wife and I know how frustrating lack of storage can be firsthand.  We certainly didn't have the … because we didn't have closets once-upon-a-time.
When our first child was born we moved into a beautiful 2 story home with 3 bedrooms.
When we toured it, we loved it.  The upper floor was one large space with cathedral ceilings.  The kitchen was spectacular.  While the bedrooms were small, there were 3 of them so we didn't think anything of it.
But, once we started our move, we realized this home drastically lacked storage space.  There were no closets in the bedroom.  There were no bathroom vanities.  There were no closets anywhere in the home for jackets, shoes, linens, etc.
With a baby, storage becomes even more important.  We scrambled.  We researched our options.  We crammed in as much efficient storage options into that home as we could.  We made it work, but when child number two was on its way, we knew we needed more space with more storage.
We moved to a large home with storage galore.  What a relief.  We have closets in all 5 bedrooms.  The master has a walk-in closet.  The kitchen has a walk-in pantry.  My office has a storage closet.  The foyer has a closet.  There's a mudroom.  There's a 1,000 sq. ft.+ crawl space.  We have a full extra finished room in the basement for storage.  There's a linen closet.  We're loaded with storage and it's great.
It's been a huge relief.  We eliminated all clutter.  Storage has given us a much less cluttered home that is more relaxing.  If you're staying put in your home, but need more space to get stuff out-of-sight, here are 143 home storage ideas for you.
Table of Contents
A. Foyer Storage Ideas
B. Bedroom Storage Ideas
C. Kitchen Storage Ideas
D. Closet Storage Ideas
E. Living Room Room Storage Ideas
F. Bathroom Storage Ideas
G. Dining Room Storage Ideas
H. Garage Storage Ideas
I. Kids' Storage Ideas
143 Home Storage Ideas (Organized BY ROOM)
A.  Foyer/Entry Hall Storage Ideas
Let's kick off our list of storage ideas with the foyer.  A messy foyer is not a pleasant way to enter your home and it's certainly not welcoming for guests.
If you have one entry to your home, keeping it clutter free is important, but not easy… especially if you have kids.
Here are several ways you can organize your front entry hall:
1.  Mudroom Lockers
Don't let the name fool you.  Yes, lockers are typically built into mudrooms off the garage, but you can find similar storage options sufficiently elegant for a foyer.  This type of storage is ideal for any entry way.
Go for elegance with these locker-bench hybrid storage options:
Rich dark woods contrast with the bead board walls. A traditional hall tree is combined with a storage bench for an all-in-one solution to a small or non-existent closet.
See more at Wayfair, Amazon and Houzz 
Or go for a more casual mudroom-feel with open storage with hooks and lockers.
Open-faced lockers allow your kids to easily put away their boots, coats, and shoes without you constantly having to go behind them and close doors.
Or add these stand-alone open-faced lockers.
This smaller option is great for a small half-wall or beside a door–wherever you don't have much space, but desire storage.
2.  Storage Benches
Storage benches don't take up much space, yet they perform two functions: storage and offer a place to sit for putting on shoes.  If you have the space, definitely invest in a storage bench for your entry halls or mudrooms.
Front hall storage bench with cushioned top. Storage is made easy with pull-out drawers instead of a lifting seat.
Front entry storage bench with hard top and arms. The lifting seat is divided into to individual sections to keep your stash organized. Great for storing seasonal apparel.
3.  Coat Wardrobe for Hall
Placing a full wardrobe style piece in a foyer is a little unconventional, but if you don't have a closet, it actually works very well.  My wife and I did this in our previous home due to lack of closets.  It worked well and looked great.
Wardrobes can be bulky, but they provide tons of storage with the added benefit of keeping your things tucked neatly out of sight. No more clutter!
4.  Wall Hooks
Hooks are one of the least expensive and easiest ways to improve any hall's storage capacity.  The variety of hooks available is incredible.  We've used and still use a lot hooks throughout our home.  One piece of advice is to ensure they're sturdily attached to the wall and hooks themselves are strong.  You'll be surprised how many coats you'll end up hanging.
Also, I recommend long hooks so you can hang more on each hook.
You can go with something simple such as the following:
Hooks are easy to install and don't take up a lot of space, and they don't break the bank! You can even hide these in an existing closet.
Or something more elaborate such as:
This hook solution doubles as a quaint piece of wall decor that would go wonderfully in a country or rustic-chic home.
Or go with a hook system with shelving:
The added benefit of having a shelf means that you won't be attempting to hang your hats on these hooks only to pick them up off the floor every time you walk past.
5.  Floating Shelves
Floating or hanging shelves are perfect for a front hall area because they don't take up any floor space, which is often limited in front hall areas.
There are many designs and styles to choose from.
Here are a few:
The above floating shelf is a great option because of the hooks in addition to the shelf. Add a few family photos or a decorative box to hold mittens or other small seasonal apparel.
The above floating shelves are minimalist yet offer storage options as well as a decorative function.
6.  Coat Rack (Hall Tree)
Coat racks are a great way to store coats easily in a foyer.  While not as good as a closet, if you lack a closet, a coat rack is an unobtrusive coat storing option.
The following coat rack (aka hall tree) is a best seller with hundreds of great reviews:
Such a simple, elegant design with so much function. And it's easy for your guests to find their coat on the way out!
7.  Wicker Baskets
Tall, narrow wicker baskets are a stylish way to offer storage in a hall area.  I prefer taller, narrower wicker baskets so it has less of a footprint such as the following:
FYI, the way this wicker basket is presented, it's a laundry hamper, but it need not serve as a hamper. Try using these to store scarves or other small apparel items you don't use often.
8.  Shoe Storage
Shoes strewn about are ugly and they create a hazard.  This is where shoe storage comes in handy.  There are many options available.  Here are a few shoe storage options for foyers:
The following is a shoe storing rack with bench serving a double purpose:
The two delicate chromed shelves are perfect for stacking your most-used shoes. Just be careful not to pack too much onto them, lest you venture into clutter territory!
Here's a shoe storage cabinet that's both decorative and functional:
The closing doors of this cabinet hide your shoes while still keeping them organized. Dress up the top of this unit with flowers, a few photographs, or with other accent items.
Or go super simple.  The following can be placed in a closet or function as a stand-alone shoe storage shelf:
These can actually be stacked on top of one another in a small closet to maximize vertical space.
9.  Decorative Chest
If you have the space, a decorative chest is a really nice decorative piece that offers storage in a foyer.  Check out the following:
Whether you buy yours or upcycle a flea market find, these are a great way to add storage with style.
10.  Console Table
A console table is more decorative than offering storage capability, but it can come in handy when you come in the house (or guests do) loaded down with bags.  They offer a convenient place to place items down.  Check it out:
Try adding a simple bowl to your console table as a catch-all for change and keys. You'll find you lose them much less often!
If you have a bit more space, you can place a table in the center of the front hall such as:
Look for tables with storage hidden on the sides, so you can keep your stuff tucked away. Then place a large floral arrangement on the table for a statement!
B.  Bedroom Storage Ideas
Not everyone is fortunate to have his and hers walk-in closets.  If you do, you likely have the space for storage.  If you don't, it doesn't take long for clothes to end up all over the place.
1.  Wardrobe
Wardrobes come in all sizes.  There are small, simple one-large-space styles of wardrobes.  And then there are massive wardrobes that look and function like a closet (often are better than a closet)… these are more akin to closet systems.
Check out this portable fabric closet system:
This portable and collapsible storage solution can be a wardrobe on its own, or serve as a closet storage solution.
Or check out a more traditional option:
The full-length mirror on this armoire allows you to give yourself a good once-over before heading out for the evening.
For something more simple or for smaller areas, you could try this:
Two drawers on the bottom will hold the items that can be folded, while hanging items have plenty of room on the top half.
2.  Dresser Drawers
Dressers are another piece of large storage furniture that come in all kinds of shapes, styles, and sizes. You'll want to pick what will be most functional for you.
Like this very traditional and elegant example:
With lots of large and small drawers, this piece has a lot of versatility. Chromed handles give it contemporary flair.
If you or your wife need a spot to put on makeup for the day, you might consider this dresser:
Shown in a little girl's room, a simple chair could transform this into a dresser that pulls double-duty as a makeup table. The small drawers at the top are perfect for holding small implements.
Or, if you find yourself with a small closet, only needing a bit of storage space:
This type of dresser is called a Bachelor's chest–probably because bachelors don't seem to have many articles of clothing!
3.  Trundle Bed
Your basic trundle bed stores a secondary mattress below the bed, keeping your guest space tidy. But some of these beds go even further, adding other storage!
For example, this Jack 'N Jill Trundle bed for the kids:
This raised bed is perfect for sleep-overs, and includes three stainless-steel drawers for additional under-the-bed storage. Think pillows or blankets.  Check out our epic post of 25 queen-sized beds with storage.
See more at Wayfair, Amazon and Houzz 
If you don't like that the trundle is obvious, you could try this sneakier approach:
The top three "drawers" are fake, but the bottom three provide storage beneath the bottom mattress. When it's closed, it looks just like a regular storage bed!
4.  Storage Bench
Storage benches pretty much come in two styles: upholstered and wooden. But from there you have a few different storage choices!
If you're not going to be getting into your bench often, if you're storing extra blankets or throw pillows, you might prefer a top-lifting bench, like this one.
This piece is completely covered in fabric, so it's cushy to sit on, and the storage is utterly hidden.
If baskets are more your style, try this:
The top is cushioned with a foam mat, while the bottom has basket shelving for a more decorative look.
5.  Ottoman with Storage
If you happen to have a small seating area in your bedroom, you might find that you can make better use of the space an ottoman takes up if it can be used for storage as well.
This ottoman has a shelf below, and a hidden storage compartment below the upholstered top.
If you prefer to take your morning coffee in the bedroom, you might prefer an ottoman with a tray.
This larger model has four individual compartments, each with a tray top. Only flip the ones you need!
6.  Hooks
Just like in an entryway, hooks are a versatile storage option that will help you maximize a tiny closet and avoid having your clothing end up on the floor or stuffed in a drawer. They come in all sorts of specialized designs, including over-the-door models.
If you find your robe or a jacket always draped over a chair, the foot of your bed, or even on the floor, you might want to try an over-the-door hook set.
This storage option isn't visible from the other side, so it's perfect for a closet door, bathroom door, or even on the back of your bedroom door. And it has plenty of hooks where you can store a robe, jacket, or a purse.
If you'd rather hide everything in your closet, leaving your bedroom a minimalist wonderland, you might prefer a more closet-oriented hook:
This little hook is just perfect to store your ties, scarves, or belts. Each one has its own hook, so you can simply rotate the ties to find the one you're looking for. No more tangle ties in a drawer or on the floor!
7.  Clothing Racks/Stands
These options are great for closet organizations, but if you happen to lack a closet and are on a tight budget, they serve well as a spot to hang up your clothing and keep them wrinkle-free.
You can go for a more traditional option:
This rolling garment rack has two shorter racks for pants and shirts, along with a taller rack for dresses or other long garments.
Or, if you also need a bit of shoe storage for little-used heels or boots, you might prefer an option with a few shelves:
This option lacks a long rack for dresses, but you'll gain two shelves perfect for storing shoes. You could also use this to lay out your clothing for the next day, to save time getting dressed the next morning.
8.  Closet Organizers
When it comes to finding room for all of your clothing in you closet, you've probably found that you always seem to need a new spot for something. Sometimes you have plenty of shelves. Sometimes, you need more hanging space.
If you have the budget for it, I highly recommend getting a closet organizer that's sturdy and will look built-in. For this look, try wood.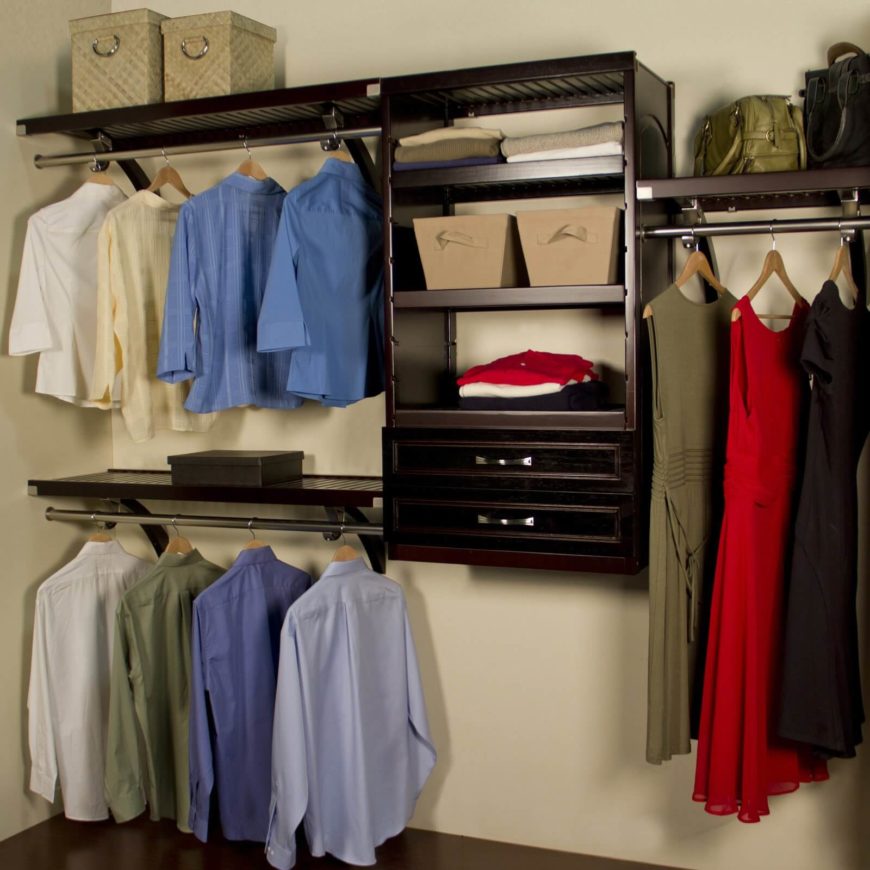 This deluxe closet organizer has plenty of sturdy racks, shelves, and a few drawers to store smaller pieces of clothing, like socks.
9.  Jewelry Storage
Jewelry tarnishes so easily, and can be damaged if you don't store it properly. To avoid your chains tangling or losing one of your favorite earrings, it's best to invest in a jewelry box that fits your needs.
If you don't have a lot of jewelry, only a few small pieces that you wear every day, you'll probably want a small tabletop jewelry box, like this one:
This probably has more space than you'll need, but it's travel-ready and locks. A removable section allows you to take with you only what you need.
If you have a more extensive collection that you need to keep organized, you might prefer a jewelry armoire:
This elegant wooden option features a number of drawers in varying sizes, along with two doors on either side that open to reveal necklace storage. The top conceals ring storage and a mirror.
10. Underbed Storage
Under the bed isn't just where your kids hide all the things on the floor when you ask them to clean their room. It's also a valuable out-of-sight storage area–if you have the right means of utilizing it. You can opt for a storage bed, or try a storage bag built to slide easily under your bed. You can purchase storage bags that are built specially for whatever you want to store: clothing, bedding, or toys.
Try this one on for size:
This set of under-the-bed clothing organizers allow you to hide seasonal clothing and keep your closet uncluttered.
C.  Kitchen Storage Ideas
While our new home has a lot of storage, we definitely ended up with a worse kitchen.  The only saving grace of our new kitchen is the walk-in-pantry.
When it comes to kitchen storage, the options are endless.  We'll highlight several great ideas that get the most bang for your buck.
1.  Kitchen Islands/Carts
In a large kitchen, you'll probably have space for an island or an island cart. It'll add storage and countertop space to your kitchen, and, if you get a wheeled cart, you can move it wherever you most need the space while preparing a meal.
Let's see one of these carts:
The wheels on the bottom allow you to move this island wherever you most need it. It also includes a cabinet, wine rack, and other shelving.
Or, if you prefer something a little more sturdy, go for this island, which is has a stainless-steel countertop that's perfect for all of your preparation needs.
The stainless steel counter on this island ensures an easy clean after slicing vegetables or even meats.
2.  Cabinet Organization
Having a lot of cabinet space is awesome, but if you don't utilize it properly, you might have a few issues with finding spots for all of your things, or worse yet, having to dig through your cabinets to find the one thing you're actually looking for!
Try adding racks and shelving to the inside of your cabinets, so you can stop digging through your things and get back to your life.
These adjustable stainless-steel racks will allow you to stack all of your dishes in a single cabinet and make use of all the vertical space.
Or, you can organize your spices with a neat tiered rack and always be able to see exactly what you have.
This sleek rack features grips to keep it from sliding around your cabinet and tiered steps so that you can easily see your spices.
3.  Pot/Utensil Racks
When we cook, we don't really like having to take out all of our pots and pans to find the one we're looking for, or taking up all of our cabinet space trying to stack our most-used pots. A great solution is to hang a pot rack (maybe above that new kitchen island?) so that your most-used pans and utensils are close at hand.
This standard wall-mounted pot rack allows you to hang your skillets from the hooks, while stacking your larger stock pots and pans on the shelf.
If you have a centered island, a ceiling-mounted pot rack might work better for you:
This stainless-steel rack features a center grid so you can re-arrange the hooks to suit your needs.
4.  Kitchen Shelving
If you're still running out of space, try adding extra shelving to an open wall in your kitchen. Whether it's floating shelving or something a little more more space-consuming, shelving is an awesome way to add storage to a kitchen.
If you've a small corner available, try one of these slim, elegant corner shelves:
The rich, polished wood and wrought-iron skeleton are perfect for a space between a kitchen and a dining room, tucked neatly into a corner.
5.  Utensil Storage
Do you have a messy utensil drawer? If you do, you probably have been looking for ways to keep your drawers organized and your utensils exactly where you expect them to be.
If you don't have much drawer storage, consider taking your silverware out of the drawer:
If you're looking for a neat way to store your silverware, a small tray with mason jars will keep your utensils organized and within easy reach.
Or, invest in a simple drawer insert. The dividers will help you keep your spoons with your spoons and your forks with your forks.
A sturdy wooden divider ensures that it'll last for many years to come.
6.  Pantry Cabinet
This project is a little more of a doozy, but you really can't beat the storage afforded to you by a pantry cabinet or closet. Whether you choose to store large, rarely used countertop appliances, or use it to store your groceries, you will never regret putting in a pantry cabinet.
For a wardrobe-like option, place this cabinet against an empty wall:
The double doors open to reveal tons of shelving inside.
7.  Bakers Rack
A baker's rack will fit into your design wherever you have space for it, and the extra storage and counter space you get by owning one is hard to beat. They're also really easy to install and move around.
You can use your baker's rack as a display, or you can go the same route as this one:
While the wrought iron shelves are used as an attractive display, the bottom is used as a mini bar and as a pot rack.
See more at Wayfair, Amazon and Houzz
8.  Spice Rack
There are a lot of different ways to organize your collection of spices, which could be formidable, depending on how much cooking you do. I know we end up with a lot of exotic spices that we don't use very often, and it can be frustrating to buy a new container of, say, garlic powder, only to get home and realize you already have two more that were hiding in the back of your cabinet.
This wall-mounted version has elegant swirls and three tiers. Perfect if you don't use too many different spices.
If you have a larger variety, you might prefer this rack instead:
The baskets rotate so you can easily remove the spices when you need them. Otherwise, the rack stays compact.
9.  Dish Storage
We used to stack our dishes so that the dinner plates were below the bread-and-butter plates, but that meant that we were constantly lifting the smaller plates up to take out or put in the dinner plates, which are pretty much in constant circulation. We simply added a small shelf so we could stack smaller plates above the bowls, leaving the dinner plates easier to access.
This rack fits neatly into the corner of a cabinet, so you can easily reach your plates and bowls.
If you have mismatched plates, you might prefer a different option without stacking:
This rack allows you to fit two very different sets of plates in the same space.
10.  Tupperware Organization
Tupperware is great for storing leftovers or for packing a lunch to take to work, but it can be tough to keep track of all of your lids. We've found a few great options to help you make sure you always know where your tupperware lids (and bowls) are.
This clever solution has grips to hold your bowls in place, and a spot right next to it to hold the lids.
11.  Food Storage (in-Cabinet)
Sometimes simply using one shelf for one type of food just isn't enough to keep your pantry organized. Try installing extra dividers or even boxes and baskets to better utilize the space in your cabinets.
We have a whole lazy-susan full of cans, but many of them are duplicates, and it can be difficult to see exactly what we have.
This can holder stacks and displays your cans, so you can see at a glance what you have and what you don't have.
These stackable sections allow you to take advantage of a deep or tall shelf's vertical space.
Get rid of your bags of flour and sugar, which are vulnerable to bugs and other pests and switch to stackable containers:
They come in all sizes and shapes and are easily stackable. Invest in a few for your staples: flour, sugar, and cereals.
12.  Wine Storage
There are lots of unique ways to store your wine, including cabinets and shelves, and you should pick whatever fits your budget, the size of your room, and your drinking habits.
This wine tower can hold up to 18 bottles of wine, and has several shelves above to house wine glasses and decorative accents.
If you don't have that much floor space, try this option with a smaller footprint:
It also holds 18 bottles, but takes up much less room, and can even be placed on top of a wall cabinet if you don't need to get to your wine very often.
Check out our gallery featuring 22 types of wine racks here.
D.  Closet Storage Ideas
Most closets, especially large open closets, can be more efficient for storage.  While each household has different needs, with a little effort and research, you can improve your closet's efficiency with closet organizers.
In a nutshell, you need to figure out what type of clothing and/or other items you store in your closet.  Do you need more space for hanging clothes or folding clothes is a good starting point.
1.  Full Closet Systems
If you have a lot of clothing, you'll want to consider a full-closet system of shelves, drawers, or cabinets. This is pricey, but will certainly add value to your home should you decide to sell in the future.
A system like this is built to be all the space you'll ever need in your closet. They're also customizable, to help you get your best fit!
If you prefer a slightly different look, you might try these wire shelves, which are also adjustable:
This full closet system has spots for dresses, jackets, shirts, shoes, and bags.
2.  Closet Shoe Storage Ideas
The closet floor isn't always utilized properly, which is where a low shelf along the bottom of your closet comes in handy. You can store seasonal or special occasion shoes there, or you can try one of these other storage options for your shoes:
These simple cubbies will fit nicely beneath a clothing rack. Detachable doors keep your shoes from falling out, if you desire.
Or, if you have many shoes, you might like a shoe carousel: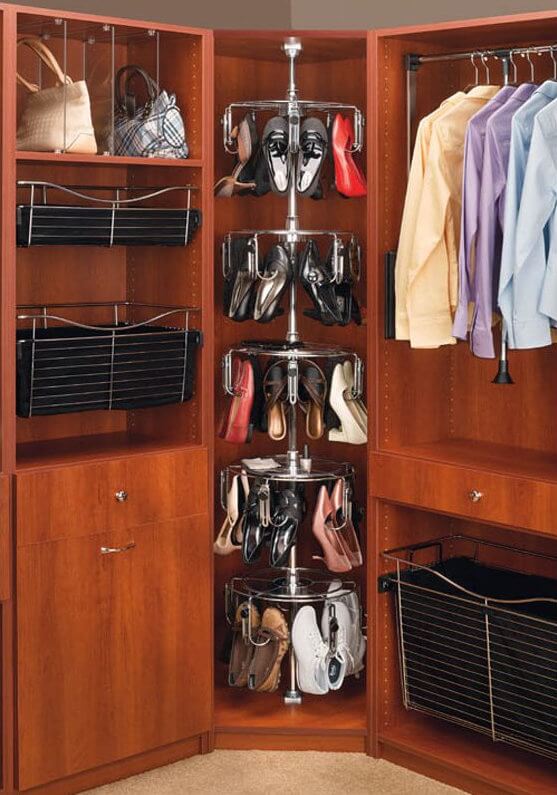 If you have a full-closet system, you can add a shoe carousel like this one. Hooks hold your shoes in place, and you can spin it to find the shoes you desire.
3.  Boxes
And who could forget boxes? Boxes are the standard in storage, and you can find some really attractive options that won't make your closet look like you're still in the process of moving in.
If you're partial to a vintage look, these boxes come in many sizes and will fit nicely on a shelf, hiding whatever you wish.
If you prefer a more traditional style, you might like these boxes:
They're narrow, but are perfect for storing small items that might otherwise get lost in your closet.
4.  Clothing Racks
If your budget (or the size of your closet) doesn't allow you to add a full closet system, you can add a portable or wheeled clothing rack to your closet for instant storage. Plus, you can take it with you when you move.
If you're a fan of DIY projects, you can make your own industrial clothing rack:
It's pretty minimalist, and the wheels mean you can easily move it when you need to.
5.  Wardrobes
You can also add a full wardrobe to your closet, if you like the options it gives you, but you don't have the space for it in the main bedroom. This looks nicer than a clothing rack, and can still be taken with you when you move (with more effort, of course.)
A traditional wardrobe has plenty of space inside, although it has fewer customization options than a closet system.
If you'd rather not move such a large piece of furniture into your closet, but like the layout, you might like a fabric version:
This one is on wheels, and has a zip-up door and pockets on the side.
6.  Closet Shelving
If you find you need much more folding space than hanging space, install sturdy shelves. You'll be able to customize your closet to suit your needs.
This shelf is built for shoes and other small objects, like purses. This is a great option for those of us with accessories for each outfit.
7.  Laundry Hamper
And what closet doesn't need a laundry hamper? Your clothes will end up in the hamper, not on the floor, and your closet will always look clean.
This elegant wooden hamper is separated into two sections, which will help you pre-sort your laundry even before it's time to throw it in the wash.
8.  Hanging Organizers
If you've got extra hanging space in your closet, you might decide to add a hanging organizer for your jewelry, shoes, or other items.
This lengthy over-the-door organizer has tons of pockets and hooks for you to store your items in. This organizer is perfect for a linen closet or a closet you store cleaning supplies in.
9.  Wall Hangers
Hooks and hangers will always save you time when hunting for belts, scarves, or ties. We like to keep our robes on hooks too.
Whether you go simple or decorative, hooks are a great way to take advantage of wall space.
E.  Living Room/Family Room Storage Ideas
1.  Shelving
Whether it's for book storage, Blu-Ray storage, or for decorative purposes, shelves are a great way to make use of vertical wall storage in a living room or family room.
This ladder shelf features two drawers at the bottom, which would normally go unused, since they're so low.
If you don't have the floor space for a free-standing or leaning shelf, you might prefer floating shelving:
Whether for decorative purposes or to store books, shelves are one of the most versatile types of storage.
2.  Ottomans with Storage
Like in the bedroom, ottomans can be used to neatly tuck away blankets or throw pillows that would probably otherwise end up on the floor.
Ottomans are most common in living rooms, where you can use them to store blankets or pillows.
3.  Coffee Tables with Storage
There are some pretty cool coffee tables with unique storage options out there, so you can find one that has the kind of storage you'll make the most use of.
For example, the multiple levels of storage afforded to you by this option:
There are drawers in the bottom of the table, and the top is also removable, revealing two storage cubbies.
Or, if you prefer, you can get a table with a little more versatility:
Magazine racks are built into the sides, and drawers into the bottom. The top lifts up as well.
4.  End Tables with Storage
The end tables always seem to collect the most clutter in a living room or family room. Tissue boxes, glasses, magazines, books, and remote controls. Having a spot to hide all of these away will instantly reduce clutter in your living room.
A small table with a cabinet below a shelf allows you to tuck away small clutter out of sight.
If you prefer a more open look, you could try this style:
Elegant legs are connected by a single low shelf. A small drawer is above.
5.  Entertainment Media Center Storage Units
Entertainment centers are the king of living room storage. They almost always have shelving, drawers, and cabinets for you to place your gaming consoles, movies, and other media in.  Some are grand while others are more simple such as a basic TV stand (which can also include storage).
Entertainment centers generally are large pieces of furniture, so they have lots of potential for storage.
6.  Baskets
A well-placed basket adds style to a room. We like to place them wherever a blanket usually ends up on the floor. You might also use a basket to store a child or pet's toys. Of course, you can also add them to existing cubbies to dress up and contain your items.
Wicker baskets add texture to this simple wooden bench.
7.  Hutches
This elegant piece of furniture isn't one you see in many houses anymore, but it's excellent storage that looks great. If you have a glass-faced hutch, you'll probably want to use it for more decorative pieces, like keepsakes or porcelain.
You can store your keepsakes in the upper portion, and tuck away blankets or other items int he lower drawers and cabinets.
If you prefer, you can get a hutch with closed storage on the top as well.
The dark wood and textured panels add visual interest to an already elegant piece.
8.  Firewood Storage
A roaring fireplace is a huge plus to any living room, but if it's wood burning, you'll need a nice spot to keep the firewood without making a mess out of your hearth.
This simple oval holder has an attached tray to catch any dirt, bark, or slivers that fall off the wood as it sits. Plus, it looks great!
See more at Wayfair, Amazon and Houzz
9.  Magazine Rack
If you read many magazines, a magazine rack might be a great option to keep all of your magazines from being scattered on a coffee table or on an end table.
Whether your rack is on the floor or on the wall, you'll be able to keep your magazines organized and all in one place!
This simple V-shaped magazine holder can hold just a few magazines and is best for someone who reads one or two magazines.
If you're looking for a wall mounted version with more storage, you might like this one:
This much more decorative magazine rack holds the magazines neatly between each curve.
10.  Cedar Chest / Steamer Chest
An old trunk or chest can serve many different purposes in your living room, from simple storage to a storage coffee table. Plus, we love the style they add to a room.
This trunk has a classic curved top with wooden sides and tooled leather. It even includes buckles!
Or, you can go for a more traditional cedar chest to store your blankets and pillows.
Ornate carving around the outside of the box is decoration enough for any formal living room.
11.  Mini-Bar
A mini-bar will serve you well if you spend much time entertaining in your living room.
You can go for a more permanent installation, or a rolling bar that you can move into storage when it's not needed.
This all-wood mini bar is a more permanent installation, and features a foot bar should you want to add barstools to the mix.
Or, opt for this smaller version:
Glass doors allow you to display what's inside. It also includes an extendable counter and a wine rack.
Also check out these 15 custom luxury home bars.
12.  Console Tables
If you need a bit less storage than an entertainment center, you might opt for a console table instead. The open shelving can be used for decorative purposes as well. Console tables are also excellent on their own or behind a sofa.
While the top of the table is used to house a lamp and several accents, the lower portion can house items in a basket.
13.  Bookcases
Bookcases, whether they're built-in or not, are a great storage solution.If you don't have enough books to completely fill the shelves,  you can use that storage for other things as well.
A simple bookcase can add so much to a room, regardless if you're an avid reader or not. Use baskets to organize smaller items, or store a collection of movies.
14.  Storage Benches
A storage bench can double as an ottoman or as a coffee table, and only depends on what kind of storage you find yourself in need of, but for a living room, we like them best as an extra seat.
Check out this plush bench that  your guests won't mind sitting on:
The top lifts up to store anything you desire and can fit. It's also a great place to store items like dog toys while your guests are over.
F.  Bathroom Storage Ideas
A bathroom is a tough place to find storage, especially if it's not already built in, like a closet. And if you have a small bathroom, finding storage options is even tougher, as you might not have floor space for a cabinet. In these cases, utilizing wall space is vital.
1.  Vanity
A vanity is the most classic way to add storage to a bathroom. Pedestal sinks are lovely, but don't leave you any space to hide your towels or other bathroom sundries. You'll appreciate having a full cabinet later.
If you're looking for lots of storage, check out this option:
Those drawers look pretty small, don't they? You might be wondering how you'll fit your things in all of those tiny drawers.
However, as you'll see below, the drawers come in  lots of four, on the bottom, with the top six knobs belonging to three shallow drawers,
You get the full benefit of all that space, plus a shelf on the bottom that would be great for storing extra towels.
2.  Medicine Cabinet
If you really don't want a vanity, try adding a medicine cabinet. These aren't as sleek as a plain mirror, but offer plenty of storage, and keep your cosmetics close at hand. They also come in a range of mounting styles, so if you really like that sleek look, you can get pretty close.
If that's what you desire, check out this recessed medicine cabinet:
The front is much larger than the inside, so you get a sleek, arched mirror with a hidden inside. The cabinet is inset into the wall, so your mirror will look flush to the wall.
If you don't mind the look of a surface-mounted medicine cabinet, you might like one of these a little better:
A beveled oval mirror is set into a rustic frame with iron hinges. The inside is filled with shelves and small hooks, which gives you a variety of options.
And if you don't really feel as though you need a mirror, you can opt for this elegant solution:
Glass-front doors with small embellishments dress up an otherwise simple medicine cabinet. You could also use this option as towel storage, or as storage above the toilet.
3.  Towel Cabinet
Towel storage can be tricky, depending on how much you're trying to fit into a bathroom. You don't want to store them near cleaning chemicals, but you can't let them look cluttered either. A dedicated towel cabinet can solve this conundrum in a hurry.
We really like this option:
The bottom of the tower is perfect for storing the majority of your towels, and you can keep just a few extra in the X shaped shelving above.
4. Bathroom Cabinet/Shelving
Shelving or floor cabinets are an easy way to add storage, if you have the space to add them. They also have the potential to be decorative as well.
Check out this option, which is a shorter version of a linen cabinet:
The key to bathroom storage is to keep the right things hidden, while displaying a few more attractive items, like the way the washcloths are displayed in a small basket.
Or, if you happen to have a smaller bathroom and need a cabinet to fit a much more narrow space, you might like this idea:
This cabinet fits in a narrow area and has spots for both tall and short cosmetics, along with extra toilet paper rolls.
5. Wall-Mounted Cabinet
You can also add wall cabinets to a bathroom to add a bit of storage. Try adding a cabinet in a corner, next to the shower, or anywhere you have open wall-space.
The kind of cabinet you choose will depend entirely on what kind of storage you need and the space you have available.
This corner-mounted cabinet has narrow mirrors on the side to add elegance. The deep, tall shelves ensure you will have space for whatever you may need to store.
If you'd prefer a towel rack, you can opt for this cabinet:
The top has shutter-like doors that keep your clutter hidden away, and a lower towel bar to keep one handy at all times.
6.  Floating Shelves
Use floating shelves to add storage to a wall without taking up too much space. This is a good solution for smaller bathrooms.
These smaller shelves would look great on the wall behind a free-standing bathtub. You could use them to store your shampoo, conditioner, and soaps.
7.  Free-Standing Shelves
Free-standing shelves are similar in purpose to floating shelves and to cabinets, but they're backless, open, and usually a lot more portable than other kinds of shelving.
Unlike cabinets, you can't hide your items, so you'll want to pick your shelves carefully. What do you need to store? Do you want it out of sight?
If you just need a simple shelf to set an item or two on, you might like this shelf:
The simple and pretty corner design doesn't take up a lot of space and gives you three shelves to use as storage.
This shelf is unique, and while it isn't a large shelf, it's an idea we just couldn't pass up:
Sitting just above your faucet, this keeps your soaps and other sundries off of your clean countertops, meaning you have to scrub them less.
8.  Above-Toilet Storage
The space above the toilet is often unclaimed ground. Use a wall organizer above it to store extra toilet paper or cleaning materials.
Depending on what you need to store, you might choose a towel rack like this one:
While most of this organizer is a towel rack, it also has a small shelf that's just perfect for a tissue box.
Of course, if you need a bit more cabinet space, you might prefer this model:
The majority of the storage space is hidden, with a short shelf at the top that can be used for accents.
9.  Towel Rack
We can stress enough that a towel rack will keep you from having towels, wet or dry, all over your bathroom floor, or hanging off of other surfaces. A dedicated spot will help keep your bathroom neat and tidy.
The long bars on either side of this towel rack provide ample space for drying towels, unlike a single long bar.
Or, take advantage of space on the bathroom door with this rack:
It's not visible from the other side, and provides you with 3 bars to hang your towels from.
10.  Laundry Hamper
The bedroom and bathroom see most of the dirty clothes on the floor, so it's recommended you add a laundry basket here too. Like a towel rack, it'll keep towels and dirty clothes off the floor and out of sight.
This tilt-out model will match similarly styled cabinets well, and the double hampers allow you to pre-sort your laundry.
G.  Dining Room Storage Ideas
Formal dining rooms are often where the least-used dishes are kept, like porcelain and large serving trays. There probably won't be enough room in your kitchen to store these pieces, so why not put them on display in your formal dining room?
Dining rooms are also a great place to store linens.
1.  Buffet
A buffet table will usually have storage below the counter, so this is a great place to store dishes you don't use very often–porcelain and other serving dishes. If your buffet has drawers, you can also store linens in a buffet table.
The rich panelling of this buffet adds some serious elegance to this dining room. It also features three drawers and three cabinets. The counter is a great place to set serving dishes during a meal.
2.  Serving Table
Serving tables serve a similar purpose as a buffet, but tend to look more casual. They also usually feature more open shelving than a buffet table.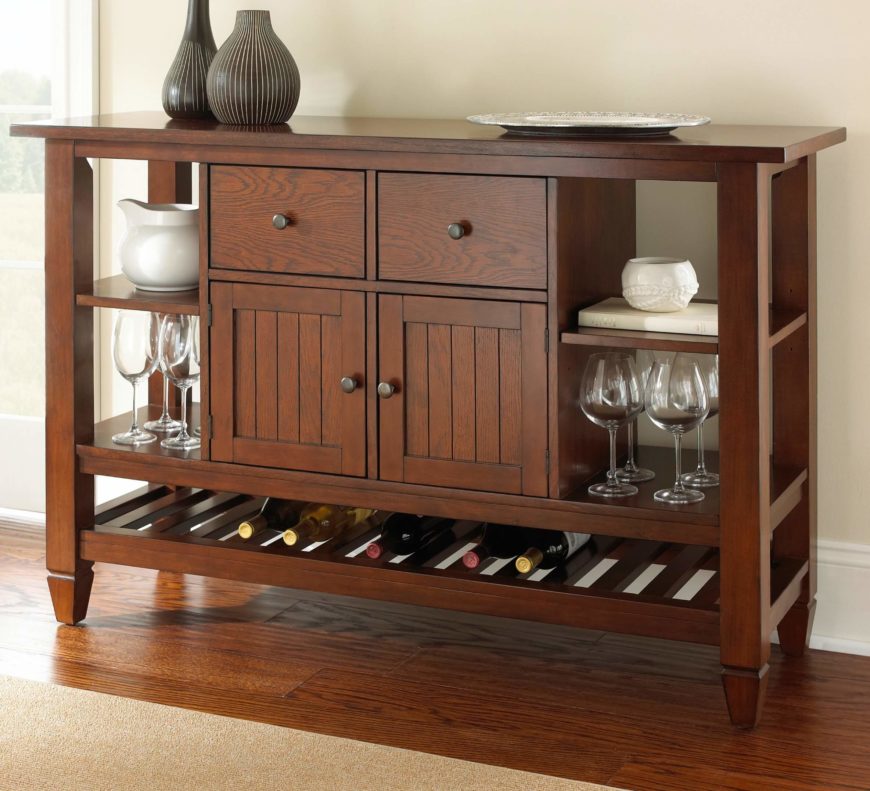 The bottom of this serving table includes a large wine rack. Glasses are stored on either side of the cabinets, with drawers above.
3.  Credenza
There isn't much of a difference between a credenza or buffet, but it remains an excellent source of storage for a dining room. Credenzas tend to feature sliding doors, but that doesn't exempt them from cabinet doors either.
This credenza features a metallic front and an aged facade.
4.  Shelves
Just like in other rooms, shelves can be used to display accent pieces, or everyday items that you'd like to keep off the countertop.
These simple shelves don't take up too much room, and would look great with a variety of styles.
5.  China Cabinet
China cabinets are excellent options if you have items you'd like to display. While some china cabinets are all glass, you can find others, like the one below, with drawers for more discrete storage.
The lower drawers are perfect for storing silverware or linens, while more delicate pieces are arranged in on the shelves above.
H.  Garage Storage Ideas
Garages have a way of getting really messy and cluttered, even if you do your best to keep them organized. If you're using part of your garage as storage, we recommend creating designated areas for your possessions, so they don't start edging in on your car's space.
1.  Garage Storage Cabinet
These locker-like cabinets come in all kinds of sizes or styles, and are perfect for storing tools. Since each locker is separated, you can place items you typically use together in a separate locker. Instant organization!
Or you could store fertilizers and other items you don't want on the floor. It's a great way to keep any pets from getting into things they shouldn't.
2.  Garage Shelving
Or, opt for more open shelving, so you can see everything you might need. This is great for a workshop-style garage.
The open shelving and sturdy metallic design means you won't have to worry about closing doors if you try to fit a little too much onto a shelf.
3.  Storage Bins
These sturdy bins are great for storing everything and anything, and are easily stackable, so you can take advantage of vertical space. However, they are more difficult to get back into, so items you put in storage bins shouldn't be items you use often.
These bins are sturdy and will keep bugs and critters out of any fabric or food items you store in them.
4. Storage Racks
For serious storage potential, you can install enormous storage racks. They leave the bottom of your garage easily passable, but allow you to take advantage of all the space above your head.
This rack also includes sturdy hooks that you can use to store bicycles, sports equipment, or strollers, getting them up off of your floor during the off-season.
5.  Bicycle Racks
For adult bikes or bikes that are used often, a bike rack is a great investment. You can store your bikes vertically. You won't have to worry about them falling over and scratching the paint on your car either!
Stack up to four bikes in the same space, and easily remove them when you need them.
See more at Wayfair, Amazon and Houzz
6.  Workbenches
Depending on how often you use your garage as a workspace, you'll want to invest in a workbench to store your tools. The added benefit of a workbench as opposed to a toolbox is the large counter on the top; the workspace.
This workbench is on wheels, which means you can move it around as you need it, instead of crossing the room to get tools.
Or, if you're looking for a more permanent option for larger projects, you might like:
This stable wooden workbench has a large tray on the bottom to store your tools or materials for easy reach.
7.  Hanging Storage for Garage
Utilizing wall space is vital for garage storage, since you'll want to keep the center of the garage as open and clean as possible.
This wall rack allows you to customize the hangers so that you can hang all kinds of items and baskets.
8.  Tool Cabinets
Even if you do have a workbench, you might have more tools than  you can fit in its storage. In that case, you'll want to invest in a tool cabinet to keep everything exactly where it needs to be.
This cart is on wheels, so you can take your tools wherever you need them. It'd be really difficult to move without them!
9.  Pegboards
A pegboard is another way to organize your tools. The holes in the pegboard allow you to place hooks wherever you need them, customizing your workspace.
You can hang these on the wall, or find a portable one, like this:
The wheels and handle allow you to pull your pegboard around the garage or outside.
10.  Refrigerator/Deep Freeze
If you're anything like us, you'll stock up on meats during a sale and freeze them. Unfortunately, you might run out of room in your freezer in the kitchen. Having a freezer or a secondary refrigerator in the garage will allow you to keep stocks of frozen food without sacrificing room in your kitchen.
If you don't really need a fridge for any other reason than storing drinks, this mini-fridge might be right for you. It has built-in bottle holders inside.
If you prefer a top-loading refrigerator with a few more organization options, this might suit you:
This model has organization baskets, so you can keep meat separate from other freezer items.
I.  Kids' Storage Ideas
Kids rooms can get messy quickly, regardless of how old they are, so it's a great idea to start adding storage solutions before things start getting out of hand. Try adding baskets, racks, and hooks to the bedroom, so your kids can start learning early that their things have proper spots.
1.  Toy Storage Ideas
A toy box is the traditional solution to storing children's toys, but sometimes those can lead to messes too, as your kids take out every toy in search of the one they want. If you want to provide an easily organizable space, try these less-traditional methods:
Removable bins allow you or your child to assign a place for their things. Stuffed animals in one, craft supplies in another.
For stuffed animal storage, you can try this fun solution:
Securing hammocks in the corner allows your child to quickly pick up their room by placing all their stuffed animals in the hammock.
2.  Kids' Bookcases
As your child grows, you're sure to start picking up a wide variety of books, so you'll need a spot to put them. A bookcase will serve your organization needs for years to come.
A deep cubby on the lowest shelf is great storage for toys as well, making this an optimal bookcase for a child's room.
3.  Toy Boxes
Whether you choose a trunk or a box with dividers, a toy box is a must-have piece of storage furniture for a child. We've picked out a few of our favorite styles.
For more of a bench look:
If you'd like even more of a bench-like effect, add a foam pad to the top and place beneath a window. Toy storage and a reading nook in one!
Or, go for a more traditional top-lifting toy box:
The sturdy wooden construction means you won't be replacing it anytime soon.
4.  Kids' Dressers
Even if you have a closet, you're sure to end up with tons of seasonal clothing and clothing that no longer fits. You might not be ready to give it up yet, so you'll need a spot to store it.
A three-drawer dresser is the perfect height for kids who are ready to start picking out their own clothes, or putting them away.
5.  Kids' Armoires
Armoires aren't just for storing clothes, they're also a great spot for books or linens.
This armoire has a doored cabinet to the left, and shelves and drawers on the right for a variety of storage options.
6.  Kids' Nightstands
You can't underestimate the storage power of a simple nightstand. These are perfect for storing your child's favorite nighttime toys or bedtime books.
A shelf on the bottom is perfect for books, and the drawer above for everything else.
7.  Kids' Beds with Storage
Sometimes the area under the bed can be more trouble than it's worth, but it's also a valuable space for storage, if you use it right. Investing in a storage bed or a trundle bed means you'll never have to look under the bed for missing toys.
This trundle bed also has three drawers built into the side for additional storage, and is perfect for sleepovers.
8.  Kids' Desks
Desks are a great way to keep school work and arts and crafts supplies neatly organized, so you're always able to find what you need.
For a  younger child:
This miniature desk is built from sturdy plastic, but is light enough to move easily for an adult. Pockets on the side and a drawer in the front provide extra storage in addition to the crayon and marker slots on the top.
For a school-aged child, it might be better to invest in a more permanent desk that they can use throughout school.
This sturdy wooden bookcase desk has plenty of drawers to store schoolwork and shelves above to store books.
Also, check out our bunk beds with desks gallery – another space saving option for your kids.
9.  Kids' Coat Racks
Keeping your child's outdoor wear all in the same room is an easy way to be sure you never misplace a favorite jacket or hat. We've selected a few of our favorite ideas, both with hooks and with racks, to keep your child's outerwear neatly arranged.
This tall coat rack doubles as a chair, where your child can sit while you help them fasten their shoes.
Or, if you prefer wall storage:
These adorable hooks are shaped like a variety of animals, and look great whether or not you have coats on them!
If you like the animals, but prefer regular hooks:
This safari-themed wall-mounted coat rack will do the job nicely. Sturdy, deep hooks will ensure your coats won't end up on the floor.