Welcome to today's gallery, a guide designed to help you choose the perfect wine rack for your home.  FYI, a wine rack is a specific type of wine storage option.  If you're looking for general wine storage ideas, check out our wine storage ideas article or check out our amazing wine cellar photo gallery.
We will be sharing examples for each major type, material, and design of wine rack in an effort to illuminate the myriad choices and help you make an educated purchasing decision.
When shopping for a wine rack for your home, there are several important questions to answer. How many bottles of wine will you keep on hand?
There's a large difference between someone who has an occasional bottle and someone who regularly entertains guests for parties or tastings.
Will you be using the rack for display, storage, or entertaining? The type of rack is entirely dependent upon this question. Finally, do you require any specific features, such as mobility, easy storage, or floor space conservation?
The answers will narrow your choices considerably.
Types of Wine Racks for Your Home
The first major decision to make when sorting out your options will be what type of wine rack works best. This will tremendously narrow your choices and set you on the road to the perfect purchase.
General Location/Design
1. Floor
The floor standing wine rack is possibly the most common model you'll find while shopping. These are sturdy, can be placed and replaced as needed, and can usually hold a large amount of bottles.
2. Tabletop
Tabletop wine racks are smaller than floor models, and thus hold fewer bottles. These are designed for convenience, easy placement, and display purposes.
=> All racks featured here available at Amazon.com or Wayfair.
3. Wall Mounted
A perfect way to conserve floor or countertop space is the wall mounted wine rack. We have shared three distinct models here.
Our first example is a carved wood piece that would feel at home in any rustic or modern space.
4. Wall Mounted (continued)
Our second example features a novel vintage design, with colored panels and metal wireframes seamlessly holding the bottles.
5. Wall Mounted (continued)
Finally, we have a more elaborate setup, with a full wooden shelf holding upright bottles, with a glassware rack hanging below.
6. Hanging
Hanging wine racks are another perfect way to conserve space. This first model is mounted beneath cabinetry, and with its simple wire frame, holds both bottles and glassware.
=> All racks featured here available at Amazon.com or Wayfair.
7. Hanging (continued)
A second type of hanging wine rack involves being mounted and hung from the ceiling. These typically hang above a table or island for accessibility and visual appeal.
8. Cabinet
A wine cabinet is much more than a rack, enabling a permanent, closed storage option for wine enthusiasts that will improve any space, from cellar to dining room. These are typically built like a hutch or dresser, with drawers, cupboard doors, and a serving surface, with ample interior storage.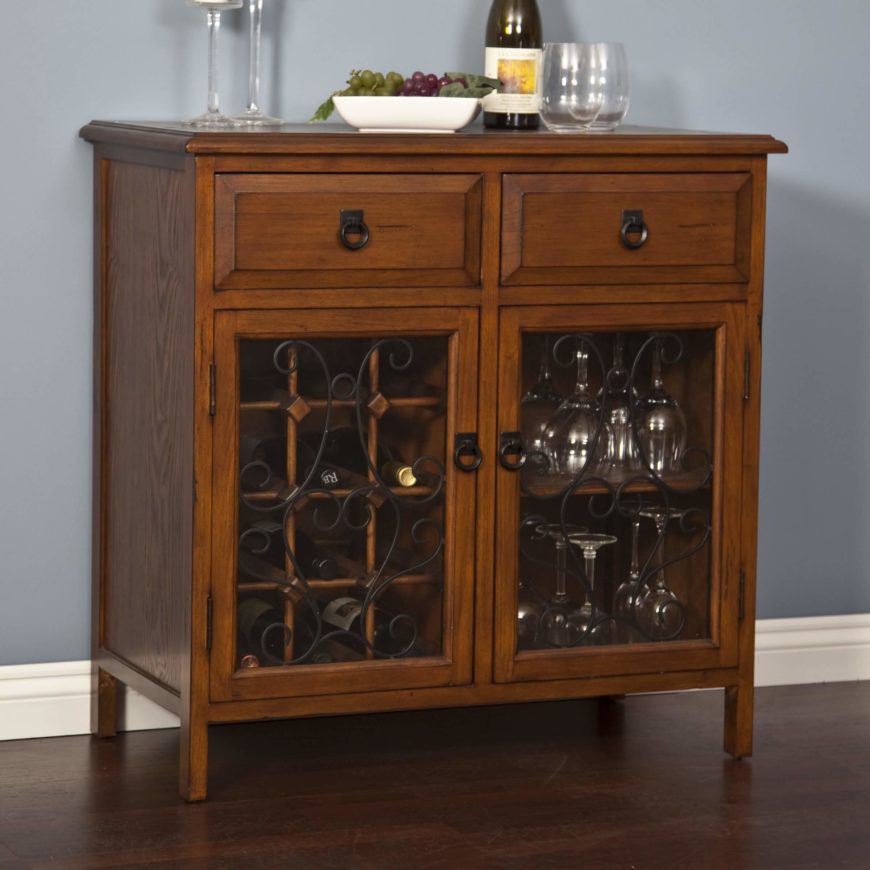 9. Cart
The wine cart design is one of the best methods for serving wine at gatherings, being both mobile and compact. We have two different examples here, including a more traditional rack, and a variation on the cocktail cart.
The first example in dark stained wood features a large rack and surface area, with cabinets and drawers for storage.
10. Cart (continued)
Our second wine cart is a wine themed variant of the cocktail cart, with a metal framed serving surface, glassware hangers, and small bottle storage.
=> All racks featured here available at Amazon.com or Wayfair.
Material
The build material of your wine rack is an important consideration. This will set the tone and texture of the rack, steering the visual element.
11. Wood
As the most traditional and popular of furniture construction materials, wood offers the widest breadth of options and styles available for wine racks. Our example here is a wine table, combining storage and serving.
12. Wood (continued)
For contrast, here is a second wood wine rack. This example is a tabletop model, with all-wood box construction housing bottles in a minimalist frame.
13. Metal
Metal wine racks are often the most materially economical models available. The metal can comprise the outer frame and wire-thin racks can hold the bottles in perfect curved shape. Some models combine materials, but all metal racks, like our example here, enjoy wide popularity.
 14. Metal (continued)
A second example of metal wine rack construction, pictured here, shows the material's ability to mix with other elements. In this case, we have canvas slings holding the bottles themselves.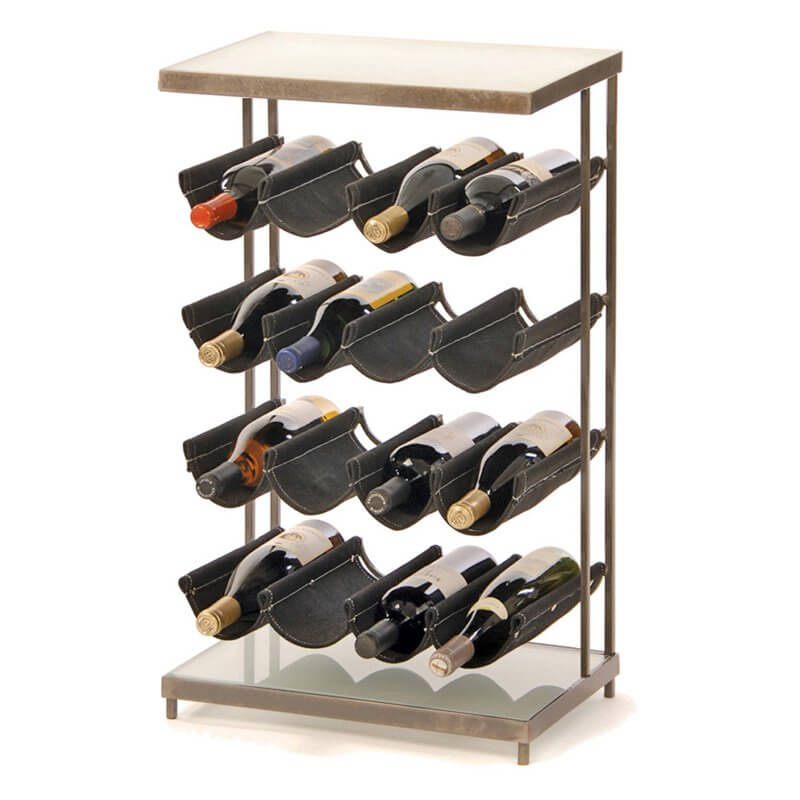 => All racks featured here available at Amazon.com or Wayfair.
Design
The final important decision to make on your journey toward owning a new wine rack will be the design. Whether it stands on a table or the floor, mounted on a wall, or otherwise, you will need to choose the shape and style that suits your home and your needs.
15. Holder
A wine holder design is intended as a less formal, permanent storage space for wine than a standard rack. These are decorative, ornamental, and often playfully styled.
16. Holder (continued)
The wine holder is usually a tabletop element meant for direct sharing of wine while having dinner with family or a gathering of friends. Perfect for tastings, they set the bottle in an artful, easy to access placement.
17. Cube
The cube design is exactly as it sounds: a cubic frame with interior racks for holding bottles. These can be easily purchased and set up in multiples, for extensive storage.
18. Column
The column design stores a large quantity of wine bottles vertically. This can be accomplished via floor standing construction or wall-mounted racks.
19. Column (continued)
The column design can also save space by wall mounted design, as seen here.
.
20. Shelf
The shelf design is a common element among many types of wine racks, including free standing floor models and tabletop examples alike. Here we have a simple, direct, natural wood wine shelf.
21. Modular
Modular design means that the furniture can be added to, modified, and expanded. These types of wine racks are meant to grow with your collection, with simple add-on materials you can purchase in sets.
22. Stackable
Like modular design wine racks, stackable variants are meant to grow right along with your bottle collection. With square or rectangular frames, these racks can be stacked vertically to create ever-larger storage space.
=> All racks featured here available at Amazon.com or Wayfair.
Related Galleries You May Enjoy:
DIY: How to Build a Kitchen Island with Wine Rack | 22 Types Of Coffee Tables (Buyer's Guide) | How to Build a Pallet Wine Rack