It's incredible to think that there are a whopping 44 different types. Don't fret though because this list will actually help big time. You'll cross a bunch off your list right away. When you buy a bed, you'll be happy that you had a good understanding of all your bed options.
- Advertisement -
Welcome to our extensive gallery showcasing the full breadth and range of beds available to the modern consumer.
With this collection, we aim to organize and examine the full spectrum of bed options, breaking the selections down by size, design, style, material, and features. Included with each category, we share a beautiful example bed photo and an accompanying link to the bed's sales page.
Sizes range from the smallest, twin, to king beds at the large end. Each size is designed with a specific use in mind, from children, to single adults, all the way to tall couples.
Design is what shapes the bed frame itself. This informs the dramatic shifts from minimalist, standard frames to elaborate canopy models. Style defines the overall look and theme of the bed.
Regardless of size or design, this will influence the texture, tone, and feel of the furniture. Frame materials for beds hold a small variety: metal, wood, or rattan. Each can be crafted into nearly any style or design of bed. Finally, we breakdown a few key, unique features available on modern beds.
What are the main styles of beds?
Short Answer:
Platform
Folding
Panel
Sleigh
Murphy
Trundle
Adjustable
Standard
Daybed
Poster
Canopy
Bunk
Futon
Convertible ottoman bed
Pull-out sofa bed
Convertible sofa bed
Storage
Below, we expand on your bed options with many more categories and photo examples.
Types by Design
Bed design is what defines the actual form and structure of the frame itself.
1. Platform
A platform bed has a base which consists of a raised, level horizontal solid frame, often with a section consisting of rows of flexible wooden slats or latticed structure meant to support just a mattress. This platform provides adequate, flexible support and ventilation for a mattress by itself, eliminating the need for a box-spring or a second mattress as a foundation.
Platform Bed Examples:
2. Folding
A folding bed has a hinged frame, allowing the bed to be stored in a much smaller space. These are often used in guest bedrooms and spaces where the bed will not be used regularly. Some examples fold on a wheeled frame, to put put in closets, while others fold into enclosures meant to be displayed.
3. Panel
A panel bed consists of a headboard and footboard made from flat panels of wood. The panels are framed with raised molding or grooves that mimic traditional wood paneling or wainscoting. The headboard and footboard are connected by wooden rails. Manufacturers offer panel beds in both painted and wood-stained finishes. Some also offer headboard-only versions.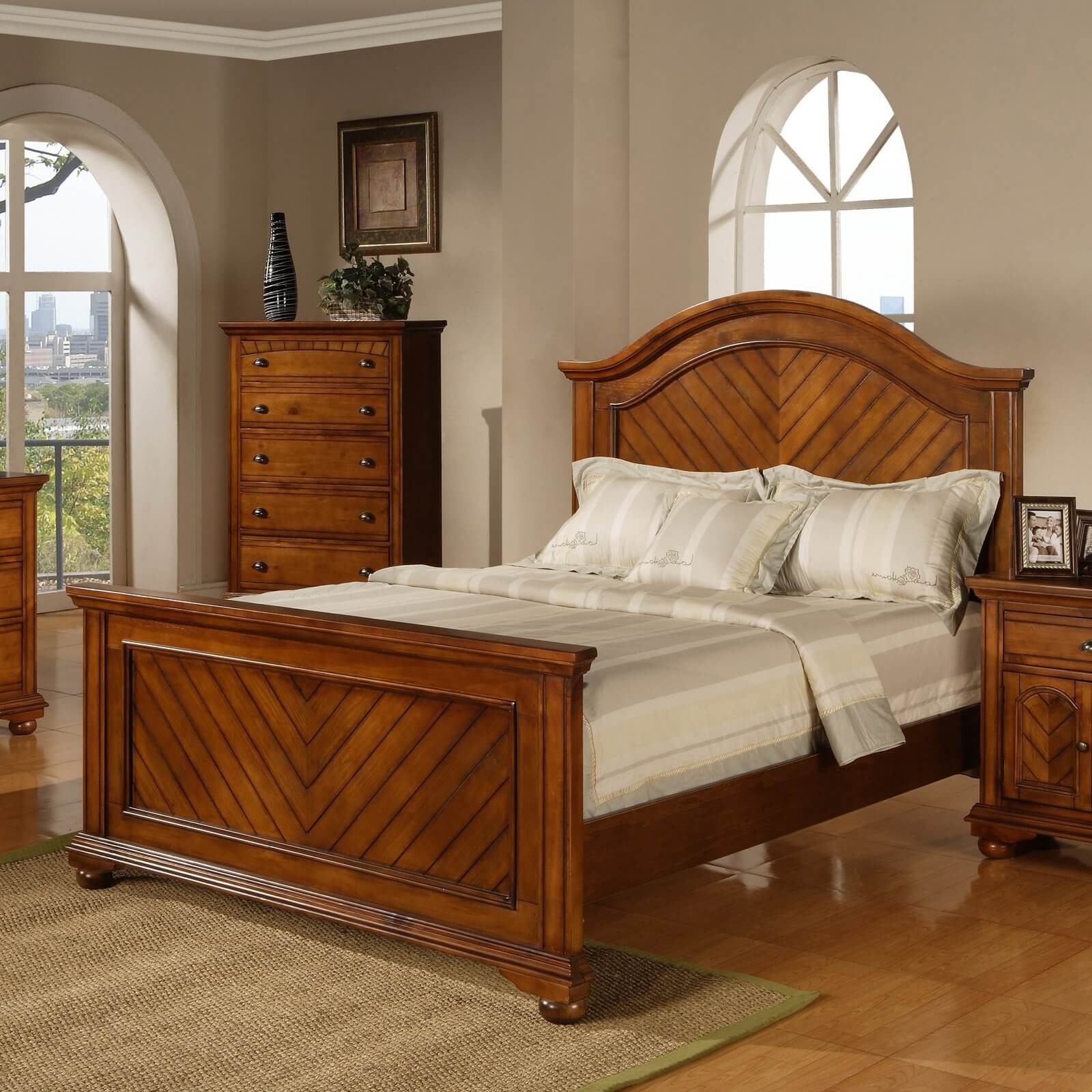 4. Sleigh
The sleigh bed features curved or scrolled foot and headboards, resembling a sled or sleigh. Often made of heavy wood, this style is a result of the French and American Empire period of the early 19th century. Today's sleigh beds are made from a variety of materials including wood, iron, steel and aluminum, and often possess less exaggerated curves of the foot and headboards.
Sleigh Bed Examples:
5. Murphy (Wall Beds)
Murphy beds, aka wall beds, are designed to save space in a unique way, by hinging the frame so that the bed itself can be tilted vertically and stored in a closet or cabinet.
6. Trundle
Trundle beds are usually considered a pair of beds, with one standard and a second on casters so that it may be stored beneath the upper bed. This design is a space-saving idea and allows for an extra bed to be available when necessary, without wasting space when it is not.
Trundle Examples:
7. Adjustable
If you like reading or using devices in bed or watching TV in bed, seriously consider an adjustable bed where via motor it adjusts up into various levels of sitting positions.  You can take it one step further and have it so both sides can be adjusted independently.   Check it out:


8. Standard
A standard bed frame is usually considered one with a simple metal frame upon which the box spring and mattress will sit.
9. Santiago Bed
The Santiago bed design is an old-world bed design with the decorative crown-shaped headboard.  Check it out:

10. Daybed
Daybeds are used for sleeping, lounging, reclining, and seating, often in common rooms. Frames can be made out of wood, metal or a combination, while the shape is a cross between chaise lounge, couch, and a bed.
11. Poster
A poster, or more commonly four-poster, bed is built with four vertical columns, one in each corner, sometimes supporting an upper panel. Traditionally these beds were highly ornate and made of carved oak, but now come in a variety of materials and configurations.
12. Canopy
A canopy bed is a decorative bed style similar to the poster. A typical example features posts at each of the four corners extending far above the mattress. Ornate or decorative fabric is draped across the upper space between the posts, create a ceiling, or canopy, covering the bed space.
Canopy Examples:
13. Bunk Bed
Obvious adults don't get bunk beds for a master bedroom, but they do buy them for kids bedrooms, which is a great space-saving piece of furniture for kids sharing a room or for having an extra bed in the house.  Moreover, kids love them.  I had one as a kid and loved it.
There are many types of bunk beds including l-shape, with desks, with stairs, loft-style, doubles and small models.

14. Futon
Another great space-saving type of bed is the futon.  Like most furniture, there are many types of futons available including small futons, large and in a huge variety of styles.  We have a large wooden futon and absolutely love it.  It was fairly expensive, but it's well made and we've had it for more than 13 years.  It's great for guests as well as provides a good seating option.

15. Convertible Ottoman Bed
Yes, there are ottomans that turn into beds.  Some are long ottoman benches that can be used as a bed as-is while others convert from an ottoman into a bed.   Check it out:
16. Pull-Out Sofa Bed
A pull-out sofa bed is a form of sleeper sofa.  This type of sofa has a mattress that folds into the sofa that can be pulled out and turned into a bed.  Check it out:
17. Convertible Sofa
A convertible sofa is also a form of sleeper sofa, but is different than a pull out sofa bed in that there is no separate mattress for the bed.  Instead, the sofa seat cushion and back cushion seamlessly create the bed mattress.
It's a very simple concept – the sofa back adjusts downward creating one flat surface area which is the bed.

18. Storage Beds
Storage beds hold drawers or otherwise concealed storage beneath or surrounding the mattress itself. Some models even have a hinged frame, where the entire sleeping surface can be lifted to reveal storage.
The following are different types of storage beds.
a. Drawer Storage on Side
Drawer Storage on Sides and End:

Types by Size
The first category of beds we will discuss is the range of sizes they can come in.
Here's a series of bed and mattress sizes charts.
19. Twin Bed – 39"x 75"
Also known as a single bed, the twin is generally made to accommodate one child or one adult sleeper. Taller adults should consider a twin-XL which will grants added length. Twin is a great size for smaller guest spaces, bunk beds, and daybeds.
20. Twin-XL 39"x 80"
The XL stands for extra long, and at 5 inches longer than the standard twin, this size size is great for taller youth or adults. This is also is the same length as a queen or king. Thus, two of them side by side equals a king.
21. Double: 54″x 75″
Double, also known as full, was commonly used for two adults around 30 to 40 years ago, when homes and bedrooms were built smaller. Now this size is usually reserved for single person or smaller guest room use. It is a snug fit for two adults, and the same length as a twin. Most couples opt for the queen size.
22. Queen 60"x 80"
Queen size is the most popular bed sold. This size is ideal for two adults who would like to save living space, in relation to a king. It's also popular for single adults who simply like to spread out.
23. King 76"x 80"
A king size bed is the same length as a queen but much wider, with an additional 16 inches. If you have the available space, it offers the most room for couples. King size beds can be great if kids or pets often share your bed. The tallest people can also special order a California-King, which is 72" x 84".
24. California King
If you want big, California King is as big as it gets… for now or unless you get a custom bed made.  At a whopping 72″ wide by 84″ long, just make sure you have sufficient space to fit one of these.  Personally, I'm all about beds this big, but then I'm 6′ 3″ so more space is great.
Bed Styles
Style defines the overall look and theme of the bed. Regardless of size or design, this will influence the texture, tone, and feel of the furniture.
25. Contemporary
Contemporary style usually means an "of the now" presence, including modern materials or shapes that did not exist in the past, and signify an attachment to now.
26. Traditional
Like any traditional furniture, a bed of this style echoes the timeworn visual touches that have stayed with us for centuries.
27. Modern
With modern style, there can be a lot of crossover with contemporary beds. The idea is that a piece of modern furniture has an up to date design, and is most definitely not traditional or old fashioned.
28. Mission
Mission style is a design that emphasizes simple horizontal and vertical lines and flat panels that accentuate the grain of the wood.
29. Cottage
Cottage beds typically have large, sometimes lavish headboards. There can be some carving, but most of the decoration is painted.
30. Country
Country style is often defined by rich textures or traditional shapes with an American sensibility.
31. Vintage
Vintage encompasses the idea of throwback style, purposely aiming for a prior time period when a specific look was fashionable.
32. Coastal
33. Industrial
The major touchstone of industrial style is a utilitarian look, gleaned from the idea of factories and centers of production.
34. Rustic
Rustic style is defined by a sense of the homespun, old fashioned, and outdoors.
Scandinavian furniture is characterized by simplicity, minimalism and functionality. These beds may come in a variety of shapes, but usually lack flourishes or purely aesthetic additions.
36. Mid-century
Mid-century style beds bring 1950's and 60's style to the frame, with often streamlined headboards and gently tapered wood legs. It's a refined yet comfortably traditional style.
Frame material
Regardless of style, design, or any other consideration, your bed will be crafted out of a small handful of materials.
36. Metal
Metal bed frames are a more modern convention, lacking the warmth and familiarity of traditional wood construction frames. They can be much lighter, more versatile in modifying size, and often fit a contemporary look well.
38. Wood
Our most common and oldest furniture building material, wood is pretty self explanatory. It informs the most ornate and hand-crafted pieces in this collection.
39. Wicker/Rattan
Rattan, or wicker, is a style where material is woven into a hard surface. It can be made of plant based or plastic materials and is often lightweight and firm.
40. Pallet Bed
Another popular material used for bed frames that people often make themselves is a pallet bed frame.  It's so popular, you could argue that it's become a particular bed frame style.  They can be with or without wheels.  They can be any size.  You can build them low to the ground or elevated.  Essentially, the pallets create a platform on which the bed mattress is places.
Other Bed Features to Consider
41. Upholstered headboard
Upholstered headboards add a soft, luxurious, and decorative touch.
42. Distressed finish
In distressing, the furniture finish is intentionally manipulated to look less than perfect, or older, such as with sandpaper or paint stripper.
43. Bookcase
Bookcase beds, as indicated by the name, encompass a bookcase, usually into where a headboard normally would stand.
44. LightedHeadboardd
Beds with lighted headboards can appear in a variety of shapes, styles and materials. The prominent feature is a light source built into the headboard, for easy reading or viewing of stored books or other items.
Anatomy of a Bed and Headboard
Related: Master Bedroom Photo Gallery | Excellent Duvet Options | Parts of a Bed | 7 Alternatives to Bed Skirts
Home Stratosphere is an award-winning home and garden online publication that's a result of our talented researchers and writers who work directly with hundreds of professional interior designers, furniture designers, landscape designers and architects from around the world to create helpful, informative, entertaining and inspiring articles and design galleries.