I love recliners, big and small. I prefer big but I also realize big can be huge and take up a lot of space. Sometimes (many times) it's better to get a more compact recliner so it doesn't dominate the room.
Some of these recliners are also wall-huggers. Some have smaller footprints while some have a shorter backrest. Look out for these features when choosing a small recliner that will suit your needs.
Now the full expanded list…
A. Manual Recliners
1. Winston Porter Thompsontown Manual Recliner
=> Check Price
I'm a HUGE fan of the latest in manual recliners. They're real accent and armchairs with a recliner feature.
This means you don't have to buy those huge, obnoxious looking recliners that while super comfortable, don't look all that great.
Now, I realize this isn't exactly a tiny chair but compared to many recliners, this is actually fairly small. Not the smallest but small – a regular chair.
I really like the high-back, narrow design of this elegant chair that's as comfortable as it's fashionable.
The camel fabric contrasts nicely with the dark brown legs. The nailhead trim gives it that elegant polish. But then I'm a sucker for nailhead trim.
This recliner would look great in a formal living room or more casual TV room. It really wood and that's why I love it.
2. Faux Leather Manual Recliner
=> Check Price
This small recliner is perfect for the living room or home office. Made of comfortable faux leather, the recliner is compact and elegant. At 42 inches high, this recliner gives plenty of support with a high back. The recliner is 34 inches deep and only 30 inches wide, allowing it to fit comfortably in a corner.
This chair features open, wooden arms, a wooden frame, and exposed wooded legs. The manual recliner reclines with a single section footrest. This chair is available in black, brown, or midnight blue.
3. High Leg Reclining Chair
=> Check Price
A deeper option, at 39 inches deep, this chair is sure to be comfortable as you relax into this modern recliner. The chair is 41 inches high and just 30 inches wide, making it a compact and small reclining chair. This is a fabric recliner with wooden arms and a wooden base, giving a nice contrast to the upholstery.
Retro-inspired, this fabric recliner gives a modern flair to an original classic. The reclining mechanism features a single-fold footrest. This chair only comes in one fabric color, featuring a light heather-gray fabric. The best part about this recliner is that it will be shipped to your front door completely intact, with no assembly required!
4. Mid Century Tufted Fabric Recliner
=> Check Price
This plush recliner features an all upholstery design that is great to sink into. The small recliner measures 38 inches deep by 38 inches high, making this a compact and versatile chair. The back fabric on this recliner is tufted, giving it a traditional look. The stream-lined fabric arms help to balance the traditionalism, giving the chair a modern mid-century style.
This small recliner chair will recline back with a two-fold footrest to allow you to prop your feet up. The chair comes in several tweed fabrics, including gray, blue, pink, red, green, and yellow. We love the 100% polyester fabric design, making this chair super easy to clean and maintain.
5. High Leg Power Reclining Chair
=> Check Price
Small and traditional, this recliner is ideal for any family or living room. Boasting a traditional design with rolled arms and a straight back, this chair has a power recline feature, optimizing comfort. This allows you to recline your chair at just the touch of a button. But, the high-tech features don't end there. This chair also features USB ports to allow you to stay connected and charged as you sit in comfort.
This fabric reclining chair is available in several colors, including gray, blue, green, red, and various shades of brown. There are also several printed fabric upholstery options for a surcharge to make this a nice accent chair. Measuring 41 inches high, 32 inches wide, and 37 inches deep, this is such a compact chair that you wouldn't mind getting two!
6. Fabric Club Chair Recliner
=> Check Price
If you are looking for sleek and simple, look no further. This upholstery small recliner is ideal for any room. The straight lines, simple construction, and upholstery finish help make this a modern and beautiful club chair.
The fabric arms are balanced nicely with an exposed wooden leg. The back of the chair is 36 inches high, while the seat is 34 inches deep. The chair features a footrest with a double fold design, allowing you to prop up your feet comfortably.
As a manual recliner, this pushback recliner requires minimal effort to extend the chair and enjoy some well-deserved relaxation time. The chair comes in one upholstery option, which is a beautiful, deep, midnight blue color.
7. Leni Manual Recliner
=> Check Price
Soft and compact, this small recliner just exudes comfort. The added cushion and padding in this chair make this recliner slightly larger than other chairs on our list. This chair is 41 inches high, 36 inches deep to the back of the seat, and a little over 33 inches wide. The chair is mostly fabric, including the beautiful rolled arms.
This chair's legs are a delicate turned wood design, making this chair look more traditional than other modern recliners on our list. What we love about this chair are the fun and vibrant fabric options. This chair comes in many exciting and bold prints and beautiful solid colors in different fabric materials. This pushback recliner features a single fold footrest that is also upholstered.
8. Ekolsund
=> Check Price
Offered by Ikea, this small recliner is ideal for those who don't want to sacrifice comfort for the price. Offered at an attractive price point, this modern recliner is perfect for small spaces. The chair is 38 inches high, 37 inches deep, and a little over 33 inches wide. This chair comes to your front door unassembled, but with Ikea's genius assembly, the chair can be put together in a matter of minutes.
Every part of this chair is upholstered, including the seat, back, arms, and base. The chair features delicate black feet that protrude ever so slightly from the base to balance a rather rounded appearance. This chair is a manual recliner with a single fold footrest. Available in two colors, gray and pink, this chair makes a wonderful addition to any home.
9. Leather Manual Recliner
=> Check Price
Ideal for a small apartment, this single, slim, faux leather recliner is perfect for small spaces. Plus, the small design also carries a beautiful price point. Place this small leather recliner just about anywhere in the home. The chair measures just 40 inches high, 30 inches deep, and 27 inches wide.
The chair design features a modern, plush style that offers plenty of cushion from the seat to the padded arms. This is a manual recliner that can recline to two positions. The footrest is a single fold design that allows you to kick back and relax. The faux leather fabric allows the look of a sleek and expensive piece of furniture, but for a fraction of the price. Not only does the faux leather look great, but it is easy to care for and maintain.
10. Soho Swivel Glider
=> Check Price
Featuring tons of motion, this swivel glider is perfect for relaxing. The glider recliner not only glides front to back but also swivels, allowing any person sitting in the chair to be in the thick of the lively conversation. We also love the idea of putting this chair in a nursery, as the gentle gliding motion can rock even the fussiest baby back to sleep.
The swivel recliner features an additional ottoman that can be purchased separately to give you somewhere to rest your feet comfortably. This chair is completely upholstered and offered in many different fabric options, including tweeds in blue, white, beige, and gray. Measuring just 31 inches wide and 36 inches deep, this small chair can go just about anywhere.
Additionally, the chair features a foam interior, making this a firm seat in the house. The foam will hold its shape and not break down over time as traditional upholstery stuffing can.
11. No Motion Recliner with Massage
=> Check Price
If you are looking for plenty of comforts, this modern recliner has exactly what you need. The chair gives the appearance of a traditional recliner and can recline to three different locking positions. The recliner also features a footrest that allows you to kick your feet up after a long day. This chair features faux leather, which is easy to care for and is water-resistant.
The chair comes in black, cream, or brown. A small recliner, this chair measures just 27 inches wide and 34 inches deep. Place this chair anywhere in the house where you need to relax and unwind. Our favorite part of this chair is the 8-way massage feature. Controlled by an included remote control, the massage feature goes through 15 or 30-minute cycles to gradually massage away stress and tension.
12. No Motion Upholstery Recliner with Massage
=> Check Price
If you are looking for ultimate comfort as you sit and rest after a long day, this chair has it all. The upholstery fabric makes it easy to care for, offering several colors to choose from, including gray, beige, and blue. This recliner is mostly fabric but has small, rounded legs exposed at the bottom of the chair. This helps give this modern chair a balanced and contemporary look.
The chair can recline and lock into three different positions, giving you plenty of comfort options. But, for extra comfort, this small recliner also has a massage feature. Change between 8 different massage functions to erase all your pent up stress from the day. Its small size makes this a virtual wall hugger recliner.
This small chair measures just 40 inches high, 34 inches deep, and 27 inches wide. This chair is made with a foam interior that will help retain the shape and support for years to come.
13. Hallett Manual Recliner
=> Check Price
Featuring both form and function, this small recliner is modern and perfect for small spaces. The petite seat (see what we did there?) measures just 42 inches high, 33 inches deep, and 29 inches wide. Every part of this chair is made with faux leather, from the seat cushion to the arms, to the chair's base and back.
The faux leather construction makes it easy to clean and care for, offering years of use. The chair reclines to three different positions and boasts a wide reclining angle of 135 degrees, making this an almost flat reclining option. The chair does require some assembly upon arrival at your home.
14. Kaplan Manual Recliner
=> Check Price
At 34 inches deep and a little over 38 inches tall, this small recliner is ideal for any room in the house. The tufted back and exposed wood, tapered legs give this recliner chair an air of tradition. The sleek lines and small shape help balance the traditional features with a smooth, modern look.
This recliner can recline manually with a small, two-part footrest. The recliner chair is available in several colors, including blue, gray, and purple.
15. Wilde Swivel Recliner
=> Check Price
Perfect for just about any room in the home, the Wilde swivel recliner can be placed in the living room, office, or bedroom. This small chair measures just 39 inches high, 34 inches deep, and 30 inches wide. Not only does this chair feature a great reclining option, including a footrest, but the chair swivels too.
This chair has a modern and sleek flare available in a black faux leather fabric with stunning wooden legs and frame construction. Enjoy the flared arms that fold over wood frame construction, adding extra comfort and padding. Plus, what we really love about this chair is that it is easy to maintain. Clean up spills and stains with a wet cloth.
16. Faux Leather Manual Recliner with Footstool
=> Check Price
Sleek and modern, this small manual recliner is ideal for any room of the house, but we think it would look perfect in an office. Its upright shape and modular design make it small enough to fit in any corner. Measuring just 38 inches high, 20 inches wide, and 27 inches deep, this reclining chair can be used with or without the included footstool.
This chair is made of faux leather, which is beautiful to look at and easy to care for. Wipe the seat down with a wet cloth to remove any stains or spills. The recliner is mostly upholstered but has a frame made of sleek and modern black metal.
17. Swivel Reclining Glider
=> Check Price
Perfect for a baby's room or a nursery, this swivel reclining glider has many movement options. Swivel from side to side, glide from front to back, or recline and kick your feet up once your little one finally falls asleep. This chair is sleek and modern with straight lines and an upholstered finish.
Select from several colors, including gray, white, taupe, and blue. With a small footprint, this glider measures just 39 inches high, 28 inches deep, and 31 inches wide. This gives you plenty of room to fit a crib, changing table, and glider into your child's room.
18. Faux Leather Swivel Recliner with Ottoman
=> Check Price
When it comes to small recliners, this chair is hard to beat. With a modern style, luxurious looking faux leather, and a comfortable, sleek design, this chair can fit into any room in your house. The chair measures 41 inches high, 34 inches deep, and just 33 inches wide.
Plus, this chair comes with a separate ottoman that gives you a great way to kick your feet up at the end of the day. If you are short on space, choose to use the ottoman for a different application at home. This chair comes in several different faux leather colors, including cream, black, brown, palomino.
19. Langley Street Izaiah Manual Recliner (Set of 2)
=> Check Price
Instead of one monster recliner get two smaller recliners like this handsome set of matching accent recliner chairs.
With the buttoned back and narrow wood legs, this mid-century modern design is a big hit IMO. It's a high-quality chair made with solid birch. While the picture above doesn't show it, this set of recliners do recline (manually).
Notice how it's fairly narrow so that it's not some huge chair. The recliner lifts up but doesn't extend too far. This is an ideal option for any living room or small condo.
If you don't like the green (I do), you can get dark blue, light gray, muted blue or muted purple.
20. Comfort Pointe Solaris Caramel Brown Faux Leather Wooden Arm Push Back Recliner Chair
=> Check Price
Is this really a recliner?
It sure is. Isn't it awesome? I love love love this chair. It's small for a recliner. It's simple. It's casual but that rich look would totally work in a more formal setting as well.
Do you know what would look even better than this chair gracing your living room?
Two of them flanking a matching mid-century modern side table.
The reclining mechanism offers 3 positions for ultimate comfort.
I've spent hours and hours researching recliners and I can tell you that this is definitely a unique design.
21. Gaga Recliner Chair by Lafer
=> Check Price
I love that yellow but this modern leather recliner comes in many colors so be sure to check them all out.
As you can see this is a small recliner design.
It also reclines almost to a full lying down position so this is not only a great reading and TV chair but it's the ultimate napping chair.
Not only does it recline to a sleeping position but it swivels. How fun!
This chair is made with genuine leather … not faux or otherwise. It's the real deal. But you'll pay for it. This is not a cheap chair.
22. Red Barrel Studio Augustus Manual Recliner
=> Check Price
The Augustus (sold as a set of two) is designed in a contemporary style and looks like it's made out of big pillows. This small recliner adds a rocking feature to its many attractions. Frankly, rocking on pillows sounds pretty good.
The listed color choices are mushroom and indigo. The upholstery is Dacron microfiber, and the foam padding (and there's a lot of it) is rated at 1.8 resiliency. And the recliner reclines all the way.
While the width of the chair is 41.5 inches, the seat width is 17 inches. But if you're a little wider than that, remember that a lot of it is padding. (The chair's, not yours.)
The height of the chair is 43.5 inches. While the depth is 43 inches when it's fully reclined the depth is 67 inches. But that's 67 puffy inches.
The Augustus Manual Rocker Recliner from Red Barrel Studio, made in the USA, is heavily padded, rocks, and reclines fully. Looks like Red Barrel Studio hit a triple.
Pros
=> Rocking (enough said)
=> Plush, soft, and pillowed
=> Fully reclines
Cons
=> Some assembly required (product weight is 101 pounds)
=> Might be tight in the seat
23. Giantex Recliner ChairBlack Lounger Leather Sofa Seat Home Theater
=> Check Price
This sleek small recliner has a very modern look. With its black leather and spare lines, it would fit a contemporary minimalist living room or a video game setup for your teenager (or husband, wife, grandparents).
While this is a push-back chair, there's a lever on the side that releases the footrest. The leather is polyurethane, a leather substitute also labeled "eco-friendly leather." While real leather has its benefits and drawbacks, polyurethane is a lot more durable and resistant to permanent damage from spills, etc.
The Giantex Manual Recliner is 25 3/5 inches wide. When open, its dimensions are 64 2/5 inches in length and 32 inches high; closed, the length is 35 4/5 inches, and the height is 39 ¾ inches. The seat is 19 inches wide.
Sitting in a recliner like this in a home theater, with a good movie and a little popcorn – sounds good! The weight limit on the chair is the standard 250 pounds, but after a few glorious months of movies, popcorn, and soda, that might not be enough.
Pros
=> Could fit many environments
=> Polyurethane upholstery, resistant to damage
Cons
=> Some assembly required
=> Cushions are not thick and may wear down
24. FDW Single Recliner Chair Sofa Furniture Modern Leather Chaise Couch
=> Check Price
This coffee brown small recliner may remind you of espresso, but its comfortable padding is more likely to put you to sleep. The sides of the chair are curved and sleek looking, and slender enough to make it easy to reach a side table. This chair would be perfect in front of the TV.
The upholstery is a leather-looking polyurethane, and the mechanism is steel. At 27 3/5 inches, this is one of the narrowest of the small recliners. The height is 40 1/5 inches (with a seat height of 18 inches), while the depth is 34 1/5 inches; a full-sized ottoman is also included.
The Single Recliner Chair by FDW does recline quite a bit, but not to a completely flat position. But it is the perfect position for watching TV with half-closed eyes.
Pros
=> Comfortable yet narrow
=> Ottoman included
Cons
=> Some assembly required (product weight is 57.99 pounds)
B. Push-back Recliner
1. Barcalounger Meridian II Leather Push-Back Recliner
=> Check Price
This Stagecoach Cream small recliner is a good-looking color somewhere between – eggshell and a darker eggshell? But it's an appealing color, and the chair has a good amount of padding, too, somewhere between pillowy and lean. This is a softer version of modern, elegant, and well-padded, but you can still reach the side table.
The upholstery is bonded leather, also called blended or reconstituted leather, which is a leather blend mush spread over a fiber or paper cloth and coated with polyurethane. The coating can be dyed and is generally embossed with a pattern to make it look like leather. The quality and durability of bonded leather vary widely.
The chair 33.5 inches wide by 35 inches deep, with a height of 40 inches. The seat is 21 inches wide, 20.5 inches deep, and you'll be sitting about 20 inches off the floor (give or take the cushioning). The arms are 24 inches high.
The Meridian II Leather Push-Back Recliner from Barcalounger is a well-padded chair that doesn't flaunt its padding. The color could be a pro or a con, depending on your preference, and if you trust that no grape juice is ever going to get near it. But then again, the polyurethane may take care of that.
Pros
=> Polyurethane could be a big pro, given the chair's light color
=> Nice balance of padding
Cons
=> Some assembly required (product weight is 90 pounds)
=> The quality of bonded leather varies
2. Barcalounger Charleston Recliner, Chocolate
=> Check Price
This chocolate-colored small recliner looks like a chair for a library or smoking room. It's designed in a traditional wingback style and would be perfect for watching old movies.
The upholstery is top-grain leather (the real thing), and it's well padded. It looks so "Winston Churchill" that the extended footrest seems a little out of character.
Despite its 43 inch height, the chair has a small footprint, with a width of 37 inches and a depth of 37.8 inches. The seat is 21 inches wide, 22 inches deep, and20 inches from the ground. The weight capacity is the standard 250 pounds.
The Charleston Recliner – Chocolate from Barcalounger is a charmer. You'll need 21 inches of clearance from the wall, but you might fall asleep to find yourself in Downton Abbey – in the library, of course.
Pros
=> Traditional charm
=> Real leather
Cons
=> Some assembly required
3. Darvis Push Back Recliner
=> Check Price
This club chair small recliner is designed in the transitional style. In keeping with the transitional palette, it only comes in gray or beige linen upholstery.
Transitional furniture is a blend of traditional and contemporary, with a point of view all its own. The colors are muted so that the emphasis is on textures, and the furniture is a combination of straight lines and curves. The look is clean, calm, and simple.
The width is a narrow 27.17 inches, while the depth is 33.46 inches. The chair is 35.83 inches high, but the seat is an unusually low 17.5 inches high. The seat has a 20-inch width and 22.25-inch depth.
The Darvis Push Back Recliner is just right for a transitional environment, but it could fit easily in either a traditional or contemporary setting. It has its own muted elegance.
Pros
=> Color choices to fit every room
=> Narrow footprint
Cons
=> Some assembly required (product weight is 60 pounds)
=> Fully reclined length is 48 inches
C. Rocker Recliner
1. Simmons Upholstery Power Rocker Recliner, Mia Latte
=> Check Price
A contemporary power rocker in a small recliner! And it comes in seven colors: Mia Latte, Elan Linen, Elan Slate, Jojo Chocolate, Jojo Spa, Mia Denim, and Mia Espresso. And there's more!
A power button on the side of the chair has a USB charging port. You can charge your phone or your tablet while you're rocking or reclining.
The upholstery is fabric. The mechanism and rocker base is hand-assembled and all steel.
The chair is 38 inches wide by 37 inches deep. It's 40 inches high. And while the chair weighs 80 pounds, no assembly is necessary, which might prevent a pulled muscle or two.
The Power Rocker Recliner by Simmons Upholstery looks like fun. You may have to scramble for that seat.
Pros
=> Power rocker
=> Power button with a USB charging port
=> No assembly required
Cons
=> It's a power rocker, and that means it's probably using your power.
2. Viv + Rae Antonia Swivel Reclining Glider
=> Check Price
This contemporary-style small recliner has an almost cubic look. The colors listed are gray or beige, so it should work in a transitional setting as well. It's not a rocker, but it swivels, reclines, and glides, so what more could you ask for?
The chair reclines manually using a lever between the seat and the arm. It doesn't recline fully; its limit is about 40 degrees. The upholstery is fabric, and the frame material is wood.
The chair is 34 inches wide and 34.5 inches deep, with a height of 39 inches. The seat itself is 20 inches wide by 21.25 inches deep, and the height is about average at 19 inches. The weight capacity is 225 pounds, which is a little less than normal.
The Antonio Swivel Reclining Glider by Viv + Rae is a fun and comfortable chair that would look good in any room in the house. It's a cute cube, and you can play with it.
Pros
=> Swivels
=> Glides
Cons
=> Some assembly required
=> Only reclines 40 degrees
3. Red Barrel Studio Merion Rocker Recliner
=> Check Price
This rocking small recliner comes in an array of colors that should make it easy to choose one that fits your home: tan, wine, blue, mocha, and pewter, in polyester and microfiber. And this chair is not ashamed to show its padding. You wouldn't think anything this stuffed could rock.
It has a higher than average weight capacity of 300 pounds. And it rocks, but only in the upright position. But unlike many other recliners, you can raise the footrest in the upright position.
The footprint of this powerhouse is 42 inches wide by 43 inches deep, with a height of 43 inches. The seat is 20 inches wide by 23 inches, and 21 inches high. The seatback is a good 26 inches, and when reclined, the chair measures 72 inches (you'll need a 15-inch clearance).
The Merion Rocker Recliner from Red Barrel Studio has puffy padding, some good-looking colors, and rocking. If this isn't your dream recliner now, it may be when you start dreaming about it.
Pros
=> Weight capacity of 300 pounds
=> Six-foot length when reclined
=> No assembly required
=> The footrest can be raised in the upright position
Cons
=> Rocking locks when reclined
=> It does not recline fully
Recap of our favorite 15
$109.99
in stock
2 new from $109.99
as of December 8, 2023
$196.49
$348.84
in stock
4 new from $196.49
as of December 8, 2023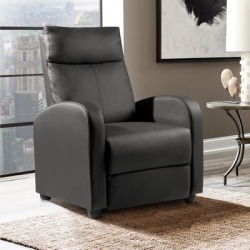 $252.99
in stock
3 new from $252.99
as of December 8, 2023
Related: Stylish Reclining Armchairs | Best Reclining Sofas | Best Recliner Chairs | Reclining Sectional Sofa Reviews
FAQs
With so many available options for small recliners, it can be hard to choose one that works best for you. While all of these featured small recliners will fit into a small space, the choice really comes down to style and additional features. To help make your decision easier, we have put together a quick list of some frequently asked questions related to small recliners to help you make an informed decision about your purchase.
How do you adjust a recliner?
Adjusting a recliner depends on the type of recliner that you purchase. Some recliners have a simple manual recline option. These require you to push downward in the seat to slide the footrest outward, reclining the chair backward. These manual recliners sometimes will utilize a lever positioned on the chair's side, that when pulled, forces the chair into a reclined position.
Sometimes, the chair will recline automatically using a power recliner. These chairs rely on a simple press of a button to have the chair recline. Depending on your power recliner's complexity, you may be able to select different pre-set positions to allow your recliner to adjust to just the right setting.
What is the best recliner for a short person?
Many of our small recliners featured in our list are ideal for short people. Often, short people have a problem with the seat being too deep, forcing their feet to hover above the ground. Consider purchasing a recliner with a shorter depth to find a better fit for you. Many of the recliners on our list are under 30 inches deep, making this an ideal size for vertically challenged people.
What different designs of petite recliners are there to choose from?
Just as full-size recliners have several options, petite recliners come in a range of possible styles and designs to choose from. When considering purchasing a petite recliner for your home, think about both the functionality as well as the form.
When it comes to function, many petite recliners feature a manual reclining mechanism. This means that you must physically push the chair into a reclined position. For those seeking a bit of luxury, there is the option to choose a power recliner. Further, many recliners come with variable movement, with chairs that will swivel or even glide front to back. Many petite recliners are even made with massaging features for ultimate comfort and relaxation to really complete the function factor.
Secondly, consider the form of your recliner. Many petite recliners have different styles similar to their bigger, full-size recliner brothers. You can find modern, mid-century, traditional, or contemporary designs. Recliners come in several upholstered fabrics or can feature wood and exposed metal. Further, some recliners come with a detachable and separate footstool or ottoman, allowing you even more room in a cramped or small space.
How do you know what size recliner to buy?
Before choosing a recliner, be sure to measure your available space fully. While your chair may fit with a straight back, a recliner can make measuring a bit tricky. Be sure to measure the space available when the chair is fully reclined.
Many recliner manufacturers will give two dimensions for the chair, one in the reclined position and the other as a standard, straight back chair. If you do not have the space to fit a fully reclined chair, consider adding a reclining chair with a detached footstool. This is a great way to maximize space and still have all the fun, relaxing features of a recliner.
D. Conclusion
Recliners are a major step forward in the development of furniture that adjusts to the person rather than the other way around. The foam padding and being able to adjust body position make recliners not only comfortable, but an important tool to counteract the strains of modern life. And you can add a small recliner to a corner, a bay window, or any little spot where it will fit.
Of course, the measurements are crucial to make sure the recliner will fit in the space and the people who will use it will fit in the recliner. It's also important to make sure the recliner will adjust to you in the ways that you want – does it recline fully or to your preferred angle? Does it have the bells and whistles that appeal to you?