Welcome to our guide featuring a wide array of swimming pool covers!
This detailed write-up covers advantages of pool covers, types of pool covers and many examples of pool covers you can choose from.
Related: Average Swimming Pool Size | Is Installing a Swimming Pool Worth it | Types of Automatic Pool Cleaners | Swimming Pool Types and Designs | Indoor Pool Ideas | Swimming Pool Accessories | Benefits of Pool Screen Enclosures
A. Why get a pool cover for your pool?
First and foremost, covering your pool is an important step in winterizing. Covering your pool in the winter helps prevent debris from falling in, and unwanted critters from taking up residence in your swimming pool.
Swimming pool covers also work to warm our pools, by absorbing sunlight and transferring the heat into the pool. This can help save money and energy that would otherwise be spent on heating the pool.
Depending on the strength of the cover on your pool, it may also be a good safety measure. They can prevent children or animals from falling into the pool when the pool is closed.
Security is another advantage of pool covers. An automatic pool cover can work will as a deterrent for unwanted swimmers.
B. Types of Pool Covers
Specific solutions may suit you better than others, depending on your reasons for obtaining a pool cover. While some covers are designed to provide an essential barrier between the surface and your water, others provide impregnable protection from undesired pollutants and a seal that is strong enough to walk across.
So, let's take a closer look at the many varieties of pool covers.
1. Winter Swimming Pool Covers
These types of covers look like large tarps. They float on top of the water in your pool and are held in place by a series of water bags. They do an excellent job of keeping debris out of your pool, especially as they're comprised of a solid material that isn't permeable.
Winter covers, however, cannot bear a lot of weight. This can include everything from heavy rain to a stray animal. As a result, erecting a fence or enclosure around your pool is a wise decision.
Expect to remove excess water from time to time as far as maintenance is concerned. Use a submersible pump or a bucket for this.
It is important to note that winter pool covers are the least expensive type of pool cover, so they provide an excellent option if your budget is limited.
Pros
UV rays are blocked by solid materials (helps to prevent algae).
Lowest starting cost.
Simple to set up.
Cons
The shortest life expectancy.
Water tubes must be replaced every two years.
Can't bear a lot of weight.
Cost: $70 to $250 but take a lot of work to install
2. Mesh Safety Pool Covers
Mesh safety coverings compensate for what winter covers don't. They last significantly longer, can hold twice as much weight, and are held in place by strong, heavy-duty anchors.
Mesh safety covers, like winter covers, keep debris out of your pool. Also, they allow water and snow to drain through due to their densely woven threads, unlike winter blankets. This removes the need to drain, simplifies cleanup, and minimizes stress on the cover, thus extending its life.
It is one of the covers that can be walked on. However, while some mesh covers may sustain up to 4,000 pounds, they aren't always made to be walked on. As a result, we wouldn't advise throwing a winter party on top of your heated pool. But, you can have a friend join you for a once in a while night of stargazing.
Pros
The most lightweight cover of them all.
It traps trash while allowing water to travel through.
It can withstand a lot of weight.
Cons
They cost more than winter covers.
Installation of a safety anchor is required at the start.
UV rays are unaffected by mesh.
Cost: $300 to $1,400
3. Solid Safety Pool Covers
Except for one key difference (the type of material used to make them), solid safety pool coverings are very similar to mesh pool covers.
They are constructed of non-permeable vinyl material with many characteristics as mesh safety covers. Chris from Clark Pools and Spas Collingwood says "Solid Safety Covers are the cover of choice for us due to their ability to handle the snow load we experience in Canada. The only time we recommend a client not use a solid safety cover is when the pool has a waterfall feature."
Water and snow cannot pass through the substance because it is non-permeable; hence they accumulate on top. This is why a good number of solid safety covers contain a submersible pump. The water is automatically drained by the pump, which is located in the center of the cover.
An advantage of the solid pool covers is that they provide UV protection and excellent water insulation.
Pros
Ensures that ultra-fine debris does not enter the water.
Provides UV protection.
Cons
It's not as long-lasting as mesh covers.
It's necessary to drain the water from time to time.
Installation of the initial anchor is required.
Cost: $500 to $2,000
4. Hybrid Safety Pool Covers
Hybrid covers combine the benefits of both solid and mesh safety covers. As a result, they naturally provide the best of both worlds.
A hybrid safety cover is made up of a succession of vinyl patches and a small mesh portion. The covers drain like a mesh cover while filtering UV radiation and finer pollutants like a solid cover. It's the ideal choice for individuals who can't decide between solid and mesh covers.
Pros
Drains similar to mesh covers.
Gives a thorough filtration.
Offers protection from UV rays like solid covers.
Large quantities of weight can be supported.
Cons
It costs more than solid and mesh covers.
Installation of an initial anchor is required.
Cost: $600 to $2,500
5. Automatic Safety Pool Covers
Automatic pool covers use whatever material they're constructed of to maximize their benefits. This means that if you choose an automated mesh cover, draining and cleanup will be simple.
Out of all the covers in this article, automatic covers are the easiest to apply and remove. There will be no anchoring, water bags, or hoisting. The cover unrolls by just pressing a button, and it retracts if you press it again. All of this is done without touching the cover.
Of course, you can expect to pay a premium for this type of ease. Automatic covers have the largest initial cost, albeit being the most practical and convenient sort of cover. This is because they need to be installed by well-trained experts. But for the pleasure of swimming pool automation, it really is a small price to pay.
Pros
It's straightforward to use and runs automatically.
It matches the characteristics of the substance they're constructed of.
It is the most visually pleasing and user-friendly type.
Cons
It is the most costly.
Professional installation is required.
It's difficult to get rid of.
Cost: $600 to $2,500
6. Solar Pool Covers
Although solar pool covers aren't used for the same reasons as regular pool covers, they are worth discussing. A solar cover's primary function is to insulate your pool rather than to protect it. This is done by creating a barrier that retains heat and reduces evaporation.
Solar covers are inexpensive and ideal for pool owners who want to improve the heat retention of their pool. They, too, perform an excellent job of minimizing water loss, as do the other covers.
Solar coverings are distinct from other types of covers for several reasons:
They're simple to put on and take off.
They float freely on top of your water.
They are unable to support any weight.
C. Pool Cover Ideas and Examples (Photos)
See our definitive swimming pool guide for more galleries and information!
A standard cover is on this above ground pool. Th material is simple, and application is easy. For an above ground pool, without a dedicated heater, a solar cover like this is very useful to keep the water warm for swimming.
This is a long rectangular pool with a standard solar cover on it. The tarp is connected to a bar on the end of the pool for easy retraction. This reduces the hassle of constantly replacing and removing the cover if you are using it to help heat the water.
A standard winter cover in place, preparing this pool for the off season. The tarp here is weighted down by long bags filled with water. This helps keep the cover from blowing away. While these weights can hold down the cover against wind anything too heavy placed on the cover would sink into the water.
Here's another example of a standard winter cover, set over a rectangular pool. The thin material is weighted around the edges for stability.
A winter cover for an above ground pool. Rather than being weighted down by bags of water, this cover is clipped to the sides of the walls of the pool. Again, this is good protection from winds and other elements, but would likely not hold much weight on the top of the cover.
This is a solar cover on an odd shaped pool. many covers can be custom fitted to your specific needs. This pool also has a crank on the far end, for reeling in the cover with ease.
A good example of a security cover on this rectangle pool. Because of the tethering of the cover to the concrete, you can see that the cover is far more secure from things falling into the pool. It can support far more weight.
Security covers can be formed to fit pools of various sizes and shapes, even fitted around other features that your pool may have.
Here's a great example of a simple application of a security cover on this hexagonal pool.
This pool has multiple covers, a security cover for longer term covering, as in the winter or long periods of non usage, and a solar cover for temporary covering.
This pool cover is unique and does not really fit into any typical category. It is a retractable dome with hinged arms. This is an interesting and creative solution to pool covering.
This is a close up of the spring clasps anchored into the concrete that make the security cover a safer and more sturdy option that your typical standard winter cover.
A custom automatic cover fitted to a L shaped pool.
A Ridged automatic cover on this pool. The automatic cover here lays under the lip of the pool, and is made from a ridged material. The harder material adds to the durability of the cover.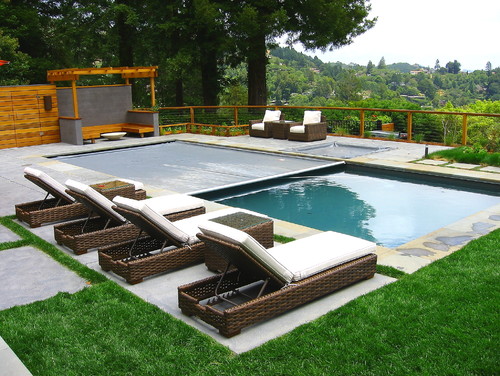 An Automatic cover with softer material on this rectangular pool. These kinds of covers can be quite convenient when they work, taking the stress of having to manually cover the pool off of you.
For much larger pools, such as this one, the convenience of the automatic cover is multiplied. The size of the pool makes a great deal of difference on the ease of the task when you have to manually apply a pool cover.
This close up of an automatic pool cover track gives you an idea on how an automatic pool cover works, sliding the rolled cover along the track, unrolling it as it crosses the distance.
Other Pools And Galleries That You May Enjoy: