Published on April 18, 2023
The earliest kitchen backsplash was more functional than decorative. It was only four inches tall and made of glass or ceramic tile. They were designed to protect the walls from splatters of water and grease and other kitchen mishaps so they were only found behind the sink and stove areas.
In the 1950s, the kitchen backsplash became both functional and decorative. They came in bright colors and went all around the kitchen reaching all the way up to the bottom of the upper cabinets. This continued in the 1970s or 1980s with mosaic and decorative tiles.
By the 1990s, however, homeowners shifted to natural-looking tiles. White or cream backsplashes became the decade's signature look. The subway tile didn't enter the scene until the 2000s.
Backsplash categories are as follows:
General types
Material
Shapes and Patterns
Finish
Seam
Understanding the different backsplash options is a good start when choosing the perfect kitchen backsplash for your kitchen.
General Types of Backsplash
Tile
Source: Etsy
Kitchen backsplashes are important because they help to protect the wall of your kitchen from water and other staining materials. One of the most popular backsplash materials is tile, and this material makes it very easy to create many different looks depending on the style of your kitchen and your other décor choices. With so many different types of tile available to choose from, it's fun to consider various materials, textures, and colors when creating a backsplash.
Generally, tile is the most popular type of kitchen backsplash because it offers a number of benefits to the homeowner. Because tile is impermeable, it does an incredible job of protecting the wall of your kitchen from the water. Additionally, tile is usually very easy to clean.
Tile is also easy to install, which means that an avid DIYer can generally accomplish this task by him or herself. While tile does range widely in price, the many choices of tile make it fairly easy to find the perfect selection for your space without sending you over budget. Tiles can be either installed as a sheet or as individual tiles.
Chalkboard Paint Backsplash
Source: Amazon
A lower cost option for homeowners who need to update their backsplash, but don't have the budget required for tile, is chalkboard paint. This option comes with a few benefits, as well as a number of concerns. This low-cost backsplash option is incredibly easy to use, and it will update your kitchen in a matter of hours without causing a lot of mess for you to clean up later.
People who paint their backsplash with chalkboard paint love that they can easily write with chalk, and then erase it when they are ready for a clean slate. This gives homeowners a perfect space for writing menu ideas, to-do lists, recipes, and even to draw a picture. Unfortunately, there are some downsides to using chalkboard paint, and one of them is that it is so dark that it may cause your kitchen to feel smaller than normal.
Because of this, it's a good idea to only use this option if your kitchen is fairly light or large. Additionally, chalkboard paint does not offer the same protection against water damage as tile does.
Ceiling Tiles
Source: Etsy
If you want to enjoy the functionality and durability of tile, but you are looking for something that will add more visual interest to your space, then installing antique ceiling tiles may be what you need. This look is perfect for a country kitchen and does more than simply protect the wall from splashing water and food. Ceiling tiles provide texture, visual interest, and a pop of color to your kitchen that can be very interesting and help tie together all of the décors in the home.
Unfortunately, because these tiles are generally highly textured and often older, it can be a little tricky to keep them clean.
Mirror backsplash
For smaller kitchens that need to be visually opened up, mirrors are a great choice. As a backsplash, mirrors are very dramatic and eye-catching because they reflect light and bounce it around the room. This option is fairly easy to keep clean, even though fingerprints can dirty the surface of the mirror and cause you to spend a lot more time cleaning than you thought you would.
This is especially important to consider before installing mirrors if you have small children who are going to be in the kitchen, as they will leave their fingerprints all over the surface.
Wallpaper
Source: Hayneedle
Some homeowners and renters choose to install wallpaper as their backsplash. This can be a fast and simple way to update the space, but this material does not provide the protection that your wall needs in this messy area of your home. While peel and stick wallpaper that is removable is a great choice for renters who are not allowed to make major cosmetic changes to the home, the humidity and heat in the kitchen can cause wallpaper to begin to peel rather quickly.
This means that although your wallpaper may have looked amazing during installation, it will quickly need to be addressed once it starts to peel along the seams. Another problem with wallpaper is that depending on the type that you choose, it can be very difficult to remove stains and splashes without damaging the wallpaper. Some foods, such as spaghetti sauce, can stain the wallpaper permanently.
Stainless Steel
Source: Houzz
For a modern look in your kitchen that is very easy to clean, durable, and resistant to high temperatures, stainless steel is a great option. This will tie together your whole kitchen décor, especially if you have stainless steel appliances in your kitchen. There are a few problems with opting for this material as your backsplash, including the increased price that you will have to pay for a large sheet of stainless steel, as well as the fact that acidic foods can damage the material and ruin the finish when splatters are not immediately cleaned.
Panel
Source: Lowes
For a very dramatic look in your kitchen, a wall panel is a great way to make a huge visual impact and fill in a large space with minimal effort. Because wall panels come in so many styles, colors, and varieties, it is usually very easy to find one that will work with the décor of your kitchen in your home. If you choose to install a panel on your wall, then it is important to make sure that it can be easily cleaned.
Otherwise, your wall panel will look dirty, and it won't improve the appearance of your kitchen.
Tile Installation
Peel and Stick
Source: Amazon
Homeowners who are looking to install a new backsplash in the kitchen without going over budget can benefit from using peel and stick tile. Not only will you save money on purchasing the tile itself, but because you will not have to buy other materials for installation, your cost will be even lower. There are many benefits to using this type of tile for a backsplash, including how easy it is to install.
The only work necessary is to cut the tile, peel off the back, and stick it on the wall. This type of tile does still require wall prep to ensure that the wall where you will be installing your new tile is completely smooth. Otherwise, the tiles will not be able to stick properly and will not look professional.
Because peel and stick tiles come in a variety of styles and colors, it's easy to update your kitchen with a tile that will improve the appearance of your home. However, ensuring that the wall is in great condition before performing this work is very important.
Traditional grout and tile installation
Source: Houzz
While more expensive than peel and stick tile, the traditional tile will last for very long time and is less likely to have problems staying on the wall. One the important things to consider when choosing traditional tile over peel and stick is that you will also have to buy grout, tile adhesive, and any installation tools that are necessary for the task, or you risk shoddy installation that will not last for very long. Your other option is to hire a professional to install the tile for you, but this can be very expensive.
However, when you opt for traditional tile, you will benefit greatly, as this material is long lasting and will do an incredible job of protecting your wall from water and food spills. Additionally, with so many amazing tile choices available, it is easy to find the right one for your home. While there are a number of choices of peel and stick tiles, there really is no comparison when choosing traditional tiles as you can easily find even more options in stores and online.
You will have no trouble perfectly matching the décor and appearance of your kitchen and home. Real tile is very easy to clean and will allow you to quickly wipe off spills and stains without using harmful products or worrying about permanent stains on your tile.
Backsplash Materials
Glass
Source: Backsplash.com
Often glass is used with another material such as metal, ceramic or metal. Glass tiles are a great option for a kitchen backsplash in a home that is modern and trendy. Because these tiles have a bright and reflective surface that will reflect light throughout the room, they do a great job brightening up even a small kitchen.
The colors of glass tiles are strong and rich, and they will never fade, no matter what kind of harsh cleaning solution you use on your tile. Because glass is non-porous, it does not have to be sealed after installation. One problem with this type of tile is that it tends to be rather trendy, and it may become outdated in the future if you make changes to your décor.
It is important to make sure that you truly love your glass tile before installing it as a backsplash.
Ceramic & Porcelain
Source: Backsplash.com
Both ceramic and porcelain tile can add a lot of interesting design to your kitchen. Either can look just like the tile on your wall or mimic natural stone. This means that it's very easy for homeowners to choose ceramic or porcelain tile that will match with the décor and color scheme throughout the home.
As one of the most popular options for backsplashes, it's very easy to find tile edge treatments and even accessories that match with your ceramic or porcelain tile. These tiles stand up very well against water, and they will not be damaged, even if they are splashed on a regular basis. They come in a wide variety of prices, so you can choose tile options that are less expensive if you are on a budget, or you may choose to put more money into your kitchen remodel.
One problem with installing ceramic or porcelain tile is that it requires some learned skills for proper installation, and many homeowners do not want to risk making mistakes on their backsplash.
Natural Stone
Source: Houzz
One of the major benefits of using natural stone for your kitchen backsplash is that this gorgeous material will instantly update your room without a breaking the bank. Natural stone varies widely; therefore, you can create a unique look in your kitchen. When you install natural stone for your backsplash, you can rest easy that you are making a change to your kitchen that will add to the appeal and asking price.
Additionally, this is a very budget friendly option that is significantly less expensive than other similar choices. However, you have to be prepared to work a little bit harder when cleaning your natural stone backsplash because it is very easy for scum and dirt to get caught in the pits of the stone itself, as well as the grooves of the grout. Certain cleaning chemicals can stain your stone and cause the color to change.
Because natural stone is porous, it will absorb water, stains, and even odors in your kitchen, so it is important to seal it on a regular basis to keep it looking and smelling its best. While many people love the variation of natural stone, if you have your heart set on the appearance of the sample in the store, know that you may be disappointed when your new backsplash is installed, as the color and markings of natural stone vary greatly.
Marble
There are a few reasons why some homeowners love installing marble for their backsplash, and one of them is that the countertop can also be made of marble. This way, the countertop and backsplash match each other. Marble is visually stunning, and it will instantly update your space.
However, it does come at a cost. While it is easy to wipe down and to clean as long as it is sealed regularly and correctly, this is a very expensive material to use for your backsplash. Marble also can stain, chip, and crack fairly easily which may mean that all of your hard work installing your new backsplash can quickly become damaged.
Marble tiles are very interesting to look at, and they are easy to take care of as long as you are willing to commit the time and money to the job.
Travertine
Source: Houzz
This natural tile is made from stone and is relatively light and easier to install as a backsplash, compared to other types of tile on the market. While it is available in a number of sizes all the way up to 18 inches square, the larger tiles can result in a strange look for your backsplash. For this reason, it's best to choose tiles that are smaller.
Made of limestone, which is usually very pitted, travertine tiles have been filled and sanded so that they are smooth and easy to clean. While very easy to install, this is not the low budget choice for most homeowners, as it is easy to spend hundreds of dollars installing a new backsplash. To keep your travertine tiles looking their best, it is important to seal it on a regular basis.
This will add to the overall cost of your backsplash.
Metal
While it has always been easy enough to find a large piece of metal to put up for your backsplash, now there are many other size options to choose from as well. This means that you can easily choose from a number of different finishes and textures for a unique look that is modern and updated. While there are so many different metal tile options to choose from, it is important to bear in mind that this look only works well in modern homes.
Generally, the metal backsplashes look out of place in traditional kitchens. It's also important to test any metal tiles you are interested in installing to see how easily they scratch. Once they are damaged, there is no way to sand or buff out the scratches.
Engineered Stone
Source: Wayfair
Stone backsplashes are gorgeous, add to both the appeal and the value of your home, and can actually increase the asking price of a home when installed correctly. Unfortunately, as amazing as real stone looks, it is very difficult to cut and install, and it is incredibly heavy. For this reason, many people rely on engineered or manufactured stone veneer for the same look without many of the drawbacks of real stone.
The main problem with using manufactured stone for your backsplash is that this product is porous and will absorb oils and other food splatters. This can cause your backsplash to quickly stain, and this makes it very difficult to clean. While easier to install than real stone, engineered stone still has difficulty adhering to the wall because it is heavy.
One a benefit of choosing this product over a real stone is that it does not have to be sealed which will help to speed up the installation process.
Slate
Source: Backsplash.com
Backsplash Tile Shapes and Patterns
Rectangular
There are 3 types of rectangular patterned backsplashes: Brick-style, irregular and columns. Here are examples of each:
1. Brick style
2. Irregular
3. Columns
Rectangular tiles are perfect if you want to have an offset, repeating pattern on your backsplash. Recently the subway look has become very popular. This involves rectangular tiles laid end to end with all rows offset by half of a tile.
While this is an incredibly popular look for many homeowners to use, with rectangular tiles, there are many different styles that you can create. These tiles do not have to be laid, and straight lines and can be placed at right angles from one another for an interesting and interlocking look.
Square
Square tiles, while not quite as common as rectangular tiles, will still update your kitchen backsplash and add a lot of visual interest to space. They can't be used to produce as many different styles as rectangular ones, but they often come in varying patterns that can be placed in interesting designs. Because you will most likely not be offsetting these tiles, you will not have to worry about whether or not your pattern is even.
The edges and corners can be easily lined up. This makes square tiles ideal for beginners working on their first DIY project.
Random
If you want the look of a more intricate backsplash without a lot of effort spent trying to figure out how to interlock various sizes and shapes of tiles, then you might consider choosing randomly shaped tiles. These tiles come in sheets for easy installation. This makes it simple to choose a design that you like and install it without having to worry about where to place your individual tiles.
One of the benefits of random tiles is that they will draw the eye of anybody in your kitchen, and they will definitely jazz up an otherwise fairly plain location in your home. It's also beneficial to install random tiles for your backsplash because these tiles will make it a little bit more difficult for your eye to pick out any stains or splashed food on your backsplash.
Circular
Source: Amazon
In recent years, penny tiles have become very popular for both kitchens and bathrooms in updated homes. This shaped tile comes in a variety of sizes and colors, and it is often easy to find circular tiles that combine different sizes and colors in the same product. Not only is the shape of this style appealing, but users love how easy sheets of circular tile are to install and how professional they look.
Diamond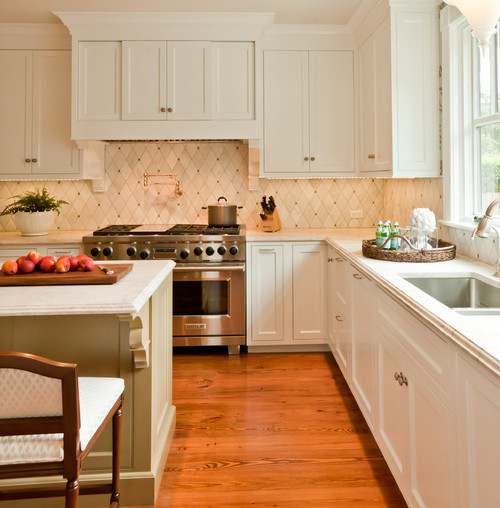 Tile that is the shape of a diamond is also very popular for a backsplash. This type of tile creates a repeating pattern that is very pleasing to the eye and easy to achieve. When choosing diamond shaped tiles, it is important to make sure that you choose ones large enough that your backsplash does not appear too busy.
This is especially important if you have a large area that you are going to be tiling, as very small tiles can make it difficult to focus on the backsplash without tiring your eyes.
Hexagon
Herringbone
Solid
Triangle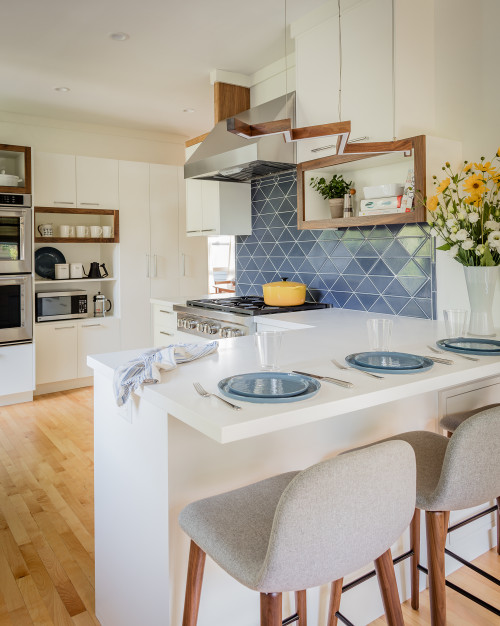 Mosaic
Backsplash Finish
Another method of categorizing backsplashes, especially tile, is by the finish. Specifically whether matte, semi-glossy or full glossy. Check out the differences:
Backsplash Seam
Lastly, is the backsplash seams. Some have high-contrast, some low contrast and some no seam (i.e. gaps between the titles). Here's an example between stark seam and no seam: