Have you checked recently just how many different kitchen backsplash options are out there? Choice is great and all, and I'd take too much choice over not enough, but at some point it becomes overwhelming.
We just bought a new house. The kitchen is spectacular but we want to put our personal flavor into the kitchen decor with a new backsplash. Which means we are currently reviewing hundreds of backsplash options.
Here's our kitchen as it came with the house:
Here's a close-up of the backsplash:
As you can see the kitchen is great but the backsplash is a tad boring. We want to make it sizzle.
We've narrowed down our options quite a bit. We did so with this 12-step backsplash choosing process. Easy peasy (kidding).
1. Do you want your backsplash to match your countertop or not?
Yup, it's an option to have your backsplash match your countertops (or kitchen island surface). Check it out:
However, most kitchen designs do not have a backsplash that matches countertops. I set this out as step 1 because if this is what you want to do, your decision-making process is done. If you don't wish it all to match, continue with the decision process below.
IMPORTANT: The steps set out below are not set in stone. It's the process we used for choosing a new backsplash but if you have a particular material and/or pattern in mind first, that's totally good. It really doesn't matter what process you use to choose the best backsplash for your kitchen… the key is getting there.
2. Spend some time checking out kitchen designs online
These days there are many great websites featuring hundreds or thousands of different kitchen designs. We have an extensive kitchen design gallery here. Houzz has an amazing selection of kitchen designs to browse through.
Browse and browse and browse to get ideas. If you've already chosen cabinets and countertops, perhaps focus on looking at kitchens with similar cabinets and countertops to see what types of backsplash works well.
3. Start with your backsplash color scheme – pop or blend?
IMO, your backsplash is an opportunity to add some sizzle to your kitchen's decor. Cabinets, countertops, ceiling and flooring are usually fairly benign color-wise which is where your backsplash comes in.
With respect to popping and using color, you can go with bright colors or more neutral earth tones. As you can see above, our kitchen currently has an earth-tone kitchen backsplash which is quite popular.
We recently bought a house. The kitchen is amazing but we're not wild about the backsplash because it lacks sizzle. We're planning to replace it with something more colorful and with a curvy pattern. I put photos of our current kitchen above.
Where to begin with color options? It's endless really. You can go monochrome. Two colors. Multi-color. You need to sit down and look at options. It's not an enviable job just because there are so many to choose from.
If you go the two or more colors, one color will typically dominate.
Here are some main color scheme examples:
Colorful (blue is popular):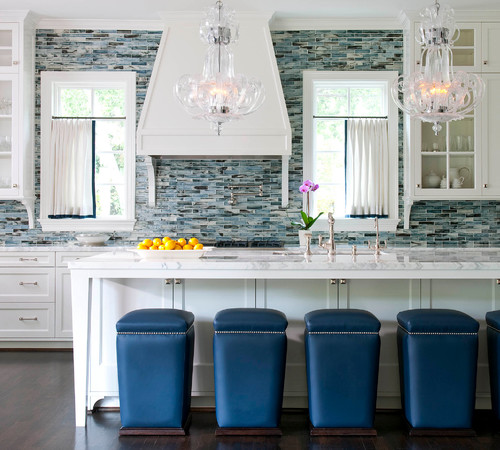 Earth tones:
Neutral tones:
Mono (white is popular – think subway tile):
4. Next, the pattern will dictate the angles and shapes of your kitchen which can have a big impact on the feel of your kitchen design
Our kitchen is all right angles. The backsplash is as well which means it's not offering any "mixing" or contrast which means it's not popping. While our current backsplash is okay, it's not really bringing anything to the party.
Examples of patterns:
Rectangle columns (like ours)
Rectangle uneven
Rectangle – brick style
Triangle
Hexagon
Diamond
Herringbone
Mosaic / random
Earth pattern (marble or wood grain effect)
Curves
Check out our extensive types of backsplashes article for more on backsplash patterns.
As an aside, kitchen lighting is another opportunity to add some sizzle to your kitchen. We're also changing out the lighting adding pendant lights above the island.
5. Now that the hard part is over, choose a backsplash material. Chances are you'll have a shorter list by this point.
The best tip for choosing a backsplash material is going with something that's not porous. Backsplashes are more than just decorative; it serves a real function and that is to repel liquids, oils, splatters, food etc. from seeping into your walls. If you opt for a porous material, it won't look good for long due to stains. Tile is not porous at all. Marble, on the other hand, is. It's similar to choosing a countertop. If you opt for a porous material for either a backsplash or countertop, be sure
While there are far more patterns than materials there is no shortage of backsplash materials. Check it out:
Slate
Glass
Travertine
Marble
Metal
Shell
Limestone
Porcelain
Check out our extensive types of backsplashes article for more on backsplash materials.
6. Tile size – the chunky look or the detailed look?
Tile size also makes a big difference in the overall appearance of your backsplash. Check out the following two examples:
7. Matte vs glossy backsplash: this decision can make a statement almost as strong as your color scheme and pattern.
You might not actually think about this as part of the backsplash choosing process and will subconsciously choose matte or glossy but it is an important decision. Glossy pops; matte blends.
In fact, you should use this as way to make your backsplash stand out without it being overbearing. For example, if you opt for brighter colors you might want to go with more of a matte finish. If you go with more neutral colors, opt for glossy.
Here are examples of matte vs glossy backsplash:
Matte backsplash examples:
Glossy backsplash examples:
8. Seams or no seams. You can have contrasting gaps in your tile or go with one solid surface
Contrasting seams or gaps also impace the look of your kitchen backsplash and hence your kitchen. Check out the different effects:
9. Height: do you want it to rise up to the bottom of upper cupboards or raise your backsplash to the ceiling?
Some kitchens, especially those with open shelving, extend the backsplash right up to the ceiling. This, as you can imagine, costs more. However, the look can be fantastic.
Here's an example of a partial wall kitchen backsplash:
Here's an example of a kitchen backsplash rising up to the ceiling:
10. Should you go with two different backsplashes or one?
Most kitchens have one backsplash color/pattern throughout. However, some incorporate sections with a totally different backsplash. Check it out:
11. Installation: Peel and stick or grout-in tile? DIY or get the pros on it? Probably your budget will make this decision for you
If you can and it's a kitchen you care about, invest in grout application backsplash. Peel and stick might be great for a mortgage helper suite or a rental in general. Basically, if you don't care if it's permanent or not, peel and stick is fine. You'll save money on the cost of the materials as well as installation since most peel and stickers install it themselves.
Here's an example of peel and stick backsplash you can buy from HomeDepot:
Source: HomeDepot.com
FYI, big box home improvement stores are a great option for buying peel and stick backsplash.
12. Is your preferred backsplash available?
There are a good number of websites that sell backsplashes but you might be better off working with a local kitchen contractor or design company. Or, perhaps you find the perfect backsplash online that you order and then hire a local contractor to install it for you.
Here are some decent backsplash stores online: