In addition to the usual kitchen island features such as seating and counter space, with a bit of planning you can add a good number of cool island features to get more out of your island. These islands are referred to as multi-functional kitchen islands. Here are some ideas.
1. Garbage/recycling storage
This is what we have and it's amazing. I strongly recommend it. We have garbage stored on the island which is most useful because we can wipe scraps directly from the island surface into the garbage.
2. Pop-Up TV (or monitor)
Not something I want or need but it could come in handy for following recipes or watching something while in the kitchen. Nexus21 makes great pop-up TV/monitor mounts (pictured above).
3. Device holder
I like the device holder purchased separately instead of being built in so you can place it anywhere on the island. Very handy for following recipes or Netflix.
4. Recipe book holder
Instead of going with a device holder (or in addition to), get a recipe book holder. I particularly like this one on Amazon with the "cutting board" appearance.
5. Charging station / Power outlet
You could add power outlets on the side or the top or go all discreet with a wireless charger that is also a pop-up outlet (so cool).
6. Wine storage
The above is more than just wine storage but it's a "wine island". Wine bottle storage built into the kitchen island is a pretty good idea IMO.
Here's a more traditional island with built-in wine bottle storage: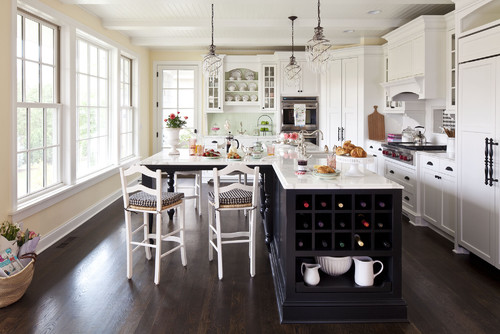 7. Wine glass storage
Another option is to go with a more "mini bar" oriented island such as the following:
8. Prep sink
A kitchen island with a full or prep sink can be a great use of island space.
9. Beverage fridge
We have two beverage fridges. One is built into a kitchen peninsula which is super handy in the kitchen. It's kind of like an island.
Or build it into your island as follows: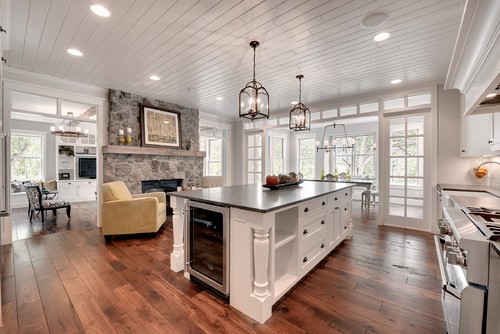 10. Attached dining area
The above is one of my all-time favorite kitchen islands with a built-in dining area – it's designed by Audax.
11. Built-in spice rack
That is one slick spice rack built into a kitchen island. There are so many variations you could do for a spice rack feature. Get creative. Alternatively, you could place a spice rack in an island drawer as follows:
12. Built-in knife storage
The following is a very simple knife storage drawer built into the kitchen island:
13. Built-in herb garden
For avid herb gardeners, check out this super cool island with a built-in herb garden: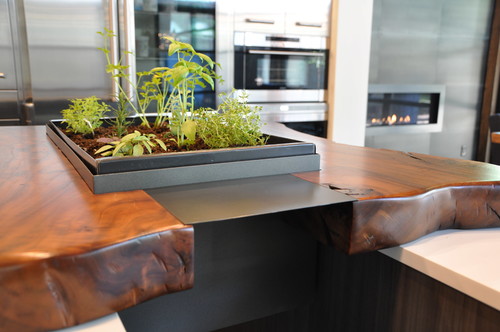 14. Built-in paper towel holder
The above is a really great way to declutter your counter surface and it hardly takes up any potential kitchen island storage space.
15. Built-in kitchen towel holder
Above is a kitchen island with built-in dishwasher with a towel-holder. You don't need to build in a dishwasher for a towel holder. Personally, I think having multiple kitchen towel holders in the kitchen is a very good use of space. I like running a clean operation.
16. Multi-functional Trough
If you like oysters or chillin' drinks, add an ice trough to your island. Or use it to grow herbs. Check it out:
Why have one use for a sink when you can have a multifunctional trough? It can be used for anything from chilling oysters, champagne or growing herbs, and of course, as a traditional sink to prepare food at too. See more kitchen trends here: https://t.co/oxGzU8Dikd pic.twitter.com/aVjFh7awBa

— House Beautiful UK (@HB) April 4, 2018
At the end of the day, if it can be something built into cabinets or counters, it can be built into a kitchen island.