Published on June 5, 2023
Quicklist: Hot Tubs
Portable
Swim or Exercise Spa
Rotationally Molded
In-Ground
Wooden
Inflatable
Soft-Sided
Custom-Made
I'm a hot tub nut. While we don't have one at home, we have a recreation center five minutes from our house that offers a hot tub, pool, sauna and steam room. It's also where our kids do swimming lessons so I go there two to four times per week.
While my first choice would be a sauna at home, a hot tub would be nice. Based on popularity at gyms and rec centers I've gone to over the years, hot tubs are, by far, the most popular compared to saunas and steam rooms.
If you're looking to buy a hot tub, then you have a lot of decisions to make because there are many options. Below, we set out the various types to choose from.
Related: Spectacular Hot Tub Gazebo Ideas | Backyard Hot Tub Ideas | Hot Tub Deck Plan | Average Size of In-Ground Pools
Types of Hot Tubs
Portable
If you want to have the most options for size, color, features, and seating configurations, then you will want to consider a portable hot tub. These traditional hot tubs are what most people think of — developed shortly after wooden hot tubs, they are incredibly durable and permanent.
They also tend to be more energy-efficient and offer higher performance than other types of hot tubs. While they are portable, they are not lightweight and typically take a lot of work to move. Additionally, they need to have a special pad in place to support their weight.
Swim or Exercise Spa
These hot tubs are generally built into a deck, or in a specialized room in the home, and allow the owner plenty of place to swim and exercise. They are bulky, and even after they are installed as self-contained units, they still need a solid foundation for placement.
Because they are larger than a traditional hot tub, you can easily swim and exercise in them, which is great if you are looking to get into shape or need to work out in a warm environment. Unfortunately, they are not without their own set of drawbacks.
They are generally much more expensive than traditional hot tubs and they are very large, requiring a dedicated space for them. They also have high operating costs for water and electricity.
Rotationally Molded
Source: Wayfair
These hot tubs are a great option if you want hydrotherapy, but don't have the budget for an expensive swim spa tub. They are not nearly as lightweight as inflatable hot tubs are, but they are much more affordable and durable.
They generally weigh under 300 pounds and are easy to move around. Unfortunately, these hot tubs aren't as efficient as other, traditional models, and are much less attractive due to their plastic appearance.
However, because they are made of a single piece of material that has been molded into shape, they are incredibly strong and less likely to be damaged.
In-Ground
Most backyard in-ground hot tubs are built adjacent to or as part of an in-ground swimming pool.
These hot tubs are usually a custom job and require a permit for the work to be performed by a professional. Immediately, this means that they are going to be much more expensive than a hot tub that you can buy in a store, but it also means that they can be customized to perfectly meet the needs of the owner.
There are two options when you want an in-ground hot tub. The first is to buy a shell that can be placed into a hole that has been dug in the ground. You can also have a concrete hot tub installed.
This is beneficial if you are worried about the aesthetics of your hot tub and how it will look when compared to the rest of your yard. Because the hot tub is built into the ground, and because the area can be landscaped, you don't have to worry about the hot tub looking like an afterthought.
Unfortunately, due to their increased cost and the lower performance that they generally offer, these hot tubs aren't a great choice for everyone. Since they are often installed farther away from the home, they are much less convenient than above-ground hot tubs that are placed right outside of the home.
Wood
These are considered the first type of hot tub and were made around six decades ago. Originally designed as personal tubs for soaking, they soon became similar to the hot tubs that we have and use now.
When you are considering a wood hot tub, it's important that you pay attention to the heating source. There are some hot tubs that use a wood fire heater, electric heater, gas heater, or combination.
The heat source plays a huge role in how quickly your water will heat up and where the hot tub can be located. They are very aesthetically pleasing to some buyers, with redwood and cedar hot tubs having an added benefit of providing a lovely aromatherapy while you are soaking.
Unfortunately, they are not any less expensive than traditional hot tubs and are very bulky. They also often require assembly and do not have all of the fun features that many people want when they buy a hot tub.
Inflatable
These hot tubs are very new to the hot tub market and tend to be not only fairly inexpensive, but also easy to move to a new location. They are often made of laminated PVC material or polyester, and come in a variety of shapes and have many different features to choose from.
Most inflatable hot tubs can get the water very warm, and they conveniently plug into a 110v outlet, which means you don't need special electrical work done.
They are much less durable, as they can be punctured, and they tend to be less comfortable, as there are no molded seats. Finally, they also cost more to heat and to run than traditional hot tubs.
Soft-Sided
While many people think that these hot tubs are the same as inflatable hot tubs, there are a few differences. One of the main differences is that soft sided hot tubs are usually only found for sale on the internet or in booths at fairs.
This is because very few dealers will stock them in their showrooms. Just like inflatable hot tubs, these plug into a 110v outlet and don't need any major electrical work to be completed for their installation.
However, they are not very comfortable to be in for long periods of time, aren't efficient to run, and do not offer the high-quality performance that traditional hot tubs do.
Custom-Made
Features
Massaging Jets
The water in a hot tub will help you to relax, but if you want to feel your best when you get out of the water, you should opt for a model that has massaging jets. The jets can usually be moved and angled so that the pressure massages sore or tight muscles.
Lights
While there's nothing wrong with using a hot tub in the dark, LED lights are a fun way to make spending time in the hot tub even more exciting.
While you can opt for lights from the roof of your porch or a deck to light up your tub, having lights inside the tub enhances the experience. This also means that if your hot tub isn't near your home or another structure with lights, you still have access to lighting.
Cover Included
It's important that you have a cover for your hot tub, not only so that you can prevent leaves and debris from getting into the water, but also to hold in the heat.
Not using a cover with your hot tub will result in higher operating costs, as the heat will dissipate and your hot tub will need to work harder and for longer periods of time to heat the water back up.
While there are some hot tubs that come with covers, you still have to make sure that you purchase a cover, as well. Buying a hot tub with an included cover will save you time and money. It also ensures that the cover will fit your hot tub correctly and that you won't have problems with getting one the right size.
Pop-Up Speakers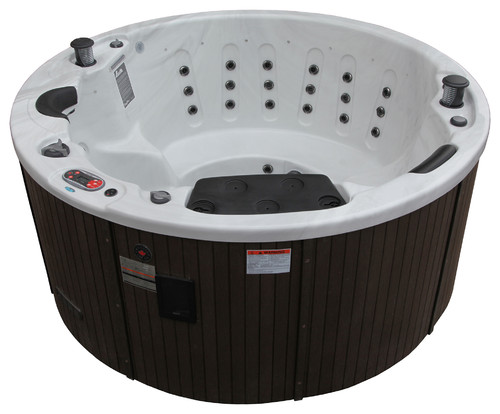 When you choose a hot tub that has built-in speakers, you don't need to worry about whether or not your phone or radio is too close to the water.
These speakers are generally made to be safe, even when exposed to small amounts of water, which is why they are a great option for people who want to listen to music in the hot tub.
Wood-Fired
Source: Wayfair
If you want to experience a truly rustic feeling in the hot tub, then you will want to consider buying one that is wood-fired.
The obvious benefit of this model is that you don't have to worry about how you are going to supply electricity to the hot tub, which means you can place it as far away from your home as you want.
The downside is that when you opt for a wood-fired hot tub you will need to start a fire to heat up the water. Additionally, you have to have enough wood around to make building a fire easy.
Cooling Capabilities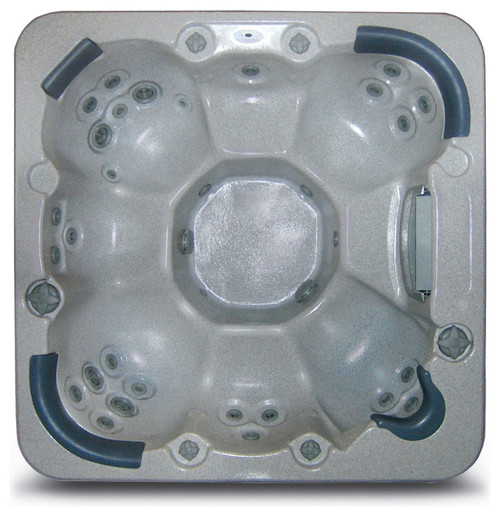 While most hot tubs are only designed to create a warm environment, if you want to get as much use as possible, you can also look for one that has cooling capabilities.
This means that you can enjoy cooler water temperatures during the hot summer months. Not all tubs offer this feature, make sure to double-check how cool the tub can make the water.
Water Treatment System
Spending time in hot water after a long day is a great way to relax, but if you have hard water, then you will want to consider a model that has a built-in water treatment system.
Not only is hard water hard on the skin and on bathing suits, but it can also reduce the life of your hot tub, which is why treating it is important.
Molded Seats
If you want to be as comfortable as possible in your hot tub, then you will want to look for one that has molded seats. Depending on how many people you want to have over at a time, you can opt for hot tubs with only two seats or ones that are much larger with plenty of space.
Waterfall
Enjoy the sound and feel of running water when you choose a hot tub that has waterfalls. These are designed to allow the water to cascade over your shoulders and back into the hot tub.
This is not a feature that all hot tubs will have, but is a wonderful way to really relax at the end of a long day.
Salt Water Compatible
Most people who have a hot tub in their home use a fresh water chlorinated system, but there are a number of benefits to opting for salt water.
Not only is it much more sanitizing, warm salt water can also soothe swelling ands edema. They also help to remove tension, relax muscles, and offer joint-pain relief for those who suffer from arthritis.
Drink Holders
Some hot tubs come with built-in drink holders. You can also buy attachable drink holders like this model:
Hot Tub Shapes
Circular
Circular hot tubs have become more common as people realize that they are generally smaller, less expensive, and more portable than traditional square hot tubs. Due to their shape, they can often be squeezed into tight areas around your home or in your yard.
When you choose a circular hot tub, it is important that you understand that you are going to be enjoying a much more intimate space. This is because there aren't any clear delineations of places for people to sit, as there are in triangular and square hot tubs.
Triangular
Designed by Skylab
This shape of hot tub is not very common, mainly because it needs a specific size and shape for installation. However, if you are short on space, but you have your heart set on having a hot tub, then you will want to consider a triangular tub.
The downside of these hot tubs is that they generally do not offer as much room as traditional square hot tubs do.
Square
Square hot tubs are familiar to most people and have a number of benefits, including the fact that they have clear space delineated for the users and that they can fit neatly up against a home or in the corner of a deck or porch.
Rectangular
If your main goal in your new hot tub is to be able to stretch out and relax, then consider a hot tub that is longer than normal. These will allow you to really stretch out your legs and won't make you feel like you have to sit in a cramped position.
While they are larger than square hot tubs are, rectangular hot tubs are beneficial for many of the same reasons. They can be located in the corner of a deck, yard, or patio so that they do not take up too much space or become an eyesore.
Additionally, they usually have molded seats so that you will enjoy full body support when you are relaxing.
Voltage
110v
One of the main reasons that these hot tubs are so popular is that they can easily be plugged into any outlet without additional electrical work. They decrease the amount of time needed to set up the hot tub and the cost of installation.
240v
While you need to hire someone to prepare your electrical system for the extra power needed for these hot tubs, with the 240v hot tub you will enjoy much faster heating times.
While some people may think the higher voltage gives these models more power, that isn't true. They are able to support more pumps, but this doesn't translate into the jets being any more powerful.
Occupancy

Two to Three People
Smaller hot tubs are ideal if you want to spend time by yourself in your hot tub or with just another person. They are generally less expensive to buy and to operate and take up much less space.
See example here.
Four to Five People
Ideal for a small family, a hot tub that seats four to five people is a fairly average size tub. While they aren't the most cost effective choice on the market, they also are not likely to break the bank.
See example here.

Six to Seven People
Larger families, or people who love to entertain guests, will want to opt for a model that can seat six to seven people. These are starting to be more expensive and will require more room, however they have ample space for a group to share.
See example here.
Eight+ People
The largest hot tubs on the market come with an increased price tag and are more expensive to operate on a day-to-day basis, however, they are great for spreading out and really getting comfortable.
They are also the best option if you love to entertain and regularly have people over to your home to spend time in the hot tub.
See example here.
Location
Outside
Inside
While most people opt for a jacuzzi tub in a bathroom, you can put in a full hot tub. Check it out:
Top Brands of Hot Tubs
1. Hot Springs Spas
Hot Springs Spas are a worldwide leading brand of hot tubs and spas. Their hot tub line is divided into three collections to meet customer needs: The Limelight Collection, The Highlife Collection, and The Highlife Collection NXT. There is also an economy line available called Hot Spot.
Among the unique Hot Springs Spa features are:
Moto-Massage DX – Movable water jets
Ace Salt Water System – An advanced water system with a diamond electrode and an oxidizer for clean water
Energy Smart System – Complete energy management system
2. Bullfrog Spas
Manufactured in Utah, Bullfrog Spas is one of the fastest-growing luxury hot tub companies in the world. Their hot tubs are one of the few models constructed without wooden supports. Instead, they build the hot tubs with an EnduraFrame lifetime internal support system. Use their Design Studio tool to add personal touches to your Bullfrog Spa.
Some of the unique Bullfrog Spas features are:
JetPak Therapy System – Innovative system of interchangeable jet packs for different therapies
FROG ease System – Includes SmartChlor technology for super easy, precise water regulation
Cloud Control 2 – Cloud app option for smartphones that control the Bullfrog hot tub settings. The app controls starting the spa and adjusting lights, temperature, and the pump.
3. Jacuzzi Hot Tubs
The grandfather of hot tubs, Jacuzzi, invented the first model in 1948. For over 60 years, Jacuzzi Hot Tubs have been leaders and innovators in the industry. Their hot tubs are acrylic and many times stronger than competitive fiberglass models.
Among Jacuzzi hot tubs, advanced hydrotherapy features include:
Pure Air Bath – Warm air inserted into thousands of jetted bubbles
Salon Spa – The ultimate hot tub experience combines Pure Air Bath and Jacuzzi Whirlpool Bath
Swirlpool – Exhilarating swirling effect created to mimic eddies on streams
4. Sundance Spas
Sundance Spas has grown to be one of the largest acrylic spa manufacturers in the world. They excel in stand-alone hot tubs with innovative designs and energy-efficient technologies.
All Sundance Spas have a complete line of accessories. These accessories include LED lighting, an integrated sound system, and various jets. Sundance Spas place a premium on manufacturing long-lasting, appealing, and durable hot tubs.
Among the innovative Sundance Spas features are:
Accu-Ssage Therapy Seat – Targets specific acupuncture points with a deep-tissue massage
Fluidx – Technically advanced hydrotherapy jets
SunRay LED Lighting – Integrated multi-color LED lighting in the hot tub and hidden in a waterfall
5. Caldera Spas
Established in California in 1976, Caldera Spas takes a unique full-body approach to spa relaxation. Built-in loungers and two hydromassage seats provide full-body relaxation.
Some of Caldera Spas' unique features are:
Ultra Massag – Lounge or seat, depending on model, for full body massage
Ecsta Seat – Powerful jets focusing on large muscles or based on models, wrists, and calves
Atlas Neck Massage – Specialized above-water jets focus on necks and shoulders
6. Master Spas
Founded in Indiana in 1978, Master Spas is a manufacturer of innovative hot tubs and swim spas. The hot tubs and spas are energy efficient due to Icynene foam insulation sprayed on the tub shell.
Master Spas hot tubs have many expected features of luxury hot tubs, including sound system options, LED lighting, and individual therapy jet controls. Also available are the EcoPur Charge Water Purification and Mast3Pur Water Management System.
Among the innovative Master Spas features are:
Master Blaster – Powerful jets designed for foot therapy
Xtreme Therapy Seat – Twenty-two strategic jets provide entire-body massaging
Master Force Bio-Magnetic Therapy System – Strategically placed magnets provide magnetic therapy
Best Type of Hot Tub for Various Purposes
Best Type of Hot Tub for Cold Climate
When the weather outside is chilly, the water in the tub will cool faster. Arctic Spas has created a hot tub design that minimizes heat loss at every step, reducing energy costs at times and places where the price is highest.
Bullfrog Spas is a close contender thanks to their spa insulation and cover design.
Best Material for Hot Tub Shell
Each hot tub material has pros and cons, from price to thermal conductivity to appearance. The best balance of price performance comes from leveraging the strengths of acrylic frames, insulative foam, and decorative exterior elements.
A tub with a marine-grade aluminum interior and insulating frame offers a luxurious experience, but a single-person tub of this variety can cost as much as larger acrylic spas.
Best Type of Water Care Maintenance for Hot Tub
Every hot tub needs maintenance, but Arctic Spas have minimized and digitized the process to make it easier. The Spa Boy automated salt water care system constantly monitors the water's chemical composition, so all you have to do is wait for an alert.
Their spas only need to be drained once per year compared to the typical three-to-four times per year, further reducing the amount of work required for water care.
Best Type of Lights for Hot Tub
Use water-proof lighting anywhere that you want to adjust the ambiance without the risk of shock or fire. There are plenty of options ranging from cheap to fancy, so take a look around to find the best fit for you.
Prefabricated models commonly have some lighting, and permanent light fixtures are a possible addition when installing an in-ground hot tub. Bullfrog Spas' tubs include lighting that you can tweak from their Cloud-based app, changing their color and intensity.
Best Type of Cover for Hot Tub
A hot tub cover's job is to keep the water from losing heat to the air, so it will spend a lot of time exposed to a variety of temperature and moisture conditions.
The standard covers have insulating foam sealed in a vinyl exterior that's been treated to withstand the weather. Most importantly, make sure you get a cover that fits over the entirety of your hot tub so no gaps allow heat transfer.
For a great example, look at Arctic Spas' Mylovac cover: Two layers of foam are supported by metal and vinyl, and the cover includes an overhang to further insulate the edges.
Bullfrog Spas has a cover lift to make putting the cover up and down easier, which can be incredibly helpful with their awkward weight.
Best Hot Tub for Energy-Efficiency
Bullfrog Spas promotes its energy savings compared to its competitors, and it will score an easy victory in most weather conditions.
In extremely cold regions, Arctic Spas' premium heat retention and energy-efficient designs will have a big impact — especially on larger hot tub models.
Where to Buy
Costco Wholesale
You might be surprised to learn that Costco, a leader in wholesale goods, also sells a pretty impressive inventory of hot tubs. Check out their website to see what kinds of hot tubs are available in your area.
The retailer carries a wide variety of brands from names like Evolution Spas and Aquaterra. Aside from their hot tubs, you'll also find saunas, outdoor furniture, and a variety of other products designed for outdoor living.
Before purchasing from Costco, make sure that the hot tub you choose has a good manufacturer's warranty in case something goes wrong. You will also need to hire a professional to install the hot tub for you since Costco is not an authorized installer.
If you're looking for a nice hot tub at a discount, this is one place that's worth looking into.
Master Spas
Master Spas is the largest swim spa manufacturer in the world, and one of the largest portable spa and hot tub manufacturers in the United States.
The company has a high-tech, 45-acre location with a focus on developing new products that include unique smart-tech upgrades and cool features. Master Spas is located in the Fort Wayne, Indiana area but has dealers across the nation.
The brand has won several awards for its quality products, innovation, and craftsmanship. The company offers customer financing, and they also have a trade-in program that includes a no-obligation trade-in estimate.
You can go to their website and enter your information to find a dealer near you. If you purchase from Master Spas, you can access owner's manuals, register your spa, post photos, and much more.
Legacy Hot Tubs, Pools & Saunas
Legacy Hot Tubs, Pools & Saunas is the number one hot tub dealership in the Tampa Bay, Florida area. The company sells a variety of high-quality, award-winning hot tubs from brands like Vita Spas, Caldera Spas, Maax Spas, Signature Spas, and many more.
They have the largest display of hot tubs in Tampa Bay with over 25 different models on display, and over 100 different options for customers to choose from. They also provide service and sell parts, chemicals, filters, covers, and plenty of different accessories for all brands of hot tubs.
Legacy Hot Tubs, Pools & Saunas won best Hot Tub Store in Sarasota County in 2014, Caldera Spas Dealer of the Year Award in 2013, and other accolades.
The company also has quite a few glowing customer reviews. If you live in the Tampa Bay area, it's worth giving Legacy Hot Tubs, Pools & Saunas a visit.
Wayfair
Wayfair sells just about anything related to the home, including hot tubs, outdoor furniture, and more. While the company may not have as many options as other retailers like Amazon or The Home Depot, Wayfair still has an ever-changing selection of hot tubs at reasonable prices.
You can buy a new one from their website or take advantage of the different financing options available if you'd rather pay for your new hot tub in installments. Some prices are extremely reasonable, specifically, prices for the website's variety of inflatable jetted hot tubs.
Don't sleep on Wayfair, especially if you're looking for a great deal on a reasonably priced hot tub without a lot of extra bells and whistles. Another perk is that most orders over $35 ship completely free of charge so there's no separate delivery fee to worry about.
The Home Depot
Everyone knows that The Home Depot sells virtually everything imaginable, and that includes hot tubs. If you're looking for something on a budget, The Home Depot carries a decent selection of inflatable spas that cost under $500.
However, for those seeking something a bit more high-end, you're in luck. The Home Depot also offers luxurious hot tubs like the St. Lawrence 15-Person Swim Spa with 72 jets, for approximately $26,000.
It comes with integrated Bluetooth speakers and a lot of extra features to make relaxing outside better than ever.
Check out their website to find all kinds of options, including saunas, swim spas, and plug-and-play hot tubs, which means you won't have to worry about dealing with a separate installation process or cost.
There is virtually every type of hot tub available from The Home Depot to fit any sized backyard and any sized budget.
You'll also find everything else you need all in one place, including hot tub covers, hot tub lifters, furniture for your hot tub, chemicals, and parts like filters and pumps.