Quicklist: Types of Bathroom Vanities
1.Pedestal Sink Vanity
2. Free-Standing Vanity
3. Wall-Mounted Vanity / Floating-Sink Vanity
4. Vessel Sink Vanity
5. Undermounted Sink
6. Bathroom Vanity Cabinet
7. Solid Plywood Bathroom Vanity
8. Particle Board Vanity
9. Laminate Bathroom Vanity
10. Marble Vanity
11. Square Vanity
12. Round Vanity
13. Rectangular Vanity
Types of Bathroom Vanities
1. Pedestal Sink Vanity
A pedestal sink vanity, also known as a free-standing sink can come with add-ons to make it stand out.
2. Free-Standing Vanity
A free-standing vanity is available in a variety of design choices and finishes.
3. Wall-Mounted Vanity / Floating-Sink Vanity
Wall-mounted vanities do not have to be connected directly to your floor. Be cautious as excess force can cause this type of design to dislodge from the wall.
4. Vessel Sink Vanity
A vessel sink vanity uses rising bowls situated on the main body of the vanity and linked to its own separate taps.
5. Undermounted Sink
An undermounted sink vanity uses a basin that is built directly into the structure. The design adds a refined look but the inset sinks take away from overall storage options.
6. Bathroom Vanity Cabinet
The bathroom vanity cabinet features pull-out doors similar to traditional kitchen cabinetry.
Bathroom Vanity Materials
Materials must be able to handle the moisture and humidity in the bathroom. They should not be at risk of wearing out or warping. Also, they must be strong enough to handle the weight you might add to the vanity. This includes weight not only from the faucet fixtures but also any decorative or functional items you plan on adding.
1. Solid Plywood Bathroom Vanity
Solid plywood is made with several sheets of wood glued together to create a sturdy body that is powerful and stands out. It also does a better job of handling moisture than many other forms of wood.
Related: 18 Different Types of Lumber
2. Particle Board Vanity
Particle board is used in many vanities as a composite material. It mixes wood particles with glue and is then heated and pressed before being covered with a melamine or veneer surface.
3. Laminate Bathroom Vanity
Laminate features a smooth surface and can be painted in a variety of ways.
4. Marble Vanity
Marble offers a strong surface that can handle a lot of wear and tear.
Bathroom Vanity Cabinets
Vanity Shapes
1. Square Vanity
A standard square vanity is designed with smaller rooms in mind.
2. Round Vanity
3. Rectangular Vanity
A rectangular vanity works especially well in a primary bathroom.
Vanity Size
The size of your vanity should be 30 to 40 inches in height and around 16 to 25 inches deep.
The basin should be about five to eight inches deep and 10 to 12 inches in diameter.
Vanity Features
A few additional features to consider:
A soap pump can be included inside the body of a vanity
Some posts may be added to your vanity to create a series of supports for towels
A matching frame for a mirror above the vanity
Best Type of Bathroom Vanity for Design Options
Floor-Mounted Bathroom Vanities
Allen + Roth is a brand that has been popular with homeowners for over 90 years. Their products are known for their quality, durability, and style. The company's mission is to offer the best in comfort and design at an affordable price.
The Kingscote 48-inch Single Sink Bathroom Vanity is a great choice for country or rustic-style bathrooms that are a bit larger. This vanity is priced at $599 and features solid wood doors that are laminated for added durability. The white engineered stone top will provide your bathroom with a stylish look while also offering you durability and strength.
Wall-Mounted (Floating) Bathroom Vanities
Source: Overstock.com
Wall-mounted bathroom vanities are the ultimate in luxury and elegance. These vanities are not only beautiful but they can also be customized to fit your specific needs.
They are ideal for smaller bathrooms or powder rooms where space is limited. When you mount a vanity on the wall, it creates a more open and airy feel in the room. One example of this design is the Beingnext Bathroom Vanity with Sink.
It is available in 24"/30"/36"/48" sizes and is priced at $514. The vanity comes with a large round mirror and will fit a variety of styles.
Source: Overstock.com
Similar styles are the Modway Vitality 48" Wall-Mount Double Sink Bathroom Vanity and BNK 24-inch Single Sink Bathroom Vanity.
Best Vanity for a Small Bathroom
One single-sink style of vanities that fits perfectly in a small bathroom is the Eclife Bathroom Vanity Sink Combo. It stands 24 inches tall, and includes a decorative bowl-shaped sink and raised brass faucet, lower cabinet, mirror, and mounting hardware. Fits well with any modern or contemporary décor.
The clean modern design of this bathroom vanity set makes it easy to match with other pieces in your home. This vanity set is constructed from solid wood, which provides durability and long-lasting use. It is affordably priced at $369.
Source: Walmart
Similar items include the Goodyo 24-inch Modern Sink Bathroom Vanity with Mirror & Faucet for $375 and the Elecwish 24-inchnch Bathroom Vanity with Mirror for $313. Both of these options are available at Walmart.
Best Vanity for Storage
If you're looking for a wall-mounted sink for a modern-styled bathroom, the Eclife 48-inch Bathroom Vanity Sink Combo is a beautiful piece that works in modern and contemporary bathrooms. The set is priced at $589 and is absolutely gorgeous.
It features a beautiful white finish that will look great in any bathroom. The clear round tempered glass vessel sink on this vanity set has a roomy design that allows you to clean it easily. The side cabinet features two doors and two drawers for plenty of storage space.
The countertop is made from solid granite, which means that it is extremely durable and long-lasting. The legs on this vanity set are made from metal and are also adjustable so that they can be moved around easily without breaking or becoming damaged. If you are looking for a good quality vanity that will last for years to come, this is the one.
Double Sink Bathroom Vanities
Source: Wayfair
This type of vanity has two sinks that you can use to wash your hands, brush your teeth or apply makeup before heading out for work or school. Double-sink vanities come in many different sizes, shapes, and colors so that they can match any décor style and personality. These vanities usually have matching mirrors above them that add more elegance to the overall look of the room.
The Braylen 60-inch Double Bathroom Vanity Set is priced at $1,384 and includes two sinks and two mirrors styled in brass and wood. It makes a lovely addition to any modern-style bathroom. Many of the vanities mentioned above can be found with double sinks.
Where to Buy
Updating or building a bathroom can be stressful, so it only stands to reason that finding the most convenient way to buy a vanity makes sense. There are pros and cons to each method, and whatever choice you make could be influenced by the size and scope of the bathroom vanity you choose.
Online Options
The good news about using an online service is that the sky is the limit for design styles, colors, countertop options and sink designs. There are a few key things to consider if you're buying a vanity online. First, make sure that the website you use has specifications posted for the vanity you like.
You'll need to have length, width, and height measurements to properly plan for the placement of the vanity in your space. Weight is also helpful if you have to pay for shipping. Read the fine print and check if your vanity comes assembled (or some-assembly-required).
Some websites, like IKEA, may even make the assembly instructions available before you purchase, so you can see if you're comfortable with the level of skill required.
Many online vendors, like Overstock, Wayfair, and Amazon, will have a huge variety of sizes, styles, and finishes to choose from and often have sales or special discounts available. They also offer a great way to check previous customer reviews regarding the quality of the vanity.
Sometimes you can also order directly from the manufacturer. If you find a vanity on any website, check out the manufacturer's website, too, to determine if they sell directly to customers.
The downside of ordering online is that you can't touch and see in person the vanity you like. There may be some color variations, and nothing beats a hands-on inspection to understand the quality of the materials used.
Brick and Mortar Retail
You can experience and purchase bathroom vanities in person from so many retailers. From discount stores like Big Lots to furniture stores, big box membership retail clubs (like Sam's Club or Costco), and home improvement stores (like Lowe's, Home Depot or Ace), vanities are available in a variety of styles and price points.
It's a big advantage to see and feel the vanity that you love up close and assess everything from the size and finishes to the drawer or shelf depth. Once you've made your choice, you still need to address issues like delivery. Not everyone has a truck or enclosed trailer to transport their purchase to the job site, so see if there are delivery (and maybe installation) services available.
If available, "white glove" delivery services are often worth the cost. This usually means that your delivery will include bringing the vanity into your home (check to see if second floor delivery is included if you need it), uncrating it, and placing it into your work space.
Designer Showrooms
Primarily located in larger cities, designer showrooms are a fantastic place to see vanities in an entire bathroom setup. These showrooms focus on the newest, upcoming trends and may have some restrictions for entry.
As their name implies, you may be required to be a designer to enter, but don't despair. If you're working with a designer or contractor, check to see if they can get you a guest pass or let you accompany them to the showroom for a little "field work." Some showrooms may also have special, limited hours for non-designer customers to visit, so give them a call if you're curious.
Wherever you choose to shop for your bathroom vanity, don't let the excitement of choosing a beautiful piece keep you from checking on the details, like damage-free delivery, and return policies — just in case.
Top Brand Manufacturers
There are so many different kinds of vanities to choose from that you may not stop to think about the company manufacturing your vanity. Although a bathroom vanity is a fixed piece, it is still a piece of furniture.
And like most furniture, the more you can invest in it, the better quality and construction you can expect. Here is a sample of some top brand manufacturers in a variety of price points.
1. James Martin Furniture
James Martin Furniture has been in business for nearly 20 years, but their company expertise includes professionals with over 100 years of experience. They specialize in diverse design aesthetics and quality construction using North American hardwoods. While they understand and design for trending styles, their craftsmanship produces fine furniture pieces that are timeless.
2. OVE Decor
The advantage of choosing a company like OVE Decor is that their full offerings of bath fixtures and lighting options give designers and DIYers alike many styles to choose from. The company began operations in 2004 with a selection of bathroom vanities and has grown to be a major player in the furniture and lighting industry.
Their products are available at all major home-building stores and membership retailers, as well as online through these same locations.
3. Kitchen Bath Collection
Kitchen Bath Collection designs lean toward more traditional styles but come in a wide range of widths and colors. They also bring the benefit of arriving fully assembled with Carrara marble or Quartz countertops and high-quality porcelain sinks. The vanities feature furniture-grade, solid wood construction.
4. MOD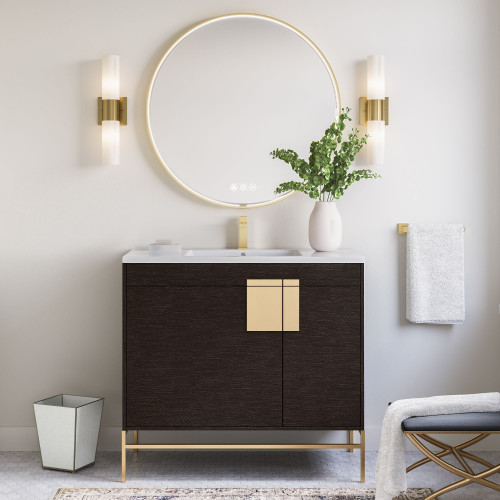 At the other end of the style spectrum are the decidedly contemporary designs by MOD. MOD believes in playing with lines, color, and form to create pieces that bring a burst of energy into your rooms. Their designs use simple forms, geometric shapes, smooth surfaces, and quality materials to elicit a feeling of both luxury and modern design.
5. Legion Furniture
There is a reason that Legion Furniture has been an industry leader in the U.S. market for bathroom fixtures. They sweat the details and strive for uniquely amazing designs that are original, creative, and priced affordably.
An added benefit is that Legion Furniture offers a full range of bathroom fixtures and accents like bathtubs, side cabinets, tiles, mirrors, and lamps in a number of design styles.
Consider the type of products you need to complete your bathroom and, chances are, you will find a manufacturer with the right bathroom vanities that will contribute to your design.
Frequently Asked Questions
What are bathroom vanities, and what are they used for?
A bathroom vanity is the cabinet built around your bathroom sink. One function of a vanity is to conceal the plumbing under the sink.
In addition, since next to the shower or tub, the vanity is the largest fixture in your bathroom, it can set the style for your bathroom décor. Most vanities are rectangular with the sink set in a hole, but you can get other shapes and sinks that sit on top of the vanity. Having a double sink can be great for families. However, the size of the vanity should be in proportion to the bathroom.
The bathroom vanity also can serve the important function of providing a clean, dry storage area for many of the items that are needed in the bathroom. The bathroom is the smallest room in the house, but it probably is used even more than the kitchen. Depending how large your family is, storage needs to be found for a lot of items in the bathroom. Many vanities have just one large open space under the sink, but some offer drawers. To help use more of the space in the vanity, you can add organizers such as shelves, pull-out bins, and racks that hang on the back of the doors. Finding ways to make the items you store in the vanity more easily accessible will help you and your family especially with morning routines.
The materials used for the vanity are very important because of the water that can accumulate around the sink. Countertops are usually stone, reconstituted stone, cement, laminate or wood. They should be durable and stain-resistant. The sink should have a good seal around it to prevent leaks into the area inside the vanity. Doors and drawers in the vanity also should not allow leaks into storage areas, Wood is usually used for the base of a vanity. It should be water-resistant or at least moisture proof so that it lasts longer in this high-moisture area. The final consideration in choosing the materials used in the vanity is the ease of maintenance.
How tall are bathroom vanities?
Bathroom vanities can be 30 inches to 36 inches tall. They are categorized as standard-height, comfort-height, and vessel-sink height. Standard-height vanities are usually 32 inches tall. They are used in family bathrooms to accommodate children. In primary bathrooms, you can install 36-inch comfort height vanities. This is the height of kitchen counters and is more comfortable for adults. Vessel sink height vanities take into account the height of the sink that sits on top of the vanity. Since sinks are usually five inches to six inches deep, vessel-sink height vanities are usually 30 inches tall so that the height of the vanity and the sink combined is around the 36-inch comfort-height standard.
Can bathroom vanities be painted?
Start by removing drawers, doors, false fronts, and all hardware along with the countertop or sink if you are replacing them.
If possible, take the fronts off of the drawers. If you are going to use new knobs or pulls and will need new holes to attach them, fill the old holes with wood putty and sand.
Wash all surfaces with trisodium phosphate (TSP). Rinse. Be sure to remove any adhesive residue left by cabinet bumpers. Then, wash the area where the adhesive residue was located with TSP.
Sand to remove gloss from surfaces that have been sealed with clear finishes. Be sure to thoroughly sand the inside corners and recesses of panels and moldings.
Remove peeling paint and feather edges by sanding. Vacuum and wipe sanded surfaces with a damp cloth to remove dust. Prime any bare spots.
Mask your walls, the floor, the inside face of the vanity frame, and the underside of the countertop with painter's tape
Apply wood putty to any damaged surfaces and sand. Then, prime, sand, and wipe surfaces. Use a second coat of primer, if needed. If you are going to use a glossy paint, it is especially important to make sure all surfaces are smooth.
Apply the first coat of paint, and let it dry. Apply two more coats of pain. For vanity doors with framed, raised panels, force paint into the space between the frame and the panel.
Remove the masking tape, drill holes for new knobs or pulls if needed, and attach the knobs, pulls and hinges. Loosely attach the doors to the vanity. Adjust the doors so that that they fit properly, and then tighten the screws. Reattach drawer fronts, replace drawers, and see that they are working properly. Attach new bumpers to the doors.
If needed, install a new countertop, sink or faucet.
Can bathroom vanities be recycled?
The first option for bathroom vanities is to remove them intact and donate them to an organization that can sell them to people or offer them for free to people who need them. The other option is to take them to a recycling center that will accept them. You will need to research the options in your area.
Can used bathroom vanities be sold?
Yes, there is a market for used bathroom vanities, but you might compare the market value of comparable used vanities before deciding whether donating is an easier option for you.
Can a bathroom vanity be refaced?
Remove the drawer fronts and doors. Sand the exterior of the vanity, the doors, and the drawer fronts.
Make a list of the veneer pieces needed. Cut the veneer carefully to make sure all the grain runs the same direction, and that all measurements are precise so that all pieces fit smoothly.
Cover the cabinet and the back of the veneer pieces with contact cement. The covered surfaces should have a milky look.
Align and attach the veneer carefully. Using wax paper between the veneer and the cabinet will allow you to be sure all the veneer is aligned before it becomes cemented into place. After it is aligned, remove the wax paper and replace each piece of veneer one piece at a time.
Attach scribe molding to the face frame edges and to the area where the cabinet connects to the wall. Attach crown molding to the top of the vanity and base molding at the bottom.
Reassemble the drawers and install them making sure they work properly.
Reattach the doors.
Use wood filler to repair holes and seams removing any excess.
Clean up any residue.
Can you put lights on a bathroom vanity?
Because this is a high-moisture area, it probably is best to use overhead lighting and lighting on the wall above the vanity.
Do plumbers install vanities?
Yes. A plumber may be your best choice for replacing water pipes when setting up a vanity sink. However, installing a vanity may not suit a plumber if it involves carpentry work. You may need to hire a professional to do the job.
Why are antique vanities so low?
Antique vanities were designed for smaller rooms and apartments, which explains their small heights. Additionally, they were designed to be usable in most bathrooms by users of all heights, including children.
Do bathroom vanities come with sinks?
Yes. A bathroom vanity includes a countertop, sink and mirror. Most bathroom vanities come with sinks, which avoids the extra cost of purchasing separately. However, some vanities come without sinks to allow you to choose a sink of your style and preference. Although it may be more costly to purchase a vanity without a sink, various sink types are available to suit your needs.
Is a double vanity worth it?
Yes. A double vanity is handy for couples with simultaneous morning routines or homes with children. It's easier to organize a double vanity than a single one. Besides, a double vanity increases your home value when you want to sell.
Can you change a single vanity to a double vanity?
Yes. As long as your bathroom space and budget allow. You will need 60 inches of space to allow at least 30 inches between each sink. Additionally, you can expect to spend up to $4,000 to buy the materials and $1,500 for installation. However, changing a single vanity into a double vanity is a worthy investment because it increases your home value in the long run.