Please enjoy our gallery of 40 Kitchens with hanging pot racks and get a taste of all the ways that pot racks can be utilized in many different size and style kitchens.
- Advertisement -
Welcome to our gallery featuring kitchens with one of the best accessories: pot racks!
Pot racks are one of my favorite features in a kitchen, they're charming, attractive, and a great way to store those pesky pots and pans that are hard to put in cupboards.
If you have a nice set of cookware (copper is always quite striking) maybe you want to display it instead of ferreting it away, awkwardly stacked in a cupboard or drawer.
Pot racks come in many different styles and materials that can work with many different designs. They make a great visual showcase piece over an island, which is where you usually find them.
But what if you hung one somewhere else? One of our gallery images shows them hung on either side of the stove.
How is that for handy placement?
Pot racks make great additions to kitchens both large and small. They can double as a functional light fixture or even as an extra shelf for storage of larger items.
There are enough options to make them work in any design you could image. Take the image above for example; this is a very contemporary kitchen and a standard pot rack design wouldn't look quite right in such a setting.
The stunning steel and dark wood rack, however, makes for a perfect match.
We hope that you can appreciate a handsome pot rack as much as we can.
Please enjoy the rest of this lovely gallery!
This is a pretty standard pot rack design, but regardless, it still makes for an eye-catching centerpiece to this kitchen. Stainless steel countertops and appliances add a sleek and modern loo to this room.
Including this pot rack around the edge of the stove hood is a great way to utilize more functional space without having to clutter up the room.
This whimsical, wrought iron pot rack maintains a light feel, keeping the combination of pot rack and pots from becoming to heavy or cumbersome to the airy feel of this kitchen.
See more of this home here. Designed by Architectural Designs.
This pot rack doubles as a light fixture over the kitchen island in the quaint cottage kitchen. The choice of light wood as opposed to matching it with the dark wood of the rest of the room helps to keep the pot rack from looking bulky and heavy in the center of the room.
This massive pot rack matches the size of the island it is above. The thick, wrought iron strips fit the rustic, lodge feel of this home while offering up plenty of storage for the multitude of pots.
See more of this home here. Designed by Locati Architects. Photography by Roger Wade Studio.
This pot rack also doubles as a light feature above the island. The mix of delicate, whimsical curls and thick strips of metal is an interesting juxtaposition in this contemporary kitchen.
Heavy chains and raw wood complete the rustic style of this pot rack, and the surrounding kitchen. The heavy cross bars offer up more storage the a more traditional rack with hooks just around the edges.
See more of this home here. Designed by Red Rock Contractors.
This cozy kitchen utilizes and single bar as a pot rack instead of the more common ring or rectangle. The lights on either end of it match the light fixture over the sink to tie the whole kitchen together.
This lovely stainless steel pot rack is a great addition to this contemporary kitchen. The balance of black, white, and silver makes for a striking design.
See more of this home here. Designed by Webb & Brown Neaves.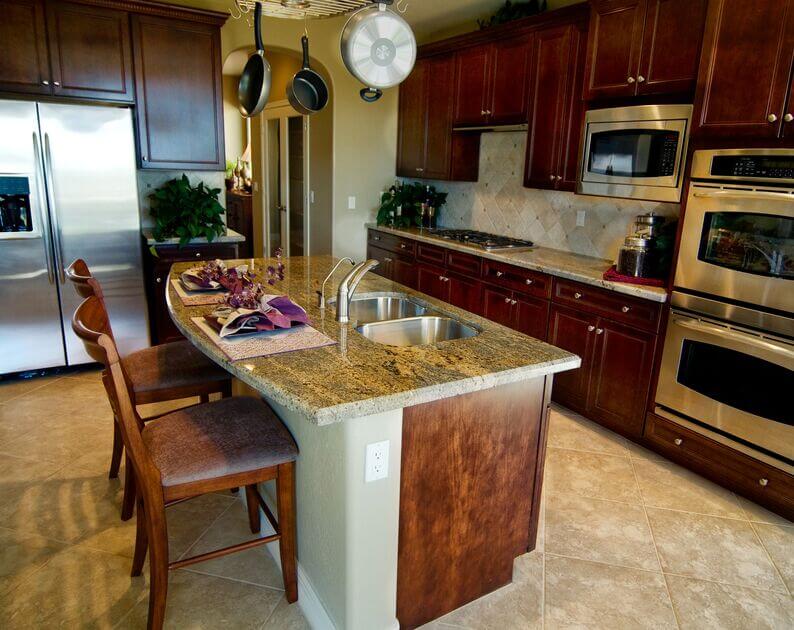 The pot rack in this kitchen is a pretty basic oval structure of stainless steel that enhances the use of stainless steel appliances in this contemporary kitchen.
These sleek pot racks match the use of silver throughout this eclectic kitchen. Geometric lights, a mirrored stove hood and dark, exposed beams make for an interesting combination of design elements.
See more of this home here. Designed by SoCal Contractor.
This lovely kitchen has pot racks suspended from the ceiling on either side of the stove instead of over the island as seen in most kitchens. This makes for a practical placement of all of the tools and cookware that one may need while cooking.
This small kitchen makes up for a lack of storage with the small pot rack suspended above the fridge. While the entire rack may not to accessible to hang things, this one is low enough that the top can be utilizes like a shelf for more storage.
See more of this home here. Designed by Jam Kolektyw.
The pot rack in this gorgeous kitchen is reminiscent of a round shower curtain rod, but is much better utilized in this situation. The sleek stainless steel rods complement the bright decor of this kitchen and help to maintain the airy feel of the room.
Related Galleries & Rooms You May Enjoy:
White Traditional Cottage Kitchen Design with a Twist by Drury Design | 45 Upscale Small Kitchen Designs with Islands | 25 Spectacular Kitchens With Island Stoves | 38 Quaint Contemporary Cottage Kitchens
(c) 2015
Home Stratosphere is an award-winning home and garden online publication that's a result of our talented researchers and writers who work directly with hundreds of professional interior designers, furniture designers, landscape designers and architects from around the world to create helpful, informative, entertaining and inspiring articles and design galleries.