This is a joint article with contributions by both Keely Smith and Michelle Fair for a multiple projections and ideas.
Another year, another set of kitchen design trends. Trends don't pop up overnight; they percolate or materialize over time. The key to spotting trends, whether kitchen design, bathroom design and even fashion is being able to tap the zeitgeist in design.
Not to toot my own horn, but I tend to have strong and consistent insights as to what's happening in many aspects of design, especially interior design.
With that, here's what I see happening with kitchen design in 2023.
Keely Smith's Kitchen Trend Projections for 2023
1. Move over "All White"
2023 is all about warmth and color. Bold cabinetry, bold paint, bold everything. A small space is brought alive with a bright green base cabinet. A warm contrast to the metal fridge. The look is lively and here to stay.
2. Colorful appliances
Designed by: Big Chill
Another way to add color to your kitchen in 2023 is in your appliances. This small-scale kitchen is made to feel retro and at the same time current. A nice move away from the all-white look. The rattan pairs perfectly with the pink for a much-needed balance.
3. Red/pink countertops and stone
Less gray, more pinks and reds (and blues!) when it comes to kitchen countertops this year. I love the feel of these—offering a fresh, bright new take on the same old greyish/white counters we see in every store and restaurant. These pair beautifully with gold or brass fixtures as shown below.
4. Family focus
See this entire home by MU Architecture.
Kitchens in 2023 encompass their surroundings. This means they are extending from eating areas to lounging spaces. Featured here are several nooks that surround the kitchen to eat and play together. Comfort is king and this is a trend that will be here to stay.
5. Natural materials and colors
See this entire house by FGR Architects.
As much as vibrant and deep colors are making a comeback (think deep green and dark reds), the tried and true warmth of wood and natural colors is still trending strong. This palette is a beautiful example of a simple kitchen with wood only cabinets, concrete floors and walls.
The low scale kitchen furniture lends to its simplicity, and most of all it looks comfortable.
6. Large island lighting
See entire house here by JJ Obra Arquitetos
This year we're seeing a movement towards large pendants over islands and in kitchens in general. Interesting ones like this white and yellow one are becoming popular, simple with a bit of a retro vibe. A nice place to add color, it draws the eyes upward making the room seem taller.
7. Kitchen table replaces the Island
Image courtesy of TopTenRealEstateDeals.com for Sandra Bullock's house.
Continuing the response to covid and being comfortable at home, the kitchen island is replaced here with a large farmhouse table. This is so inviting and begs guests to be relaxed while sitting amongst the chaos of the kitchen. An old fashioned feel that works on so many levels.
Contrasting with the modern cabinets, accessible and mostly a comfortable style.
8. Furniture Cabinets
Image courtesy of TopTenRealEstateDeals – see this penthouse apartment.
Kitchen and surrounding cabinets have been taken to new levels. Adding extra moldings and mixing different styles is a big thing in 2023. In this maximalist kitchen the island is elevated by a deep paint color over furniture-style cabinets.
Nothing seems to match here (especially the brick backsplash?) and that's why it fits on perfectly this year.
9. Large stone swaths
Large areas of stone add movement and interest to the kitchen without all the grout lines. Here it's used as a backsplash and the continual movement adds so much depth to this kitchen.This is a trend that is only becoming more popular, a movement away from small tile backsplash.
10. Open-plan kitchen
A trend that is continuing into 2023 is the open plan kitchen. It's been steadfast in its success for obvious reasons, it feels open! Cooking with friends and family while watching the game, and hosting a large party is so much easier. Pictured here, the natural light from the patio shines into the whole room—including the kitchen. No need for skylights.
11. Large windows
Image courtesy of TopTenRealEstateDeals – see this entire home here.
Counter height widows are continuing to trend this year. Pictured here, they rise all the way to the ceiling and offer the most amount of natural light (and stunning views). These work especially well in a kitchen that is not open to other rooms.
12. Natural materials
Image courtesy of TopTenRealEstateDeals.com – see this entire house.
Use of different metals, limestone walls, wood and simple unglazed pottery/cookware makes this kitchen unique, yet on trend. A push towards personal style is encompassed here. The outside elements are brought in making it feel cozy and natural.
Statement lighting is used but it doesn't overpower. A classic California cook's kitchen, with space for all.
13. Separated wet bar
Image courtesy of TopTenRealEstateDeals.com – see this entire Chicago penthouse apartment.
Separate wet bars are a nice way to move the crowd around the house. In this case the colors are rich and inviting. A nice use of backsplash with the continuous stone swath. The long bar offers use for other decorative items as well.
14. Mixed cabinetry
This is a great example of mixed cabinetry which is a big trend for 2023. It adds an interest to the space, making it more of a comfortable living space versus simply a kitchen. The light and dark mix opens up the size and draws the eyes around in a playful way.
15. Painted island
A continuing trend for this year is an island painted a different color than the rest of the kitchen.
I really like the way it grounds the island making it a centerpiece of gathering. The rustic flooring is a nice contrast and works well with the dark paint. A simple solution.
16. Black countertops
As much as we're seeing light countertops be replaced by colorful ones, black countertops made of marble and other stone are back. They offer a new rich tone to kitchens and pair well with light and especially dark cabinetry—on trend with the maximalist look.
17. Wood backsplash
See this entire house by Burnazzi Feltrin Architetti and Paolo Pegoretti Architetto
Wood walls, wood backsplash are both kitchen trends for 2023. Here it's a textured wood backsplash which gives a warm statement while remaining subtle. 2023 is all about originality so the woods in one room don't have to match. This space is soft and inviting.
18. Integrated kitchens
Designed by Ganna Design
Kitchen/dining are one together again this year. Pictured here is a beautiful connection between food, company and nature. A moody kitchen needs all the light from the floor to ceiling window. Pops of color from the furnishings and a slick wood table warm up the grays.
19. Bright color
by Ganna Design
Blue kitchens are back and this island breathes life into this gray backdrop. The counter posts suggest an antique feel while the whole kitchen is whimsical and fun. 2023 is all about personal style and this color pop is a perfect example.
20. Wood countertops
Functional and soft to the touch, wood counters are trending in 2023. This kitchen is made to look longer and more vibrant due to the wood. Limited window space is especially ideal for wood use inside. The green backsplash pops with wood and is a trending color as well. Overall functional and aesthetically pleasing.
21. Wallpaper backsplash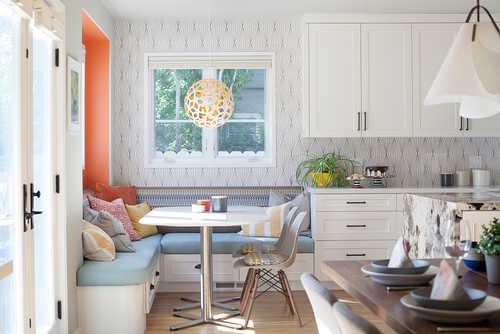 Wallpaper is back and it's behind sinks, ranges and cabinet uppers. I like the subtlety of this paper but the wilder patterns are big right now. Something that should be chosen wisely as it's difficult to apply and remove. Overall it's a classic style that adds whimsy to any room. I like it!
22. Open shelves
A continuing trend this year is open shelves. They give a clean look while feeling cozy and lived-in. A cook's kitchen vibe is as nice to work in as it is to observe. This smaller space is ideal for open shelves versus upper cabinets as they are heavy above the eye, making the room feel significantly smaller.
23. Mixed-use textures
A move away from uniform kitchens brings mixed-use. Here its metals, natural wood, grey wood, stone, and a large feature artwork. It's so sleek and integrated that it barely feels like a kitchen. The hidden feel of it makes it appealing and very on-trend.
24. Mid-Century modern
This style is always a win in my opinion. The natural winner here is the backdrop, but the furnishings and lighting are all working together to make it cozy. A pink fridge pops in the corner, a cozy nook makes you want to read the paper with a coffee. See more mid-century modern kitchen designs here.
25. Statement kitchen
This is the ultimate statement kitchen, artistic, rustic and completely original. It's the essence of 2023. The beachfront setting is the only setting however—It's specific to its surroundings. The cork floor is warm as are all of the different uses of wood. The large black chandeliers are custom and are the finishing touches that set this space apart.
Michelle Fair's Kitchen Trends Projections for 2023
You don't have to be a full-fledged foodie or an experienced chef to enjoy the benefits of a beautiful and thoughtfully designed kitchen. It's likely that this part of the home is the most loved and the most utilized area (besides perhaps the living room) of your entire space.
So, what are some of the hottest trends in kitchen design for 2023? Read on for some inspiration and ideas spotlighting the latest kitchen design trends that will help you make the most of this crucial cooking spot.
26. Say Goodbye to Classic White
It seems like there have been decades of popularity focusing on the all-white kitchen, but that's definitely going to change in 2023. Instead of white, tan, and ivory hues, today's modern kitchens are leaning toward bolder and brighter colors.
You'll see richer, more dramatic colors on everything from the cabinets to the walls, flooring, and countertops. Highly saturated tones of deep emerald green, navy blue, and even shades of black are starting to trend in kitchen design.
The goal of giving your kitchen a splash of color is to make it more congruent with the rest of your interior design style. Don't be afraid to try out new finishes, new appliance colors, and new cabinet colors, too. If you don't have the budget or don't necessarily need new kitchen cabinets, painting them and adding new hardware makes for an easy budget-friendly upgrade.
Keep in mind that smaller kitchens will look even smaller if the color palette is too dark. In cases like this, try pastel tones, or paint just the upper or lower cabinets instead of everything.
For larger kitchens, deeper and more dramatic tones will instantly bring a sense of style and bold visual emotion to the space. Always make sure you grab several color swatches and samples before making a change.
Look at each of them in natural light before you make a commitment. You can also start small by simply painting the walls, then see how the space looks and feels before you change the color of big-ticket items like your countertops or flooring.
27. Family-Friendly Designs
For decades, the kitchen was where the meal was prepared, and everyone gathered in the dining room to eat. In today's modern world, more people are spending time in the kitchen, whether it's doing homework or eating dinner as a family.
For 2023, expect to see even more kitchen islands with cutouts on one side to accommodate counter-height chairs. If you have a large enough kitchen, this is a great way to create a comfortable and stylish eat-in kitchen the entire family will enjoy.
Not only are people focusing on eating together as a family in this space, but many homeowners are looking out for their furry friends, too. A built-in pet feeding station or a cozy nook with a pet bed is also a design gaining in popularity.
How can I make my kitchen more family-friendly?
If you like the idea of designing a kitchen that's geared toward the family, try these tips:
Add cushioned counter-height stools with a swivel feature for comfortable seating.

Choose an island that doesn't have a sink or oven built into it. This will give you a lot more surface area for serving meals and eating.

Designate a separate part of your kitchen for the pets by creating a nice feeding station or comfortable bed nook where they can be with the rest of the family as you eat.

Have extra electrical outlets installed on the side of the island so you can plug in items like crock pots and other small appliances to keep meals warm or laptops for doing homework.

Protect your island from messes by adding a tablecloth when you eat for easy cleanup.
28. Eco-Friendly Kitchen Materials
Today's homeowners are much savvier when it comes to sustainable design. If you're remodeling your kitchen, now is the time to consider utilizing more eco-friendly materials. Instead of classic hardwood or vinyl, try bamboo plank flooring instead.
A thick butcher block countertop is another great way to add a soft, organic feel to this space. Don't forget the appliances when you're designing your kitchen, too. Look for appliances that bear the Energy Star logo and that use less power.
Not only will this reduce your carbon footprint, but it will help you save on your monthly energy bill, too. LED lighting is another easy way to make your kitchen eco-friendlier. You can tie everything together by installing a gorgeous pendant or linear chandelier with a woven rattan shade.
29. Mix and Match Materials for a Bold Look
2023 is the year to get bold with your home design, and the kitchen is no exception. Try to create a visual and textural contrast by mixing different materials together. You can do this with materials in different colors to create a two-toned look, too.
It's really all about the difference in textures when it comes to this trend in kitchen design. Feel free to mix it up by installing concrete countertops that create a nice juxtaposition against solid wood cabinets. T
ile flooring made of natural stone looks stunning against a full ceramic tile backsplash. A large chandelier with glass shades pairs beautifully next to more substantial materials like wood and stone.
Look at a variety of materials and how they play off one another to get in on this new trend.
What are the benefits of a mixed materials kitchen?
If you're considering this kitchen design for 2023, there are plenty of benefits to going this route. First, it adds a nice visual texture to the kitchen that creates more interest and appeal. Next, mixing materials in the kitchen gives you more freedom when you want to change something.
Instead of having to do a complete remodel, you can simply switch out the components that you want to update, saving money and time. You can also use various materials to create different "zones."
For example, a solid surface counter is great for prepping dough or pasta, while a butcher block is excellent for cutting meat or chopping veggies.
30. Focusing on Space-Saving Features
It's easy for the kitchen to feel cluttered, especially if your space is small. Today's kitchen designs are focusing on custom storage features more than ever before.
Look for custom cabinets that include awesome storage options, including a special section designated for pots and pans, spices, and silverware. The days of open shelving are also becoming a thing of the past, since many claim that it makes the space look too messy and cluttered.
If you have a few items you want to display, opt for a few clear glass cabinet doors instead. In 2023, the focus will be all on storage and organization. This design trend also includes the pantry area, too.
Using large clear glass jars, stylish baskets, and storage bins with labels makes it easy to find what you need fast without rifling through your cabinets and drawers. Pull-down sections of the cabinets can cover up small appliances like the coffee maker or your toaster oven to keep them neatly hidden from view.
How can I add more storage to my kitchen?
Here are some easy ways to get more organization and storage from your kitchen design:
Install small hooks under the cabinets to hold onto mugs, bunches of bananas, and cooking utensils.

Place bulk dry goods into large, sealed jars to eliminate packaging and clutter and for easy access to ingredients.

Add custom features to the cabinetry, including slide-out drawers for trash cans, special silverware compartments, and pot and pan holders.

Use a pot rack to hold onto your pots overhead rather than cluttering up lower cabinets.

Add a storage cabinet or bar to your kitchen if you have the room and use it to store bottles of wine, barware, and other entertaining essentials.
31. Bring on the Character
Modern kitchens always look sleek, but they tend to lack in character. In 2023, make your kitchen stand apart from the crowd by incorporating a few unique details. Try a fun and funky patterned wallpaper to create an awesome feature wall.
Install unusual tile for your backsplash in fun shapes, patterns, or colorways. Lighting is an easy way to give your kitchen a lively look. Instead of the standard recessed lighting or traditional pendant lights, go all-in with an oversize, intricately designed chandelier.
Don't be afraid to hang some artwork on the walls in your kitchen. This room is meant to be enjoyed and lived in, so there's no reason why you can't bring a pop of personality into the space.
A simple potted plant on the counters or a cute row of small pots with herbs in the kitchen window is other great ways to bring in some greenery and a splash of personality. Try unconventional finishes and materials that mix and match a variety of patterns, colors, and textures.
Today's homes are all about the eclectic, and your kitchen is no exception. Most importantly, in 2023, remember to have fun when you're planning your kitchen design. In the end, you'll be glad that you took the time to make this place truer to your personality and to the things that have personal meaning to you.
Sources: