23 Best Online Home Interior Design Software Programs (Free & Paid in 2017)
Welcome to our listings of the top online interior design software options for 2017.
When I stumbled on some of the free interior design software options, I couldn't believe my luck.
The software is really good… and free.  I spent days researching and trying out every option I could find (had more fun than I should have… and still have fun with the software).
The result is this interior design software directory listing out free and paid options.
I was already an interior design and home architecture nut as a kid and teenager.  I'd spend hours looking at house plans, real estate magazines, luxury home magazines, going to open houses with my mom and drawing my own home plans.
My passion for home architecture and design continues, except now with the internet it's so easy to spend hours at it.
Moreover, with computers I can take my designing rooms and homes to the next level with interior design software.
If you're like me and like messing around with design on a computer for fun or you have a project to design and complete, a great starting point after checking out photos and open houses for inspiration is to sketch out ideas with design software.
You can do it yourself or hire a professional (interior designer and/or architect) to do it for you.
Fortunately, there are many home interior design software options available online.
Some are free and some cost money.  Some you can use directly online (web-based) and other types you must download to your computer.
What follows is a list of some of the best free and paid interior design software options.  They're listed with free options first, followed by paid options.
I urge you to check out each one (especially the free options) to see what works best for you.
We selected fairly universal options that include kitchen design software (some include specific kitchen modules), bathroom design software and in some cases landscape and/or deck design software for 2016.
Online Interior Design Software Options
1.  Home Stratosphere's Interior Design Software (Free)
We've partnered with a top-of-the-line software provider and created an online interior design software portal.
Most of the functionality is free.  Best of all, there's no download and it's very easy to use.
You can design any room in your home very, very quickly.
You can also design single room layouts or layouts for an entire home.
=> Click here for the free Home Stratosphere interior design software.
---
2.  Planner5D
Cost: Freemium (free version but pay for premium features).
Rooms: All interiors, landscaping and pool designs.  Full floorplan capability.
3D: Yes
App version: Yes.
Versions:  Online, iTunes, Google Play
Create your room design and convert it into a 3D color display so you get a good idea how the room will appear.  You can inject furniture and all kinds of room features including windows, doors, stairs, partitions, arches and more.
Planner 5D also designs homes (exteriors) as well as landscaping and pools.  Put it all together and you can create your own custom home from top to bottom.
Key Features:
3D display.
Comprehensive: Interiors, floorplans, landscaping and pool design.
Massive member gallery for inspiration.
Drag and drop.
Screenshots/Video:
Shape
Elements
Furniture
Landscaping
3D Example
3D Example 2
Video
---
3.  Home Hardware Design Centre
Home Hardware is a Canadian company, but anyone can access their incredible suite of free interior design, storage design and kitchen design software products.
All of their software is on the cloud (no downloading necessary)… and you don't even have to sign up.  Just go to their site and click into the software option in which you're interested.
You can even upload images of your home and create off of that (or work from pre-designed rooms).
Click here for the Home Hardware design software.
---
4.  Space Designer (Free)
Space Designer is software you can use to plan out rooms and/or entire home layouts directly on their website.  It's super easy to use (drag and drop) and fun.  Designs can be in 2 or 3D.
While it's free, they offer a donation option (no obligation).  You can use this software directly on their website (nothing to download so it's fast and convenient).
Click here for Space Designer
---
5.  HomeByMe (Free)
HomeByMe is a free room planner software that you download.  You can inject real products and furniture.  Once done planning your room, you can convert it into a 3D graphic.  Click here to get started. Check out a sample result below:
Video Demo of HomeByMe Software
Click here for HomeByMe.
---
6.  RoomToDo (Free)
RoomToDo is a free cloud-based interior design software that offers one unique feature which is what they call a 3D walk-through feature.
What this feature does is enable you to view your graphic designs as if you were walking through the space.  You can do this from different angles.
It's a very cool design feature that's worth trying.  FYI, you have many view options; not just the walk through.
Click here to try RoomToDo.
---
7.  Room Sketcher
Room Sketcher is an online floor plan and interior design tool that's also free.  What I like about Room Sketcher is they have ready made templates, user designs or design from scratch options.
You can also view designs in 2D or 3D.  FYI, while the design software is free, if you'd like ready-made plans, they do cost money.
Click here for Room Sketcher.
---
8.  Small Blue Printer (Free)
Small Blue Printer offers floor planning/home planning software as well as garden/landscaping software. You can use the software online (so you don't have to download or install anything).
Click here to use Small Blue Printer interior design software.
---
9.  Olympic Paint Color Visualizer (Free)
With this software, you upload an image of your room and then add different colors to your image to see how the room will look.  It's designed to help you choose the right paint colors for your room.
There's nothing to download or install – it's done entirely on the Olympic website here.  See more paint color software options here and check out our free online paint software which enables you to upload your own photos.
=> Click here for the Olympic Paint Color Visualizer Software.
---
10.  My Deco 3D Room Planner (Free)
Here's another easy-to-use web-based room planner software tool.  It's super convenient because you don't have to download anything.
Watch the My Deco 3D Room Planner Video
Click here for MyDeco 3D Room planner
. FYI – they offer several video tutorials to help you get going.
---
11.  Lowe's Virtual Room Designer (Free)
For a free interior design software option, the level of detail is quite good. You can design a room from scratch or use one of the templates provided. The resulting graphics are nearly photo-quality (which is impressive… but then Lowe's is a billion dollar company).  Click here for Lowe's Virtual Room Designer software.
See the 3 images below are some of the templates offered… these three images demonstrate the level of graphical detail with this software.
Click here for Lowe's Virtual Room Designer software.
---
12. Houzz' View in My Room (Free / Mobile Only)
Houzz recently launched a really cool feature in its app called "View in My Room".  What it does is it enables you to take a photo of your room and then you can insert images of furniture into that photo.
Talk about brilliant.  This way you can see what furniture actually looks like in your room.
Unfortunately (or maybe fortunately if you're on your phone) it's only available as a mobile app.
Get it on Apple App store / Google Play.
Watch the Houzz "View in My Room Video:
---
13. Design Home (Free / Mobile Only)
Design Home (iTunes and Google Play) touts itself as an interior design game app, yet you can get many great design ideas for home.
Here's a screenshot from the app:
---
14.  SmartDraw Interior Design Software (Paid, but offers free demo)
SmartDraw is a popular software brand with which you can design house plans, kitchens, bathrooms, garages… pretty much any room of a house or the entire house.  I've used SmartDraw software and can tell you it's easy to use.  The only downside is you must download it (instead of using directly on their website).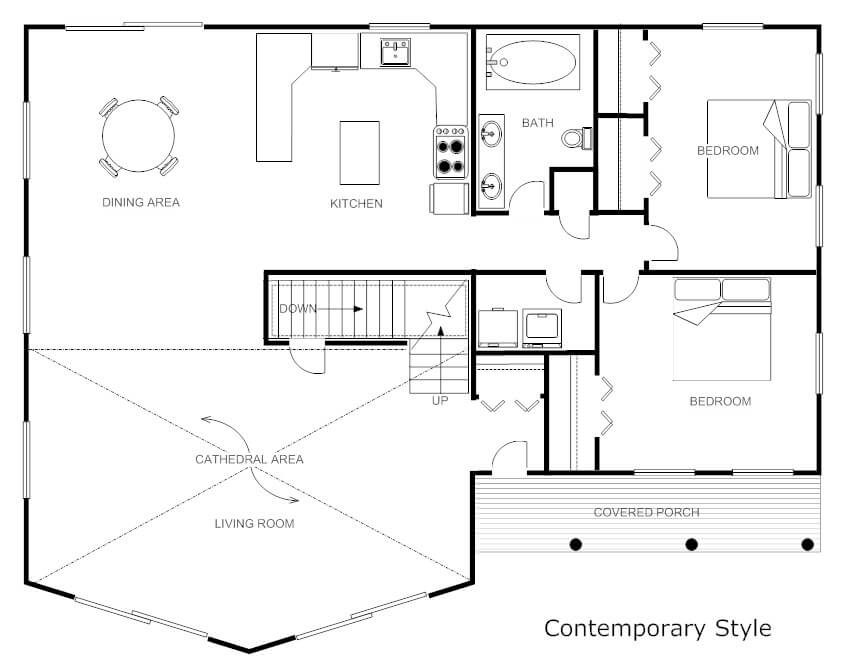 Click here for SmartDraw interior design software.
---
15.  Chief Architect (Paid)
Chief Architect software offers a wide variety of programs, but their Home Designer Suite is their most popular product.
This software includes templates of all kinds to get started (or design from scratch).  I renders in 2D and 3D.  There's specific kitchen and bathroom modules as well as landscape design options.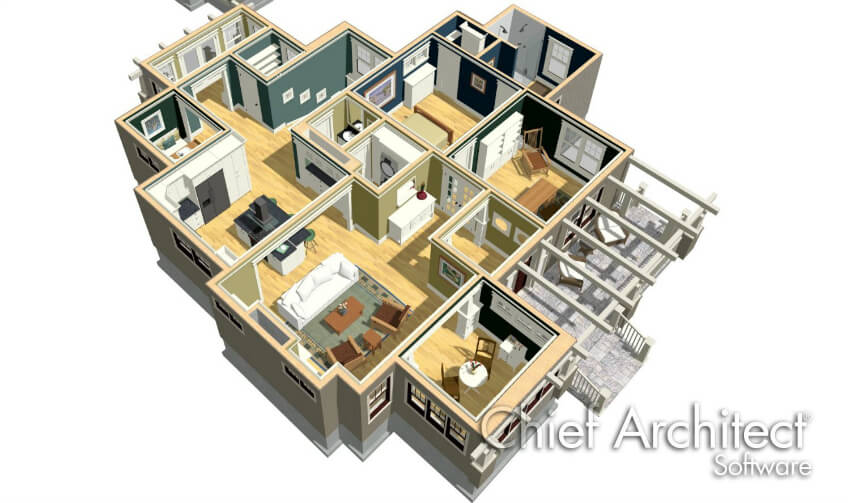 Click here for Chief Architect Software.
---
16.  Cylindo (Paid, but offers free demo)
Cylindo is a 3D interior design software that offers a free demo which is fun.  It creates 3D designs but takes it a step further.  Their focus is taking your furniture and turning it into 3D images that you can incorporate into your room designs so that you get an idea as to how your furniture will appear in the design.
Cylindo Software Video Demo
Click here to try a free demo of Cylindo.
---
17.  Decolabs (Free app for iPad)
Decolabs is an app with which you take a photo of your room and then you browse through an e-catalog for products (sofas, tables, shelves, etc.) so you can see how various items will appear in your room.  See the video below for more information.
Click here for Decolabs.
---
18.  IKEA Home Planning and Room Planner Software Tools (Free)
Obviously Ikea's software platforms are to help you plan your room with Ikea furniture.  That said, if you plan on buying Ikea furniture, it's a good option.  To get the software, click here and choose from the options provided.  Note, you must install this software.  They offer software for all kinds of rooms including kitchens, wardrobes, home offices, bathrooms and more).
Click here for the IKEA Home Planning Software.
---
19.  FloorPlanner (Free and Paid)
You can create 1 plan for free.  After that you pay for each additional plan.  There are subscription plans as well.  You can plan your entire home, individual rooms as well as landscaping.  Moreover, you can inject furniture into your designs.
Click here for FloorPlanner.
FloorPlanner Video Demo
Click here for FloorPlanner.
---
20. Space Designer 3D (Paid)
Space Designer 3D is a paid online interior design/room designer software.
It's cloud-based so you don't need to download anything at all.
One feature I really like is that you can view the 3D version in real time while creating your design.  You don't need to render it.  This helps speed up the design process.
Example of a Space Designer 3D design:
Screenshot of the drawing tools:
Real-time 3D Visualization (very useful feature):

Video Introduction of Space Designer 3D:
Click here for Space Designer 3D
---
21.  HGTV Design Software (Paid)
It's not surprising HGTV rolled out its own interior, home and landscaping design platforms. However, these aren't free. You can choose from a variety of software options – home design, landscape design, kitchen design, floor plans, interior design, home remodeling, garden design, bathroom design and 3D home design.
Their software includes a fleet of how-to videos.
Sample of a design using HGTV Design Software
HGTV Home Design Software Video Demo
Click here for HGTV Design Software.
---
22.  Punch Software (Paid)
=> SAVE 25% OFF Punch: Click here and use coupon code HSPNCH25 at check out.
Saving what is arguably the best interior, kitchen, bathroom and landscape design software for last (for the money).
Punch design software offers a great balance of ease-of-use, cost and design quality.  They offer several software options, depending on your project.
Punch Software is extremely sophisticated; it's used by professional interior designers because it creates designs that appear like photographs… but it costs money.  They offer several software options and packages.  With Punch, you can design your entire home, individual rooms and do landscaping designs.  The degree of detail is unmatched.  Click here for Punch Software.
Check out what you can create…
=> Click here for Punch Design Software (use coupon code HSPNCH25 at checkout).
---
23. Sketchup Pro
If you can stomach spending $695 on interior design software, you can't go wrong with Sketchup Pro.  It's very powerful and is used by many pros such as Joanna Gaines from HGTV Fixer Upper.  Note that in order to get the amazing 3D renders, you must export Sketchup pro designs into something like Lumion or Vray.
Watch a basic Sketchup video tutorial:
---
Software Quiz
Take our software quiz.
---
Visual Comparison of 6 Popular Interior Online Design Software Options
Below showcases visual differences among Space Designer 3D, Homestyler, Homebyme, floor planner, Planner 5d and Archilogic.
Digital Workspace
Below is a visualization how these 6 design software options organize the digital workspace.
2D Visualization
Below is a comparison of the 2D visualization among 6 interior design software services.
Rendered Graphics
Below is a comparison of the 3D rendering of the 6 online interior design software products.
See more of the above 6 software options:
Other:
Related Design Software Posts: