29 Fantastic Garden Lighting Ideas
Welcoming to our gallery of amazing garden lights!
There are plenty of reasons to light up your yard. You may want to highlight features, line paths, or illuminate your gathering area. Another reason for outdoor lighting is to accentuate and protect your garden area.
When the sun goes down your garden can be left in the dark. If you have worked hard to build a visually appealing and atmospheric garden, you may want it to be seen more often than the sun would allow. With a few well placed lighting elements you can brighten up your garden at night and allow your flowers and botanical efforts to be seen all hours of the day.
Another great reason to add some lighting to your garden is to protect it from foot traffic. When it gets dark it can be hard to stay on a path. If your garden isn't clearly marked, a pedestrian may accidentally stray right into your delicate bushes and plants. Much like a lighthouse signaling wayward boats to warn them of the danger of impending rocks, your simple garden lights will keep errant travelers from ruining your flowers with their clumsy treading.
There are a number of ways to mark your garden with light, as there are countless lighting fixtures available for installation. You can also opt for an easier route that is simple and fast. There are lighting fixtures that you can stick in your garden that draw in solar power during the day and slowly emit light at night. This is an easy and affordable option. These kinds of garden lighting options have a variety of designs that can even bring some style to your garden in the daytime.
On average, a quality lighting fixture will cost around $30 per fixture. Fixtures of the same style that are professional grade can cost up to $80. On average it costs around $325 per fixture as well as installation. (Source:Landscaping Network)
Find more backyard ideas in our definitive guide to backyards!
There are many lighting features you can get for your garden. These features are interesting lighting aspects. They provide light from all direction as well as add a fun design aspect.
Well lights work great in a garden. When plants grow around the well lights the light shining upward gives your plants a warm glow.
Lanterns are a great way to provide light to a garden. This lantern has a nice iron look that brings an old English charm to your garden.  Learn more here.
Here is an interesting idea where fixtures are placed on the ground but left as standard light bulbs without shades or adornments. There are also rust colored lanterns hanging around the garden. This look has an industrial appeal, hearkening back to the era of steam.
Pairing your garden lights with other lighting features can tie together your garden theme. Here we see the well lights in the garden matching both the underwater lighting fixtures and the path lighting. Source: Zillow Digs™
Lining a walkway with glow in the dark bricks is a brilliant idea. If you want your garden to have a natural moonlit feel at night, but still want people to watch where they are walking, glow in the dark bricks highlight the path without adding much light pollution to your space. Learn more here.
If you have a tree or two in your garden, you can hang strings of lights from the trees to create a magical firefly-like glow. Brighter bulbs can illuminate your flowers even more.
Here is another lantern that fits well in almost any garden. The lines on this lantern are all very natural and rounded, allowing it to fit in with the organic shapes of your plants.  Learn more here.
There are many different kinds of lanterns that can be used in your yard. Some are very minimal and provide light without making much impact on your design. Others have a very strong design presence and can be used to great effect to create a specific ambiance.
Here is a simple lighting element that does not take up much space. This sleek fixture can fit with many different kinds of landscaping designs. Learn more here.
Hanging lights can feel almost magical, like stardust or fireflies are dangling over your garden. It can transform your space from garden to fairytale with the flick of a switch. This would be an amazing place to escape to after the sun sets.
Here is another lantern with an iron look. This one has a bulb pointing downwards, providing focus and directing light to the plants underneath. No one will miss your spectacular garden with this lantern shining down on your plants. Learn more here.
Here we see a number of well lights casting light upward along the plants in this garden. With this type of lighting your garden and trees appear as beacons in the night.
A simple string of bulbs can be used in many ways. It is likely the simplest and easiest solution to your lighting needs. The things which can be done with a string of bulbs is only limited by your imagination.  Learn more here
Here is an amazing and interesting idea. These planters have built in lights, making the potted plants lamps themselves! This is a beautiful idea that is sure to draw plenty of attention.
These stake lights are great for a garden. During the day they blend into the garden with their color and shapes. At night they provide light while keeping with your garden's colorful theme. Learn more here.
Combining many different lighting elements can make your garden almost as bright as day during the night. Using a number of different lights allows you to play with their various advantages to create a unique lighting profile. Source: Zillow Digs™
Here is a small and interesting lighting element. This light cube provides an interesting appeal while casting light in many different directions equally. These lighting features can be used solo, but if you have multiple you may choose to line them up or put them in a pattern to create different effects.  Learn more here.
Stake lights are great if you want your fixtures kept somewhat discreet. When placed in small shrubs, the shrubs can help conceal the fixtures. At night it may even seem like your little shrubs are glowing.
Stake lights and directed lighting fixtures are perfect for highlighting paths and specific features in your garden. Pointing lights at features such as light colored rocks and walls can reflect the light over the rest of the garden, creating a softer feel.  Source: Zillow Digs™
Here are a few lanterns that are very simple. If you want a lighting element that is functional and to the point, these are great options. This simple design is perfect for nearly any style of garden. Learn more here.
Simple stake lights and well lights can work well together to light your garden from multiple different directions, bringing out the depth of your garden.
Here is an amazing piece. During the day, this piece looks like artwork – a colorful element to spice up your garden. But this piece also glows in the dark, working at night to make sure that your garden goes unscathed. Learn more here.
Here we see more well lights highlighting trees as well as some small purple bushes in the garden area. These lights can be subtle and dramatic at the same time.
This stunning garden has a number of different lighting elements working together to brighten up the space. The lighting here creates a dramatic effect, adding character to the garden that is not seen in the light of day.
You don't need to over saturate your area in light to highlight paths and gardens. A few well placed elements can be perfect to draw attention to your landscaping.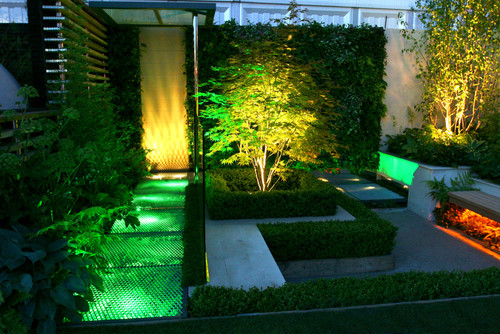 You can increase the drama in your nighttime garden by using lighting of different colors. Having colors that clash or mix can bring depth and drama to your space that is both appealing and a nice visual interest.
A structure standing over a garden can be a great design feature. Hanging lights from these archways is another way to put these structures to great use. Strings of lights hanging from an archway is a wonderful way to solve your gardens lighting problem.
Other Galleries & Gardens You May Like: