Welcome to our guide to picking the very best chain link fence for your residential home!
Chain link fencing is a type of woven fence that is primarily made out of galvanized or LLDPE-coated steel wire. Uncoated steel wire tends to corrode easily. This not only damages the chain link fence, it also creates an eyesore. You can view our custom diagram illustrating the different parts of a chain link fence here.
Chain link fencing is a popular low-cost fencing option for residential homes, although it is used mainly in backyards. Chain link fencing's open weave will not obscure sunlight on either side of the fence, nor will it obscure the view beyond the fence.
Should you desire more privacy, opaque slats can be inserted into the characteristic diamond-pattern mesh of this type of fencing. However, this isn't a popular option, as the slats are more easily damaged than the chain link, and will most likely eventually need to be replaced.
When considering choosing a chain link fence for your home, there are many factors to consider, including height and wire gauge size. Below, we have outlined the pros and cons of a chain link fence.
Related: Types of Wire Fencing | Fence Designs | Gabion Wall & Fence Ideas | Types of Fence Building Tools | Chain Link Fence Cost Calculator | Wire Fence Gauge Sizes | Parts of a Fence | How to Install Chain Link Fence
Photos
This is an interesting take on a chain link fence. The whole of the property is surrounded by a tall wooden privacy fence, but divided down the middle with a much shorter chain link fence to denote separate outdoor living areas.
In a backyard, a chain link fence can be used to separate the landscaping from a neighbor's yard, to keep pets in (or out!), and generally mark the borders of the yard. To beautify a plain chain link fence, add colorful planting beds and sculptures around or on it. You might even see some fuzzy friends near it, like the squirrels in the photo above!
Here we see a excellent example of a yard that utilizes the low-cost chain link fence for the parts of the yard that aren't visible from the street. The front of of the home's fence is brick with a lattice border, while the rest is made from slatted chain link. The slats in the chain link fabric give the homeowners more privacy, and is a perfect way to embrace the low cost option of chain link while keeping the curb appeal high!
In older city neighborhoods, it's more common to see chain link fencing at the front of the home than it is in newer neighborhoods. The chain link fence doesn't obstruct the front of the home, making it a great option for displaying the beauty of this aged brick.
In well-established backyard gardens, a chain link fence can be used like a trellis, effectively adding privacy with large flowering plants, like these beautiful lavender wisteria. This ability comes from the shape and openings in the chain link fabric.
Even if you don't have plants that will grow up and through chain link fencing fabric like a trellis, you can still plant large, leggy flowers like this wild yellow daisy variant. The colorful blooms and sheer size of the plant can help camouflage a plain chain link mesh fence.
This modern home has a large horizontal slat wooden privacy fence around the main outdoor backyard living area, but uses a tall chain link fence to secure the boundaries of the rest of the property.
Here's a good example of a chain link fence concealed with a hedge. If you opt for a chain link fence for your home, planting a hedge is a genius way to make the overall look prettier while still enjoying the low cost protection these fences offer.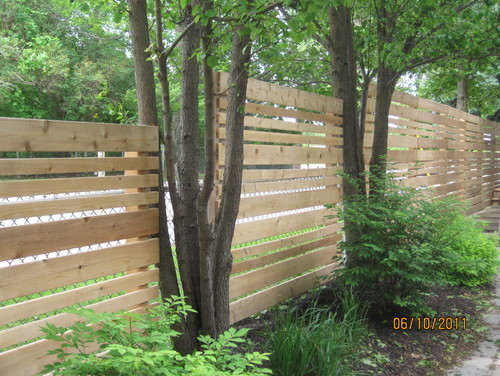 Horizontal cedar privacy fence with different levels lined by tall trees.
Wire chain link fence for livestock.
Chain link fence for backyard dog kennel.
Chain link fence used in the front yard of a home (personally I don't think chain link fences are the best option for a front yard, unless they are behind a hedge).
Chain link fence around backyard perimeter with wooden privacy slats.
Close up of a chain link fence with black privacy slats.
Backyard tennis court surrounded by chain link fence.
Pros of Chain Link Fences
Low Cost – Chain link fences are relatively inexpensive, particularly when compared to wooden privacy fences. This is true for both the cost of the chain link material and the chain link fence installation.
Security – Chain link fences are available in various heights. It can be purchased in higher or lower heights, depending on your individual or property needs.
Durability – The galvanized steel chain link fence construction means that it will resist rust and damage much longer than a wood fence would.
Simple to Repair – Should a section of the chain link fence be damaged, it can be easily replaced. The replacement will look exactly like the rest of the fence.
Visibility – Chain link fences are great for property with pets and/or children. They are secure, and largely easy to see through to see the children and/or animals in an outdoor space, no matter what the fence height is.
Cons of Chain Link Fences
Security – This is also a significant con, as you won't be able to add barbed wire to the top of a residential chain link fence to make it more secure. Also, incredibly high fencing options are an eyesore, and may even be prohibited by local regulations, such as city ordinances or HOAs. The typical residential fence can easily be climbed over due to its low height.
Appearance – Due to its association with industrial complexes, chain link fences are considered generic and pedestrian. So, chain link fences are great for fencing in a backyard, but are not a great option for curb appeal in a front yard.
Lack of Privacy – If privacy is what you crave, a see-through chain link fence is definitely not the best option for you. Even the addition of privacy slats in the chain link won't keep the neighbors from peeping over a four- or five-foot tall fence.
Cost of Chain Link Fences
So, we've established that chain link fences are definitely a low cost option. Still, how much could you spend on one? On average, expect to pay between 60 and 70 dollars for a 50-foot roll of chain link fence fabric.
Depending on the gauge size and height of your fence, you can expect to pay upwards of 100 dollars for the chain link fence fabric itself. In addition to purchasing the "fabric" for your fence, you'll also need to purchase fence posts, which cost on average 10 to 16 dollars per line post. Terminal posts may cost upwards of 20 dollars per post.
There are a thousand and one ways to customize a chain link fence, and accessories to add to them. If a colorful fence is what you desire, you can purchase chain link fences in colors like green, black, or the classic silver.
You may choose to add railings to the top of your fence, or post caps, or even an access gate. These pose additional costs that to weigh before deciding if a chain link fence is the right choice for your outdoor space. Remember, gates, gate posts, braces, and latches may be required to finish your fence.
If you're not sure if chain link fencing is the right fencing option for you, you can check out our definitive guide on fences here!
Before you start any fencing project, you'll want to make sure that you're building the fence on the proper lot. Check the property lines before you get started, as fixing a fence that is encroaching on your neighbor's property can be expensive, time-consuming, and create tension between near neighbors.
Check all your local and HOA guidelines for fencing. You may need a permit for fence installation, or your fence choices may be limited by the HOA. With the proper planning and research, you won't end up with half a fence built that you'll need to tear down and move or replace due to property line issues or HOA guidelines for appearance.
We hope you enjoy this guide and our other articles on fences!
Related Galleries & Rooms You May Like:
White Picket Fence Ideas and Designs | How to Design and Build a Wooden Gate | Garden Fence Ideas
Our Most Popular Herb-Growing Guides