I'm the first to admit we feature a lot of kitchens that are beyond most budgets (including mine).
Therefore, researching and writing this mega list of  budget-friendly kitchen remodeling ideas for your home was fun because we sought out ideas that we'd like to implement.
Of course you're not going to implement every idea here, but we hope you get some inspiration for a low-cost kitchen reno. Sometimes even slight changes can make a big impact. If you're planning a substantial kitchen reno, check out 12 kitchen design software options here.
Below is our list of inexpensive kitchen remodeling tips and ideas.
1. Stainless Steel Replacement Countertops
For this process, you'll need to measure the countertop sizes and have a metal fabrication shop cut stainless steel to fit. You'll need to have the edges turned down, to avoid sharpness and provide a smoother look. Total cost will be only $300-400! [1]
Image source: Wayfair Shop this Look.
2. DIY Stainless Steel Appliances
Faux steel can be purchased online, and can be cut to exacting shapes for your appliances. You'll need scissors, pencil, rule, squeegee, sharp knife, and a hairdryer to apply the material.
You need to thoroughly clean the surface area of your appliance, and then take care to wash off any residual cleaning chemicals to prevent bubbles from forming.
The film itself is applied by peeling the backing off gradually, smoothing the material down as you go along. Edges should overlap by an inch, which can be removed exactly by a sharp knife. [2]
3. Penny countertop
Source: Domestic Imperfection
The first step in this project is to remove the existing countertop material until you're left with bare wood. Paint this surface black, because it will be visible between the pennies.
Next, for an optional step, use a vinegar and salt mixture, then baking soda and water, to shine the pennies. Or, simply purchase sets of fresh pennies from the bank, and sort out the best examples.
Now, you'll need to add an edge with a slight, 1/8″ lip to hold the pennies in place; cedar is reliable and cheap.
One this has been added, you can lay in your pennies, packed tightly, taking care not to overlap anywhere.
Finally, add a thick, self-leveling epoxy layer, making sure to level it at a high enough thickness to ensure that the pennies are not in danger of poking through. [3]
4. Painted & Stenciled Floor
For this relatively simple project, you'll need paint and a nice stencil, like this Hollywood Squares design. Simply apply paint in the color you prefer using the stencil, let it dry, and you'll have a smart, interesting floor design. [4]
5. DIY Glass-Face Cabinets
For this project, you'll want to start with cabinet doors pre-cut for glass. You'll need a drill, sandpaper, caulk, glass clip, and the glass itself. [5]
To purchase glass at the correct size, go to a local store like Lowe's or Home Depot and have them custom cut glass pieces for you. The fasteners can be found here as well.
Place the cabinet door face down and use a thin layer of caulk around the frame, where your glass will sit. Place the glass, and be sure to wipe any excess caulk immediately from the glass.
Let this dry, then attach your fasteners to the back, making sure that they are not visible from the front of the cabinet.
Finally, attach the cabinet door to the hinges, and the cabinet itself.
6. Plate Wall
Source: Domestic Imperfection
The first step is to create plate hangers, using paperclips. To secure the paperclips to the plates, use a serious craft glue, like E-6000. Gorilla Glue does not work.
To complete the project, simply decide on a layout for your plates, and put nails in the wall where you want each plate to go. It's recommended to start from the middle and work outwards. [6]
7. DIY Pendant Lighting
This project is for converting recessed lighting into pendant lighting. With these cheap pendant lighting kits, you can have a new lighting solution running within minutes.
To install, simply roll the cord to the desired length, screw the end into the socket of your recessed light, then secure the plate flush against the ceiling with the included bolt.[7]
8. IKEA Countertop Options
If you don't have the funds to spend an average $3500 on new granite countertops, IKEA is a perfectly great option to check out. Their selection of countertops is varied and affordable. [8]
You'll need to remove the old countertops, take measurements, then cut, drill, and adhere the new surface to your specifications. Within a day you can have brand new countertops for a couple hundred dollars total! [9]
9. Chalkboard Wall
Source: Zillow DigsTM
You can install a cheap chalkboard on a kitchen wall, use chalkboard paint (around $12) to create permanent designs, like a calendar, and even mount a rail or shelf for chalk to sit on. [10]
Click here for highly rated chalkboard contact paper.
10. Granite Countertop Paint
A great, easy, and cheap way to add the granite look to any smooth countertop surface is with specialized granite paint. Using the paints and provided rollers, brushes, and sponges, you can achieve the granite look for a fraction of the price. [11]
11. Making Grout Sparkle Again
One of the easiest ways to brighten up a kitchen is to thoroughly clean any and all dirty grout you may have, and then brighten it with special grout paint. The simple, subtle lines between tiles may seem innocuous, but the change is remarkably easy to appreciate. [12]
Once cleaned of debris, you simply apply the grout paint with a toothbrush, making sure to wipe up any excess paint that gets on the tile itself. You can find Grout Refresh here.
12. Sharpie Your Cabinets
Source: Designs by Jolene
This seems almost too simple to be true. You can use Sharpie markers to add and define the lines of your cabinetry. Permanent and subtly applied, this can make a huge difference. [13]
Simply use a fine-tip Sharpie to define edges of the raised trim, being extra careful to not "draw outside the lines," as the ink is very permanent.
13. Custom Pantry Reveal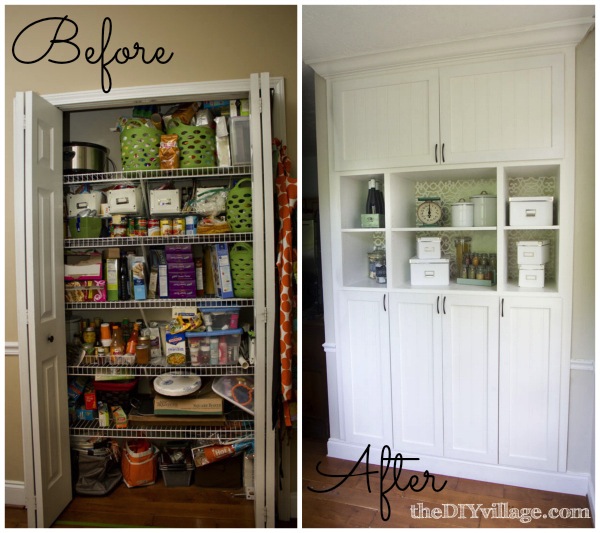 Source: The DIY Village
This project involves replacing existing pantry doors with a cabinetry array, plus open shelving, to reveal the storage in a beautiful manner. [14]
The work involves installing shelving, custom cabinet doors, and in this particular example, a roll-out drawer slides for extra storage options. The full, extensive instructions can be found here.
14. DIY Glass Window Shelves
Source: Pretty Handy Girl
To add utilitarian shelving without obstructing the natural light that windows are made for, add glass window shelving to your kitchen, consider creating glass window shelves. [15]
These shelves are glass which are place in front of windows providing more shelving space without obstructing much natural light.
Get the step-by-step instructions here.
15. Paper Bag Stool Tops
Source: Yankee Magazine
Use a special paper bag method to resurface tables or stools is a wonderful, low cost project.
Get the full instructions here.[16]
16. Concrete Countertops
With this process, you can simply sand, seal, wax, and enjoy beautiful concrete countertops. [17]
While the full, extensive instructions can be found here, the basic gist is that, with a process involving de-molding, filling in air bubbles, sanding the surface, and finally leveling and setting the concrete slabs onto your counters themselves. Once mounted, you can wax the surface using a food-safe wax, to completely seal and smooth your new concrete countertops.
17. Glue-On Ceiling Panels
You can update any kitchen, especially one with "popcorn" ceilings, with the relatively simple application of styrofoam ceiling panels from Decorative Ceiling Tiles (see more ceiling tiles in kitchens here). [18]
The panels can be cut with an exacto knife and glued directly to any ceiling material, including the popcorn ceiling. Once in place, they offer detail and elegance that would be hard to match with even expensive and time consuming paint jobs.
18. Reclaimed Pallet Wood Backsplash
Source: Circadee.com
An interesting and environmentally friendly method to replace any old backsplash is to use reclaimed pallet wood. [19]
Pallet wood can be cut into 18 inch planks, cleaned thoroughly or even stained, and then adhered to any existing backsplash wall with liquid nails. The look is rustic, textured, and highly unique. Best of all, the material is extremely cheap or even free!
Read our tutorial on how to dismantle pallets here.
19. Under-Cabinet Lighting
You can install a wild array of cheap under-cabinet lighting to really transform the way your kitchen looks. From models that adhere to ones you screw in, the lighting can be applied seamlessly and painlessly in a variety of ways. [20]
Buy the above under-counter lights here.
20. Updating Old Kitchen Drawers
Source: Hometalk.com
One of the best ideas for updating drawers involves fitting in wooden inserts to organize silverware, instead of using a plastic, removable tray. [21]
Using only a saw, caulk, and sander, you can cut and finish pieces of wood to the correct size and create segments in your drawers for a simple, beautiful upgrade.
21. Mason Jar Chandelier
Using inspiration from the movie Footloose, you too can create a spectacular chandelier, DIY, from Mason jars, wire, and a handful of tools. [22]
This creates a country feel, bright, and beautiful array of lighting from simple jars. Full breakdown of instructions for creating your own can be found here. These chandeliers can be purchased whole at Amazon.
22. Cordwood Flooring
Source: Cordwood Construction
You can create a gorgeous hand-made cordwood floor for your own kitchen. [23]
First, you can harvest dead trees from any local forest legally. Juniper and pine work great. Run the pieces through a saw for 1″ segments after thoroughly cleaning the bare floor.
Sand both sides of the wood discs before gluing them directly to the concrete. Apply a light coat of polyurethane before mixing a sawdust and grout solution to fill in the spaces. Finally, cover with 2-3 coats of polyurethane to create the smooth, beautiful finished floor.
23. Build a Kitchen Island
Check out our tutorial on how to build your own kitchen island here. [24]
Alternatively, you can buy one (they don't cost too much money). Adding an island, even if it's small, can add plenty of working surface space to your kitchen.
24. Pet Feeding Station
Source: Thrifty Decor Chick
Animal food, bowls, and supplies take up a lot of space. This project is designed to solve that problem with minimal cost. [25]
You can re-purpose an old bench, a hall table, or even add custom storage to the side of a kitchen island. The island is the most interesting choice, involving cutouts for circular bowls on a raised platform. This allows for food storage space and a spot for your pet to feed without obstructing foot traffic or risking spills.
25. Updating The Kitchen Sink
Source: Wayfair
This one seems almost too obvious when considered, but installing a fresh, updated kitchen sink can truly transform any kitchen, while remaining in a reasonable budget. [26]
Kitchen sink installations vary according to manufacturer, design, and style, but for the most part involve some hand tool use, light plumbing, and a lot of care. Sinks add a dramatic new look without busting the budget like granite countertops or hardwood flooring might.
26. Chicken Wire Light Fixture
Source: The Wood Grain Cottage
For only $30, you can create this spectacular farmhouse-chic chicken wire lighting solution. [27]
Using embroidery hoops, wood stain, and chicken wire, you can craft a barrel shaped frame to affix to any simple lighting solution purchased at your local Lowe's or hardware store. Follow the full instructions here. Once the structure has been crafted, head outside to paint the wire itself black, if you please. The light fixture itself can be placed inside and the light weight will allow the entire piece to be hung without additional support.
27. Coffee Cup Lights
One of many creative lighting solutions available today is the coffee cup light. Appearing as upside-down coffee cups and saucers, these relatively cheap products can add a dose of whimsy and fun to any kitchen. Appearing to "spill" light like coffee throughout your kitchen space, they're a perfect compliment to the room you're mostly likely sipping brew in. [28]
29. Stenciled and Organized Pantry
Source: Domestic Imperfection
Stenciling is a quick and easy way to add detail to any part of your home, and simple shelving solutions can reorganize your pantry to perfection. Read instructions here. [30]
The process involves simply emptying your pantry, removing the shelving, and using a stencil to paint an intricate pattern on the backing wall. Once the shelves have been repainted (white works perfectly) you can replace them for a fantastically fresh pantry.
30. Pecan Dining Table
Source: Domestic Imperfection
One of the most important pieces of furniture in any home is the dining table. With a few simple steps and a minimum of expense, you can build your own pecan wood dining table. [31]
The process involves crafting a pair of X-beam supports and obtaining some quality pecan wood for the tabletop. With some sanding and finishing, you'll have a spectacular, standout, country minimalist dining table.
31. Mosaic Tile Backsplash
While many prefabricated backsplash materials can be costly, a DIY mosaic tile project will add beauty, detail, and personality to any kitchen. [32]
Laying the tiles out is simple – as tile will be purchased on large sheets, you can cut the mesh backing on the sheets to fit the tile along counters and cabinets. The most involved portion will be choosing the look you prefer, as tiles come in a wide range of shapes and materials, with variations like glass or metallic tiles built in for accent. You can match the existing look of your kitchen or go for bold contrast.
With a bit of work, you can have a spectacular new look for your kitchen.
32. Kitchen Command Center
This is one of the more novel ideas we've covered. The plan is to create a space for organizing your kitchen and family in one convenient spot. [33]
While these can be purchased pre-made for around $80, you can build them yourself. Using a chalkboard or magnet board, wire frames, wood planks, and even baskets, you can craft a central point in your home for leaving notes, collecting mail, and more.
Learn more here.
33. Painting Your Cabinets
One of the more simple ideas to wholly transform any kitchen involves repainting the cabinetry. Using a sander, primer, enamel, rollers, sponges, and brushes, you can resurface and transform any cabinetry in your kitchen, adding contrast or blending with another element, such as natural hardwood flooring. [34] It's a simple yet extremely effective change that can add beauty and value in spades.
34. Faucet Freshening
Without changing the entire sink, a simple new faucet purchase can add a ton of value and truly update a kitchen. With new designs and tones, in addition to the added functionality of detachable faucet heads, hoses, and the like, the relatively low cost prospect of adding a new faucet to your kitchen sink adds a surprising amount of change. [35]
35. Windows and Blinds
Something often overlooked when transforming a kitchen is the absolute surroundings: the entryways and windows that lead into and out of your kitchen. With a fresh selection of blinds and a resurfacing or new coat of paint, your windows can add striking detail, new textures and colors, and completely reframe the look of your kitchen.
Be sure to check out our 101 home remodeling ideas (on a budget) as well.
References:
[1] Country Women. DIY Budget Kitchen Makeover.
[2] Derringer, J. Design Milk. DIY Stainless Steel.
[3] Ashley. Domestic Imperfection. Penny Countertop.
[4] Designer Trapped in a Lawyer's Body. Our Budget Kitchen Remodel Reveal – Part 1.
[5] Provident Home Design. How to Put Glass in Cabinet Doors.
[6] Ashley. Domestic Imperfection. Make Your Own Plate Hangers & My Dining Room Plate Wall.
[7]  Making Lemonade. 10 Easy Kitchen Updates (on a Dime!).
[8] IKEA. IKEA Countertops.
[9] diy Network. Installing Pre-Fab Laminate Countertops.
[10] Making Lemonade. 10 Easy Kitchen Updates (on a Dime!).
[11] Amazon. Giani Granite
[12] Ashley. Domestic Imperfection. How to Make Dirty Grout Look New.
[13] Designs by Jolene. Sharp Lookin' Cabinets.
[14] The DIY Village. Custom Kitchen Pantry Reveal.
[15] Pretty Handy Girl. DIY Glass Window Shelves.
[16] Yankee Magazine. Paper Bag Stool Top Decorating Technique.
[17] imperfectly POLISHED. DIY Concrete Counters: Sand, Seal, Wax, and Enjoy.
[18] hometalk. Popcorn Ceiling Makeover – Low Budget, Big Impact.
[19] Circadee. Paint n Pallet.
[20]  Decorating Ideas Made Easy. Cottage Kitchens.
[21] hometalk. DIY Updating old Kitchen Drawers.
[22] Hocuskocis. DIY Mason Jar Chandelier. Part 1.
[23] Cordwood Construction. Cordwood Flooring by Sunny in sunny Arizona.
[24] Home Stratosphere. DIY: How to Build a Kitchen Island with Wine Rack.
[25] Thrifty Decor Chick. The Feeding Station.
[26] diy Network. Updating Kitchen Sink and Faucets.
[27] the Wood Grain Cottage. Laundry Room Farmhouse Light.
[28] homedit. The coffee cup lights.
[29]  the Wood Grain Cottage. Laundry Room Farmhouse Light.
[30] Ashley. Domestic Imperfection. The Less Mess Project: Pantry Reveal.
[31] Ashley. Domestic Imperfection. Pecan Farmhouse Dining Table.
[32] The Family Handyman. New Backsplash with Kitchen Mosaic Tile.
[33] Ashley. Domestic Imperfection. Kitchen Command Center.
[34] Cherished Bliss. Tips on How to Paint Kitchen Cabinets.
[35] This Old House. 7 Small-Budget, Big-Impact Upgrades from Readers Like You.
(c) 2015